Saskatoon to Host Football Canada Cup in 2014[[endteaser]]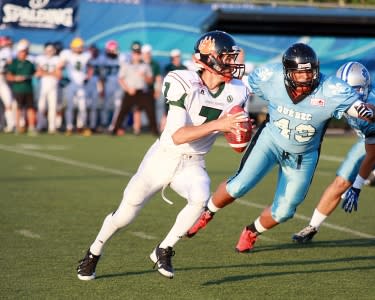 Football Saskatchewan will host the 2014 Football Canada Cup in Saskatoon at the University of Saskatchewan's Griffiths Stadium from July 6-12th, 2014. The event returns to Saskatchewan after last being hosted in the province back in 2009.
The Football Canada Cup (FCC) is the premier pre-university football tournament in Canada which annually showcases the top under-18 football players from across the country. The first game day will be held on Sunday July 6th, followed by Wednesday July 9th and Saturday July 12th.
"Saskatchewan is excited to host the Canada Cup for a 2nd time in the province's history and the 1st under the single under-18 division format," said Football Saskatchewan President, Kim Wudrick.
"Whether it be flag, touch, 6 or 12-A-Side, football continues to prosper in Saskatchewan and hosting the Canada Cup is a great way to celebrate our passion and commitment to the game."
Four of the last five CIS Rookie of the Year Award winners are alumni of the Canada Cup. This year's recipient, Danny Vandervoort (McMaster) participated with Ontario East in 2011. Last year's recipient, Shaquille Johnson (McGill) participated with Ontario West in 2010 as well as in 2008 in the U17 division, 2011 winner Tyler Varga (Western) participated with Ontario West in 2010 while 2009 winner Linden Gaydosh (Calgary) participated with North Alberta in the 2007 U17 division. Additional alumni include Ben Heenan, Israel Idonije, Kirby Fabien, Andy Fantuz, Dan McCullough, Jason Pottinger and Matt Walter.

- 30 -
For more information, contact:
Jeff Yausie
Executive Director
Football Saskatchewan
P: (306) 975-0827
E: jyausie@footballsaskatchewan.ca
About the FCC:

The Football Canada Cup was established in 1995 as an under-19 national tackle football championship with the addition of the under-17 championship, created in 2004. In accordance with the Long Term Athlete Development Model and growth of football across the country the championship has shifted its focus to a new age category to support the player development that is taking place within the provinces. The 2010 national under-18 event was the first time in the event's history that seven provinces were represented at one time in one division.