No matter the season, anywhere along the Meewasin Trail in Saskatoon is gorgeous. In fact, the name "Meewasin" means beautiful in Cree.
The trails extend beyond Saskatoon's city borders for a total of over 80 kilometres along the South Saskatchewan River. But where are some of the best viewpoints while exploring from within the city?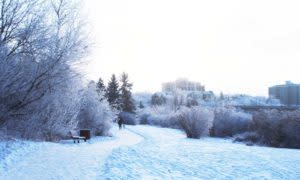 For encouragement to get out and see the sights (particularly during winter), here are five great viewpoints along the Meewasin Trail in Saskatoon.
1. The Train Bridge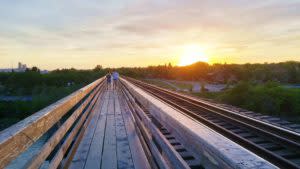 If you live in Saskatoon and have never walked across the train bridge, you're missing out. Stop reading this blog and go. Now.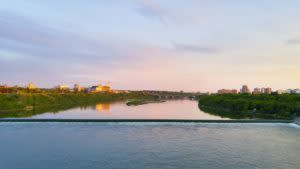 It's particularly exhilarating to be on the bridge when a train is rushing past within inches of where you're standing. When out for a run along the river, I use the top of the train bridge as an excuse to slow down and walk - just so I can enjoy the view longer.
2. East Riverbank Across from the Bessborough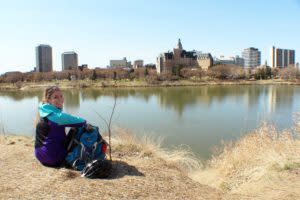 Saskatoon's most famous landmark is the Delta Bessborough Hotel (although the recently opened Remai Modern Art Gallery may challenge that!) Views from the east side, north of the Broadway Bridge offer exceptional views of the hotel sitting near the river's edge.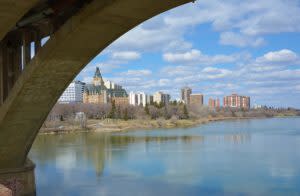 Another fantastic point to enjoy the majestic hotel is from the rocks on the southeast side of Broadway Bridge, snapping a photo from between the bridge arches. When hiking or biking, head to the lower paths for a better view rather than staying on the upper paths.
3. Circle Drive South Bridge Walkway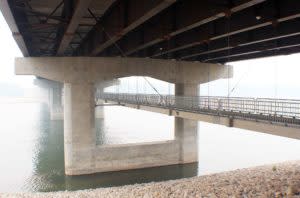 The views from the Circle Drive South pedestrian walkway make me want to hike down to the Saskatoon Canoe Club and rent out a kayak or canoe (or paddleboard it all over again like I did this summer). Standing on the edge of Saskatoon and looking at all the sand islands really puts the city into perspective. It's also a reminder of how connected we are to nature, even in the City of Bridges.
4. Spadina Pathway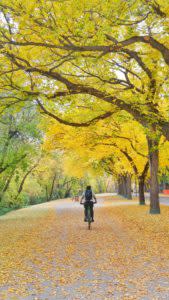 In the middle of autumn, the Spadina Avenue portion of the Meewasin Trail just north of Kinsmen park is stunning.
It's a short window, but I timed an afternoon bike ride perfectly this autumn to capture the leaves in all their glory.
5. South of the Silverwood Golf Course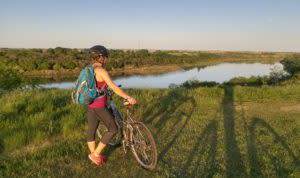 The mountain biking trails along the northwest portion of the trail are some of my favourite. And they're not as challenging as some of the other routes along the trail. This particular section offers great views of the South Saskatchewan River as it flows out of Saskatoon.  If you bike south of the Off Leash Dog Park and Silverwood Golf course, you might stumble across some hidden treasures along the mountain bike path (but I'll leave it up to you to discover them!).
There are so many great viewpoints along the Meewasin Trail - where is your favourite spot?