Share a nice meal then head off to the movies or perhaps listen to live music. Maybe even go for a late night stroll by the river. These are all pretty standard options when it comes to taking a date out on the town in Saskatoon – or any city for that matter.
But what about doing something a little more unique with that special someone? What all is there to do in Saskatoon for a date night? Here are five quirky ideas for your next night out.
1. Food crawl across the city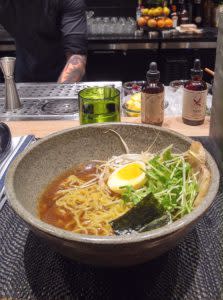 The best date I ever went on in Saskatoon was a "walking pubcrawl" based around four restaurants on Broadway. Instead of drinks, it was focused on food. My date took me out to enjoy a particular course at each restaurant: one for appetizers, the main course, dessert and finally drinks. It's a mash up of cuisines but that's part of what makes it so interesting. Whether it's on Broadway, downtown or in Riversdale, Saskatoon has no end of options to choose from.
A sample itinerary: Start with a shared charcuterie board at Bon Temps Cafe then head over to Truffle's Bistro for some local Diefenbaker trout or vegetarian risotto for your main course. Complete your meal by stopping in at Ayden Kitchen and Bar for warm citrus madeleines. Finally, end your evening at Winston's Pub to sample just a few of their more than 72 taps of craft beer.
2. Get locked up What better way to get to know your date than by locking yourselves in a room together. Put your minds to work and help each other solve a brain-teasing puzzle to escape the themed room before time runs out. Saskatoon is bursting with escape rooms. There are 16 in total at four different venues so there are a variety of games to solve. That also means you have the perfect excuse for a second or third date. You're welcome.
3. Go for a spin
https://www.instagram.com/p/BTRP3yPATbR/
The couple that sweats together, stays together. Okay, so I don't know if that's actually true, but it doesn't hurt to turn up the heat and challenge each other to a friendly competition of indoor cycling at RydeYXE on Broadway. The best part is every Friday night you can Ryde for Change with all proceeds going to a monthly charity chosen by the studio.
4. Hunt for small treasures A unique way to get to know a new date: Set a price limit of $10 or $20 and head to Value Village. Spend some time picking out a selection of small gifts based on the the information you know about each other. Then swap gifts and see how well you did.
5. Get axed
https://www.instagram.com/p/BRt1HWKgQ06/
It's primal, but it's all the rage these days across Canada: a good ole' fashioned axe throwing. It's like darts on steroids at Saskatoon's original facility, Timberjaxe, on Ontario Avenue. Thankfully you don't need to sharpen your abilities before you go as all skills are taught in a quick training and safety lesson before they let you and your date loose on the wooden target. Close-toed shoes are required but plaid shirts are optional.