With all the fun winter adventures to do around Saskatoon, there are many reasons to get outside and make the best of the snowy season. And, perhaps, the most iconic reason is to gear up, tie those laces, and go skating. 
Saskatoon has a great number of outdoor skating rinks to take advantage of and 5 municipal indoor rinks if the temperature gets a bit too chilly to be outside. Several even have free skate rental, in case you haven't been on the ice in a while. While each of Saskatoon's rinks is unique in its own way, here is my top five list of the cutest skating rinks around the city.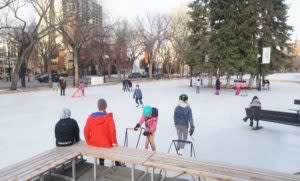 Photo credit: Ashlyn George
1. Cameco Meewasin Skating Rink at Nutrien Plaza - Set along the river's edge next to the Delta Bessborough, the Cameco Meewasin Skating Rink is one of the most iconic skating rinks in Canada. There's an indoor shelter, benches to tie your skates, a fire pit along the rink edge, and washrooms nearby. The skating rink is open daily from noon until 9 pm. But the best part? Skate rental is completely free! They also accept donations if you're looking to get rid of a pair. The rink holds several skating parties throughout the year, including the Meewasin Sip & Skate - the last one is Saturday, Feb. 26th!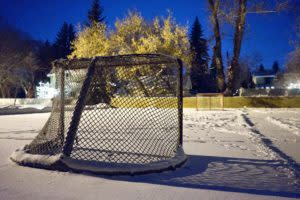 Photo credit: Ashlyn George
 2. Idylwyld Park - Many of the City of Saskatoon's public skating rinks are traditional rinks located near schools and built with boards around the ice. But one of my favourite outdoors rinks is a simple sheet of ice that can be found in Idylwyld Park, between Saskatchewan Crescent and Poplar Crescent near the river. It's a small rink in the middle of the park, but perfect for playing shinny with a group of friends. There are often two nets on the ice and a shovel nearby if the rink needs to be cleared of snow. The park is also lit at night so you don't need to depend on daylight to get out on the ice.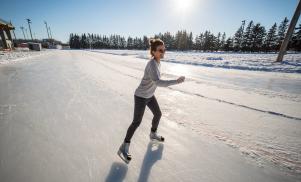 Photo credit: Tourism Saskatoon
3. Clarence Downey Speed Skating Oval​ - Got a need for speed? Or even if you don't, you will be welcome at the Clarence Downey Speed Skating Oval as there is lots of space for all skating enthusiasts. There are multiple lanes available for different speeds and plenty of room for every level of skater (and speed skates are not required to participate). A new warm-up and washroom facility is under construction and in the meantime, temporary shacks are available for skaters to change their skates.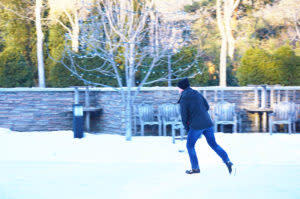 Photo credit: Ashlyn George
4. Innovation Place Garden Park Skating Rink (Boffins)
Innovation Place near the University of Saskatchewan maintains a beautiful skating rink on their outdoor pond in the wintertime. Few know about this little gem of a rink so you might get lucky and have the place to yourself. It's also very Instagram-worthy if you like to snap pics while out exploring. Although the on-site chalet is accessible only to tenants, the pond is open to the public. Nighttime is particularly beautiful when it's all lit up by strings of lights throughout the grounds.
What's more, Boffins is such a cute place for a date!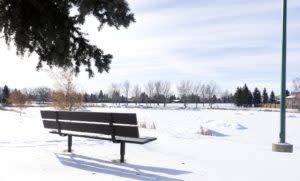 Photo credit: Ashlyn George
5. Lakeview Pond On the east side of the city is an outdoor rink on a pond. At the southern end of Mckercher Drive and the south end of the pond, is a cleared section for the public to skate on. It can take a few days after major snow for it to be plowed by the Lakeview Community Association and local volunteers, so bring a shovel or check back frequently. Make sure to take note of signs indicating the thickness of the ice and if it is safe to skate.
Looking for the skating rink closest to your home? The City of Saskatoon offers an interactive online map with each of the 50 skating rinks marked.