It's summer in the City of Bridges.
Which means it's hot, it's sunny and everyone wants to be outside. Aside from the stellar spray parks we have, one of the best ways to stay cool is to hang out on a patio eating and drinking with friends and family.
That's been my summertime goal anyway.
I've visited nearly two dozen patios in the city to share with you a few of my favourites and what makes them so great. (If you're looking for a fun idea, plan a patio crawl covering Broadway, Downtown and Riversdale over an afternoon and evening.)
Here are seven patios to check out in Saskatoon this summer.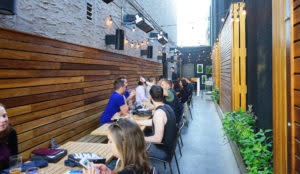 1. Una Pair your pizza with wine on Una's patios. Their narrow alleyway patio has a distinctly European vibe. But if you prefer to people watch along Broadway and catch a few sun rays, stick with the sidewalk patio out front.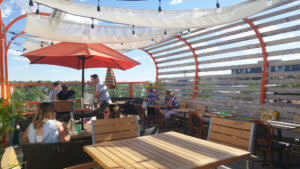 2. Drift Sidewalk Cafe and Vista Lounge
Drift Cafe and Vista Lounge in the Riversdale district have three patios between the coffee shop and lounge. Their rooftop patio is open during the summer season and has one of the best views in the city. Cozy up on the second-floor balcony or park your bike on the sidewalk and grab a table out front.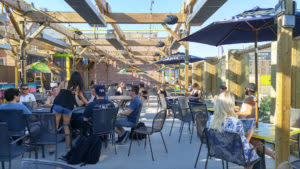 3. The Crazy Cactus
The Crazy Cactus has (somewhat) recently relocated downtown to a larger building. Their move was a good call as they now boast a fantastic rooftop patio on 3rd Avenue. You can't hear it from the street below, but once you walk up the flights of stairs, the music is pumping and the gringos are flowing. (What's in their famous Gringo? Churchill Blond Lager, tequila, triple sec, ice and lime.)
4. Homestead Ice Cream
Not all of Saskatoon's amazing patios are based around alcoholic beverages. Homestead Ice Cream on Victoria Avenue is one of the best places to satisfy your sweet tooth while enjoying their outdoor patio. A personal fav is their Saskatoon flavoured frozen yogurt. But they offer more than just the standard cool treats. Try their triple-dipped cheesecake or go a little crazy with the super sundae that has 5 or 9 scoops of ice cream. (But eat it fast so your ice cream doesn't melt!)
5. Saboroso
I still have yet to try the famous grilled pineapple at Saskatoon's Brazilian Steakhouse Saboroso. But I have sampled an entire pitcher of their sangrito (a combination of a mojito and sangria) on their outdoor patio. This might be my top choice for an outdoor patio on 8th street because it is beautifully decorated and successfully dampens the sound of traffic off the street.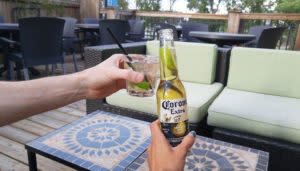 6. Dino's Grill
I spent years in university attending beer nights at Dino's Grill in Sutherland before realizing they have a fantastic patio. Now it's one of my favourite patios in the city. I often grab dry ribs and a corona with friends. It's a perfect size and has some pretty comfy patio furniture to lounge on while catching up over pub food.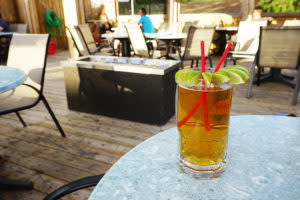 7. The Hose & Hydrant
Another favourite spot on Broadway is the second-floor patio at the Hose and Hydrant. With outdoor heat lamps and a gorgeous fireplace, it's a great location to go on cooler summer nights when you still want to sit on a patio. Their schooners on Wednesday nights are generous on the limes as well.
Where's your favourite patio in the city? Do you stick with classics like the Yard and Flagon, Winston's and O'Shea's or do you like to change it up and visit a new one every time like I do?