The berry so quintessentially Saskatoonian that you'll find it in baked goods, jams, jellies, syrups, and other products throughout the province. The Saskatoon berry shrub is native to western Canada and has been an important food source for those inhabiting this landscape for thousands of years. In fact, the name Saskatoon is derived from the Cree word 'Mis-sask-quah-too-mina' for the berry producing plant.
Plants can range up to 6 meters in height and are commonly found in the wild in Saskatchewan, in addition to plantations of small and large scale orchards. Flowering occurs from about mid-May to mid-June then the fruit is ripe for harvesting from mid to late July. The berries are sweet and fleshy while also being a bit tart and can be enjoyed fresh but are also easy to preserve. Saskatoon berries are good to eat as they are rich in minerals and vitamins and are also heralded for their powerful antioxidant properties.
During the season you can find fresh berries at the Saskatoon Farmers' Market stalls. You can also find frozen berries, baking, preserves, syrups, and more Saskatoon berry products year round at the market or other local retailers in the city. The berry has even added flavour to wines, spirits, and beers like the locally crafted Saskatoon Berry Peach Sour by 9 Mile Legacy Brewing or Stumbletown's Saskatoon Slow Gin.
Where to U-Pick Around Saskatoon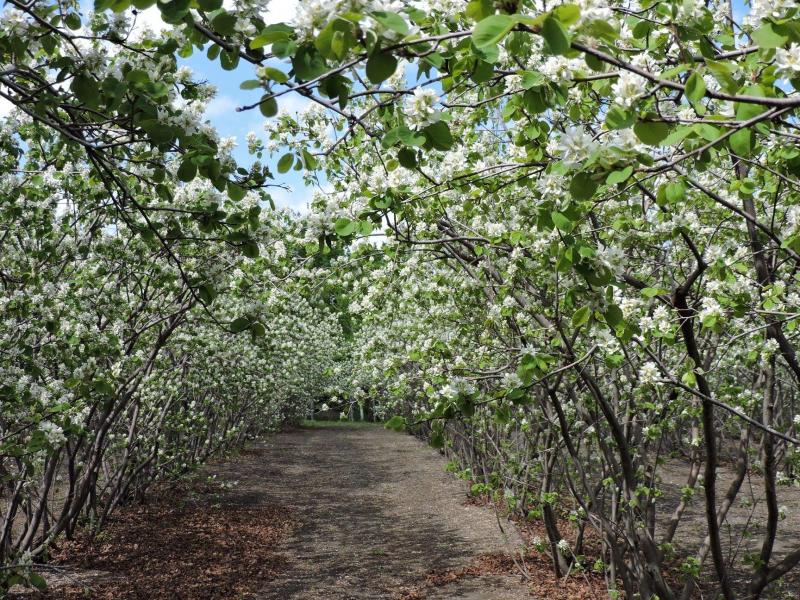 Photo credit to 'Lorraine's Saskatoon Berries'
Saskatoon berry picking is a family friendly activity and is a great way to stock up on berries to freeze or preserve for when fresh berries are no longer in season. Many commercial orchards operate in the province and a handful of them offer u-pick operations. Here are several u-picks just a quick drive from Saskatoon:
11 km south of Saskatoon
330 Valley Road, Saskatoon, SK S7K 3J6
Moon Lake Saskatoon Berry Farm
11 km south of Saskatoon
775 Valley Road, Saskatoon, SK S7K 3J6
U-We Pick Saskatoon Berries / Grandora Berries
14 km west of Saskatoon on Highway 14
Grandora, SK S0K 1V0
13km South on Highway 219 (Lorne Ave)
3625 Mount Royal Avenue, Saskatoon, SK S7T 1B1
Rhodes' Raspberries and Black Currants
36229 Range Road 3062 near Cedar Villa Estates, Carmart Road, Saskatoon, SK S7K 3J6
Many of these locations have other berries or produce that you can pick as well or products that are ready to pick outside of Saskatoon berry season. Note also that you can encounter wild Saskatoon berry shrubs in and around town, especially along the riverside.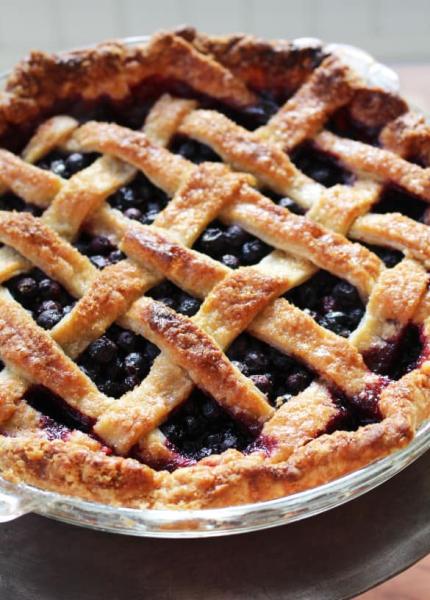 Photo credit to 'Lorraine's Saskatoon Berries'
Feature Recipe:
Canadian Prairie Saskatoon Berry Pie 
From Lorraine Trudgian, Lorraine's Saskatoon Berries
2 discs of frozen or fresh homage pie pastry
5 cups Saskatoon berries - frozen or fresh
1/3 to 1/2 cup sugar plus 1 Tbsp for crust bottom
3 Tbsp of flour
Zest of 1 lemon
2 to 3 Tbsp butter
1 egg
Demerara sugar for crust
1. Preheat oven to 425 degrees F.
2. Roll out bottom pastry and place in pie plate.
3. Sprinkle bottom pastry with a tablespoon of sugar for a crunchier bottom crust.
4. Place berries, sugar, flour, and lemon zest in a bowl and toss gently.
5. Pour berries into pie and daub with butter.
6. Roll out top crust, cover, and brush pastry with beaten egg, sprinkle demerara sugar on top, and cut vents in pastry. (Optional to do a lattice crust as pictured)
7. Bake for 15 minutes at 425 degrees, then reduce heat to 350 degrees and bake for another 45 minutes.
8. Cool on wire rack.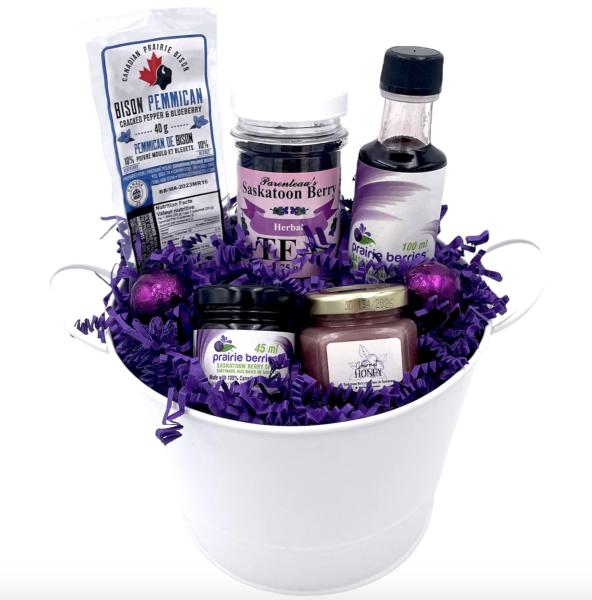 Photo credit to SaskMade Marketplace
Insider Tip: A great place to pick up local Saskatoon berry products is the SaskMade Marketplace on 8th Street East for a large selection of items including jams, chocolate covered berries, syrup, and more! We recommend their Saskatoon Berry Taster Gift Basket for a fun mix of products to gift or try yourself.