Have you ever come across the videos where an individual is presented with two papers, each containing two options, and they blindly select one? Recently, my children and I planned a staycation in Saskatoon, and to make it more fun, we decided to incorporate that game into our trip, follow along to see how it went!
Sheraton Cavalier Hotel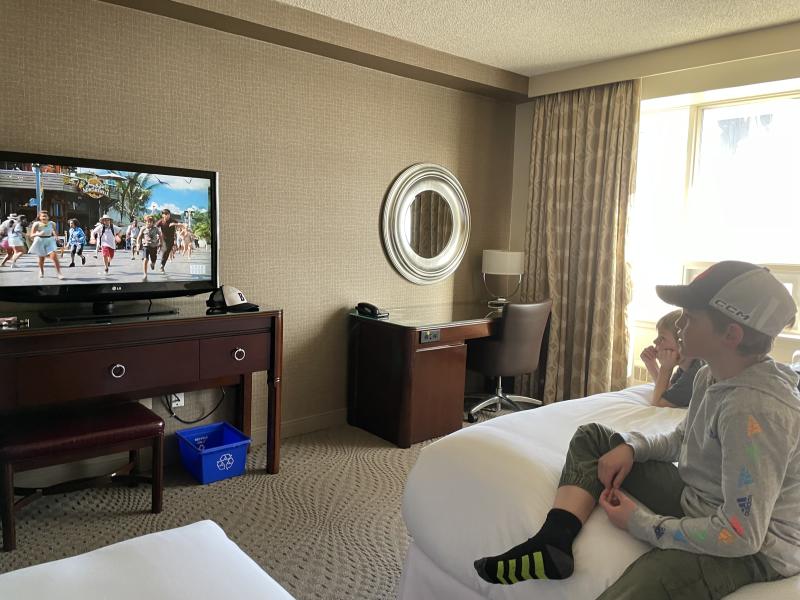 To start off we first had to choose where we were going to stay for this staycation. The two choices presented were the Delta Bessborough or Sheraton Cavalier Hotel. The Sheraton Cavalier was selected and much to my kids' delight when they found out they had waterslides!
Fun fact: The Sheraton Cavalier was built on March 3, 1962, which means this year is the hotel's 61st anniversary! Happy Anniversary Sheraton Cavalier!!!
Wanders Tiny Farm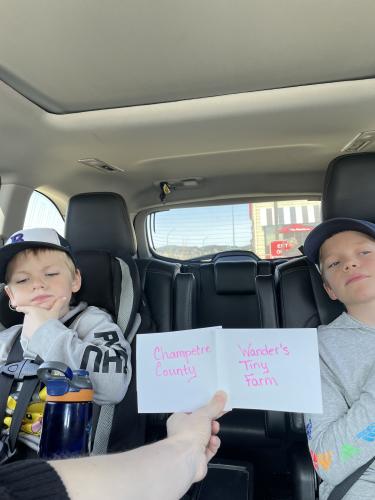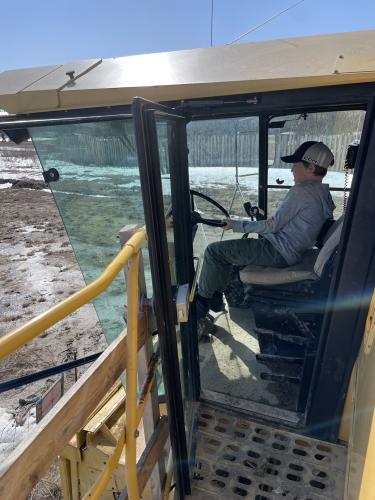 Once we got settled in our room it was time for the next venture! The choices were Champetre County or Wander's Tiny Farm. Wander's Tiny Farm was chosen, and the kids were extremely curious (as was I), about what this tiny farm was all about.
When we arrived at our destination, we were welcomed by Wander himself (the owner of the farm) and we were so excited to explore after Wander explained all the fun things we could do.
We had a lot of fun feeding the farm animals, which brought about many laughs and excitement. Additionally, we got to experience the thrill of driving a combine and motorbikes.
The children had a blast on a treasure hunt for gold coins in the sand pit. They also practiced their penmanship with chalk on an old truck bed. We then ended the visit with a game of corn-hole and a marshmallow roast.
River County Pool & Hot Tub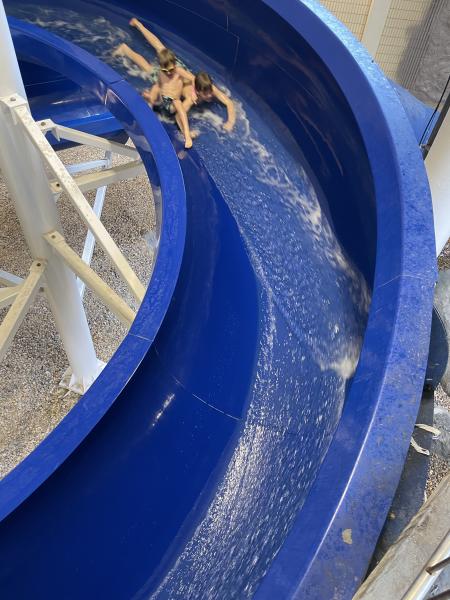 The next event of the day wasn't even a choice. We were going to take full advantage of the River County Pool & Hot Tub and let me tell you, it was awesome! For starters, the pool was actually warm and easy to get into. I'm not an old man but I think I fall into the baby category when it comes to pool temperatures.
There are also two hot tubs there and the temperature was perfect as it actually felt like a proper hot tub and not a boiling pot for lobster as some hot tubs tend to in my opinion.
However, the waterslide is the hero in this story. Their waterslide is long, curvy and has the perfect combination of slow and fast speeds. There is a bit of a landing at the end as well so it's not too crazy for the little ones.

Scarlet Craft Kitchen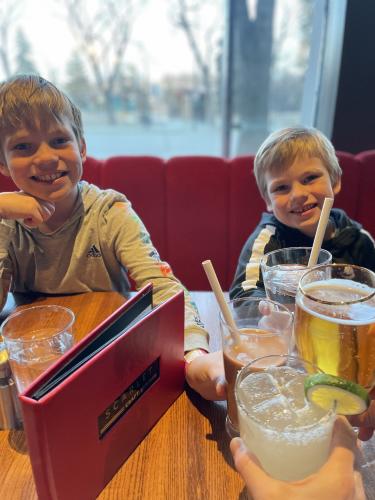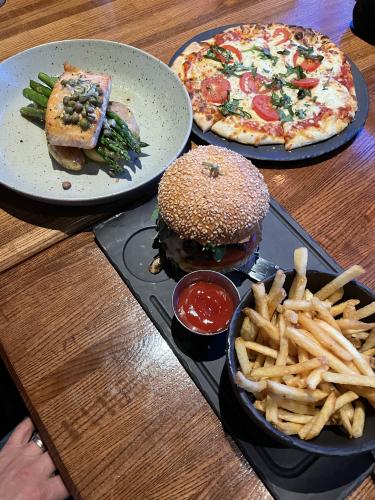 Next up, was dinner time and our two choices were: Scarlet Craft Kitchen or Carver's Steakhouse and Lounge. The selection was made, and Scarlet Craft kitchen was the pick.
The food was tasty, and we shared several dishes (Chicken Wings, Apple Gouda burger, Margherita Pizza and the Atlantic Salmon) my personal favourite was the burger.
OEB Breakfast Co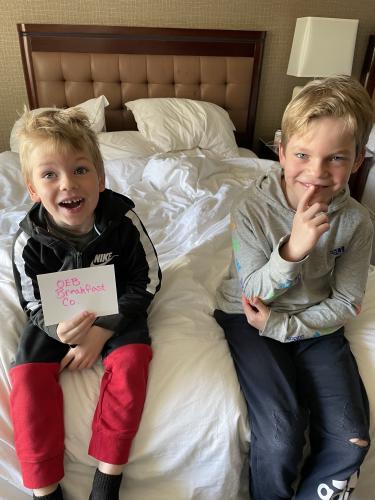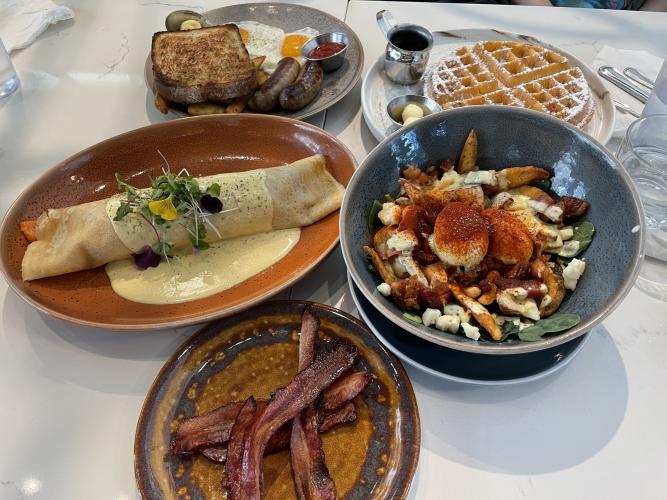 After a stellar sleep (no sleep in – thanks kids), it was time for the kids to pick breakfast: Garden Court Café or OEB Breakfast Co. OEB was the winner which was perfect as it was walking distance from the hotel.
OEB has a super unique menu with many amazing options. I went with the Soul in a Bowl and opted to go half potatoes and half spinach, and it was still very filling.
Meewasin Valley Trail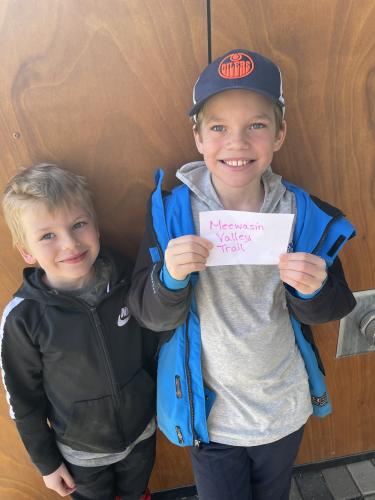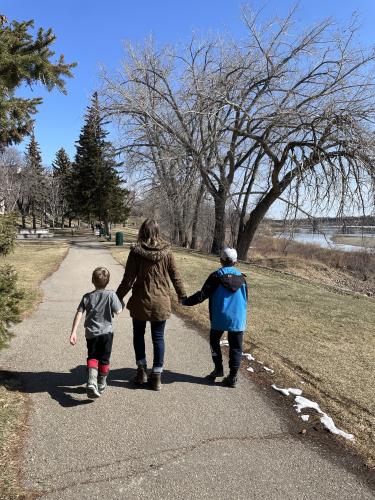 After breakfast, I presented the kids with one last choice: Meewasin Valley Trail or Kinsmen Park. The Meewasin Valley Trail was the pick and that worked perfectly as the trail took us right back to the hotel for check-out.
It was so nice to take-in all the sights and sounds of nature in the middle of the city. The geese were out and were scaring my wife which only brought me more joy and laughter- I think this just might have to be a new family tradition of ours.
A Sunday morning walk along the Saskatchewan River is the perfect way to start the day and I think more people need to try it as it was really good for my soul (in a bowl😉).