Every morning in my 8:30 am Education class at the University of Saskatchewan, I would roll in, grab a seat and proceed to pull out a container of freshly boiled homemade perogies drowning in butter. Admittedly, my classmates thought it was a rather strange choice for breakfast. But I thought it was perfect.
Easy to take to-go (as long as you have a well sealed container so the butter doesn't leak) and still warm by the time I arrived on campus, I would happily munch away on the semi-circular dumplings filled with potato and onion while learning all about teaching methods in secondary English language arts. Breakfast is the most important meal of the day after all.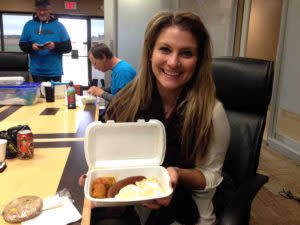 Photo credit: Ashlyn George
As a descendant of immigrants that came to Canada in the early 1900s from the Bukovina region of Romania and the Ukraine, my relationship with these Eastern European delights has been an important and tasty part of my entire life. From growing up on the edge of the perogy belt in East Central Saskatchewan to high school perogy lunch fundraisers, I even share my birthday with National Perogy Day on October 8.
As a self-confessed perogy addict, one of my favourite restaurants to grab a bite-to-go in Saskatoon happens to be Baba's Homestyle Perogies. Located in the north-industrial area of the city on 51st Street East, the white, one-story building is home to Canada's only perogy drive thru.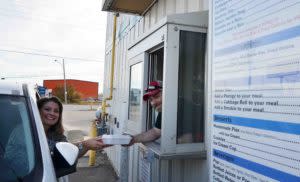 Photo credit: Ashlyn George
Rob Engel and his wife Chelsey have owned the perogy parlour for more than a decade, although the restaurant has been in business for nearly 40 years. But it's not just perogies they specialize in. They also offer homemade cabbage rolls and borsht soup served up with a smokie on the side. Every day the staff pinch and press nearly 10,000 perogies and almost 3000 cabbage rolls. If three million perogies a year isn't happiness, I really don't know what is!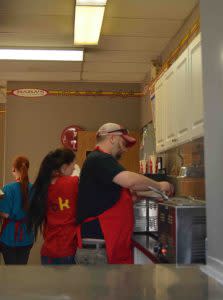 Photo credit: Ashlyn George
Baba's Super Combo is the most popular item on the menu and also happens to be my favourite. For less than 10 dollars, you can get five perogies, two cabbage rolls and a smokie, all smothered in sour cream, bacon bits and fried onions. As a bonus, Baba's also offers delivery service within the city as well as catering options for events with more than 20 people.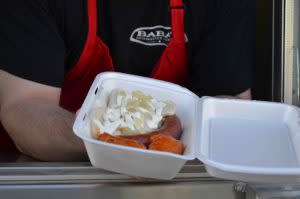 Photo credit: Ashlyn George
But the best part is Baba's is also committed to giving back to the community by offering fundraising options for groups and organizations. They also routinely cook and supply the perogy meals for the Saskatchewan Abilities Council perogy fundraisers in which all proceeds go to Camp Easter Seals kids and youth programs right here in Saskatchewan.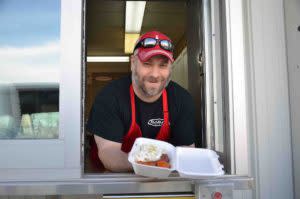 Photo credit: Ashlyn George
But if you prefer to make your perogies at home (like I often do for any meal of the day), Baba's also offers seven different types of frozen perogies you can purchase both in the restaurant as well as at locations around Saskatchewan, Alberta and Manitoba. For those looking for more than just potato filled perogies, my two favourite options are the cottage cheese and Saskatoon berry one kilogram bags.
Whether you call it perogy, pierogi or varenyky, the only thing that really matters is how tasty and authentically Saskatchewan the homemade meals are from Baba's.