Biking around Saskatoon is one of the best ways to get somewhere and get the best parking. 
Not only does it offer the opportunity for a bit of exercise, but it's environmentally friendly and budget friendly too! 
Saskatoon has a great community of cycling enthusiasts - from mountain bikers who love the single track on the Meewasin Valley Trails, to road bikers who often keep pace with vehicles out on Valley Road, to fatbikers who brave the winter weather and frequent the groomed trails at Cedar Villa. Here are 7 more reasons why Saskatoon is a bike-friendly city.
1. Bike Valet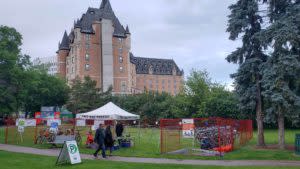 The downtown core is busy - especially when Saskatoon is in the midst of its festival season in the summer. The easiest way to avoid parking and walking blocks to your destination is to bike to the event. Saskatoon Cycles offers a Bike Valet service. All you need to do is show up on your bike and leave it with them. Like a coat check, they'll give you a number to retrieve your bike at the end of the night. (You can also check trailers, skateboards, strollers and scooters at the Bike Valet).
2. Free Bike Rentals with Stays at the Downtown Hotels
Downtown Saskatoon has partnered with nearly a dozen hotels in the downtown area to offer two bikes, free of charge at each hotel. It's as simple as asking the front desk. The bikes comes with a basket, a helmet, a bike lock and a guide and map for exploring. This makes it a lot easier, quicker and cheaper to get to destinations outside the main downtown core.
3. Campus Bike Tune-up Station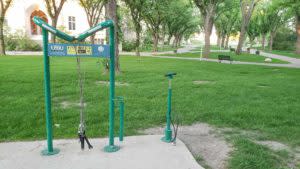 Even the University of Saskatchewan is in on making Saskatoon a more bike-friendly location. The USSU provides a bike repair stand between Thorvaldson and the Arts building. You can sign out a bike repair kit from the equipment desk at the PAC with your student card. Campus also has bike lockers for rent as well as secure underground parking stalls for your bike.
4. Biking Trails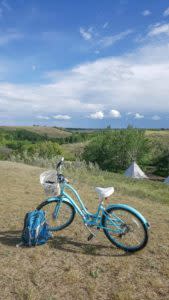 You can literally bike from the south end of the city to the north by following the city's trails. There's always room for additions, but as a whole, Saskatoon has a lot of bike trails to use. Check out the trails along the Meewasin Valley here.
5. Bike Racks on City of Saskatoon Buses
The City of Saskatoon has designed bike racks for the front of their buses. It's pretty simple to use as all you need to do is lift your bike onto the rack and secure it with the bar over the tire. In case you want a demonstration before you try it for the first time, check out the City of Saskatoon's video here.
6. Our Topography Makes it Easier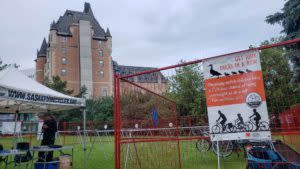 Saskatoon doesn't have the same rolling hills that many other cities do. We stick pretty consistently between 480 metres above sea level and 516 metres, with a few hilly exceptions. This makes it not only easier (and less sweaty), but also faster to get around. In case you still find biking a bit challenging, consider buying or renting an e-bike from Biktrix. With e-bikes, you still have to pedal, but an electric motor helps you zip along at speeds up to 32 kilometres an hour
7. You Can Even in Bike in Winter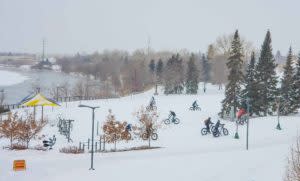 Despite our low temperatures in winter, I promise it's not so bad to get out on a bike. Fat biking has quite a community surrounding it in Saskatoon - just check out the Fatlander's Fat Tire Brigade group in Saskatoon. Not only do they meet up and have club rides twice a week (Tuesday evenings and Sunday afternoons), but they also have a few recreational fat bike ride events like the Wintershines Snowfondo or the 9 Mile Monster event.

3 Quick Tips to Make the Most of Biking:
1. Invest in a good bike lock
2. Register your bike online with the Saskatoon Police Service
3. Stick to the roads and bike trails - keep the sidewalks for walkers and joggers.
Make sure to check out the City of Saskatoon's latest cycling guide here for more information.