One of my favourite assignments to date, I got to scope out some of the best brunch buffets in the north end of Saskatoon. To my tastebuds' delight, there were some incredibly varied options. So much so, that after three weekends of delicious brunching, I no longer fit my favourite pair of jeans. Seriously.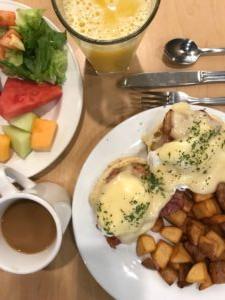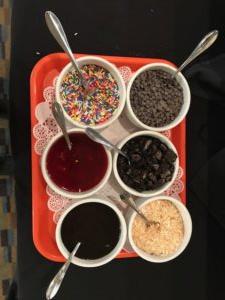 The first weekend I tried Fixin's Homestyle Eatery in The Travelodge. Beyond the excellent customer service (my coffee cup was never empty and our server always had a smile and a compliment), their buffet was lined with all my favourite brunch foods. I am a sucker for eggs benedict, and theirs did not disappoint. Their omelette station looked well-stocked and fresh, as did all the items at their buffet. Tempting my sweet tooth (or in my case, teeth), was their soft ice cream bar with an array of toppings to sprinkle on top, along with a table full of desserts.
I noticed that Fixin's also has a pizza and pasta buffet on certain nights of the week. I'll definitely be back to check that out!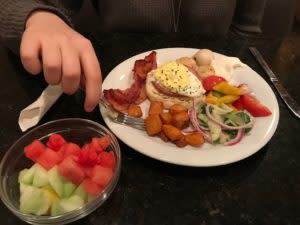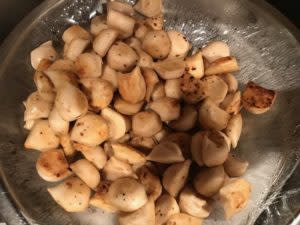 The next brunch I tried was at Seasons Café & Eatery. The bright and beautifully renovated hotel lobby at The Heritage Inn where Seasons is located was welcoming on a cold Sunday morning. Every Sunday, they offer an array of options at their buffet, including lots of fresh fruit sliced into bite sized pieces, of which I had more than one helping. My favourite part of their buffet though was their nod to our local Ukrainian population (which is approximately 13%). There were cabbage rolls and the most adorable bite sized pillowy perogies you could imagine. A bit embarrassingly, I lost track of how many of those delicious perogies I had. All in the name of research, right?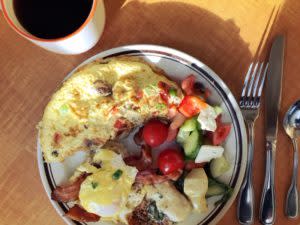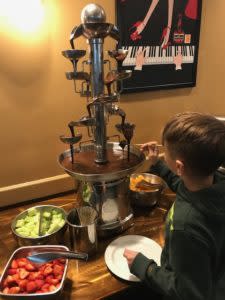 Just across the street in The Saskatoon Inn, is one of the most well-known brunch hot-spots in the city by locals, Garden Café & Lounge. Set alongside their lush atrium, Garden Café can seat up to 270 people. It was busy when I was there, but there were no line-ups nor a shortage of things to try. The only issue really, was that it was hard to know where to start. There is an extensive salad bar, meat carving stations, omelette stations, nacho bars, oyster bar, crepe station, waffle station, and even a staff rolling a dim sum cart around. Popular too, is their chocolate fountain. I am ashamed to admit that I had to elbow a couple of pesky teens to get a turn dipping fresh fruit into the flowing chocolate.
Perhaps now it is more apparent why those fave jeans no longer fit. I wonder if my next assignment should be top places to burn off brunch in Saskatoon.