Meewasin invites Saskatoon residents and visitors alike to join them for an unforgettable evening of culinary delights, natural beauty, and shared appreciation for the Meewasin Valley. By attending the Meewasin Grazing Dinners, guests not only support local chefs and sustainable practices, but also contribute to the conservation of prairie grasslands, one of the most imperiled ecosystems on the planet.
Meewasin Grazing Dinners, hosted with renowned local chefs from Odla, provide an extraordinary opportunity for residents and visitors to indulge in a delectable feast while immersing themselves in the stunning surroundings of the native prairie at Beaver Creek Conservation Area. As the sun sets over the creek, guests will savor a lavish meal prepared with locally sourced ingredients, celebrating the vibrant flavors of Saskatoon's culinary scene.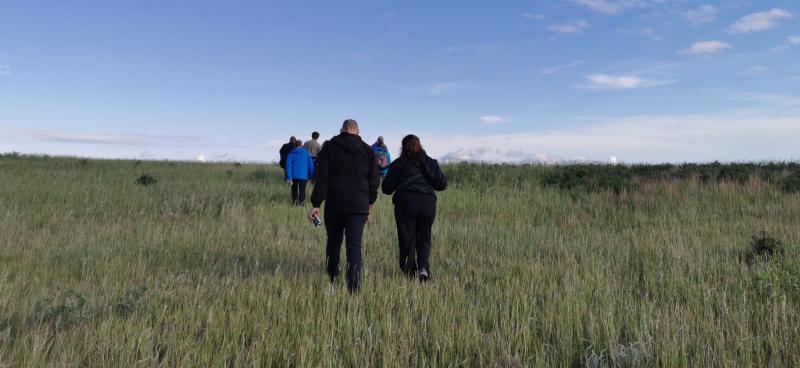 Photo Credit: Meewasin 
Begin the evening with a private hike with Grassland Ecologist and Resource Management expert Renny Grilz. You'll be immersed in the sights, smells and sounds of the landscape, and learn about why the Saskatchewan prairie is so important. Along the way, you'll meet Shepherd Jared Epp, his sheep and stock dog team, and hear about how they help us manage prairie ecosystems in the river valley.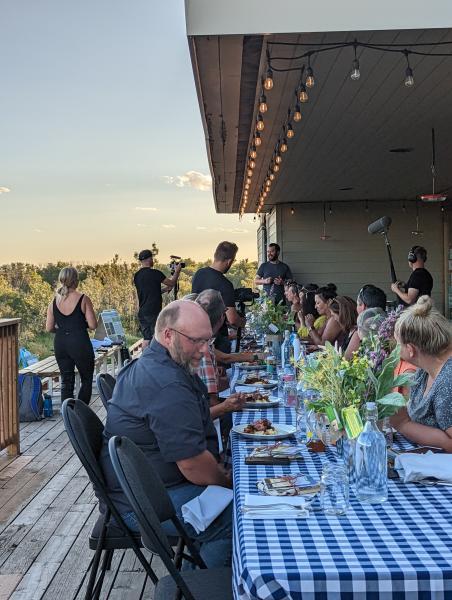 Photo Credit: Meewasin 
After the hike, a beautifully curated and seasonally inspired three-course dinner prepared by Chef Scott Dicks and the team awaits, served outdoors overlooking beautiful Beaver Creek. Odla is proud to be a farm direct restaurant, which means all ingredients featured in the meal are grown or raised within 2 hours of Saskatoon!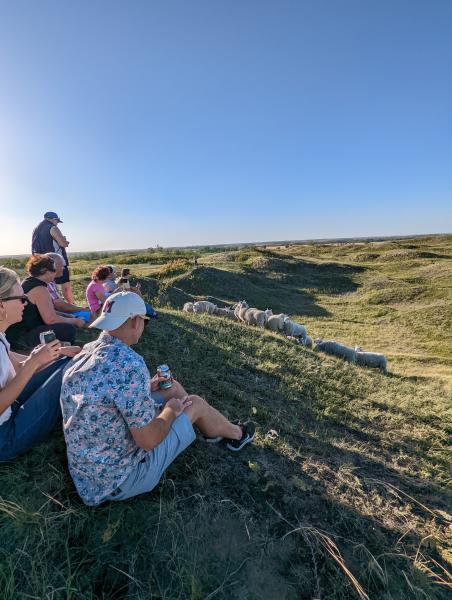 Photo Credit: Meewasin 
Lastly, during dessert, enjoy a live demonstration with Jared, his sheep and skilled dogs. This is an exclusive chance to get up close and personal with an impactful conservation activity and immerse yourself with the fascinating world of conservation grazing.
"We are delighted to bring back the Grazing Dinners for another year," says Andrea Lafond, CEO of Meewasin. "These dinners not only provide a unique platform to appreciate and raise awareness about the incredible natural landscapes Meewasin strives to protect, but also showcase the culinary talents of our city's chefs. This one-of-a-kind experience is something we are very excited to offer, and we'd like to thank RBC Tech for Nature and the Saskatchewan Cattlemen's Association for their support of this unique experience."
This limited seasonal offering is being held on the following dates:
August 31, September 1, 6, 7 & 8