Have you ever been curious about cross-country skiing? Maybe you tried it in grade school, or maybe you've never strapped on some skis and want to know what all the hullabaloo is about. In any case, Discover Saskatoon has you covered.
The Bridge City is home to many trails that are suitable for all skill levels! Now, if you're new to cross country skiing, then you probably don't have skis to call your own. That's definitely okay! You can rent skis for the day at Eb's Source for Adventure if you're not quite sold enough on the sport yet.
Once you find some suitable skis, you will soon find that cross-country skiing is simply an intrinsic joy — there's just something to it. Here are our reccomendations for places and practices to start your Saskatoon cross-country skiing story.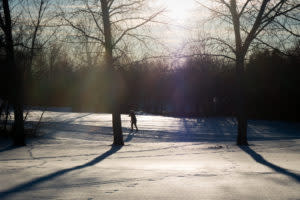 I will be honest - I'm not an avid cross-country skier. But I do have a pair of working legs and some used skis I got from a garage sale for fifteen bucks. I suppose you could say it doesn't take long to get my money's worth. But I love cross-country skiing, if not for the fresh air and exercise, then for something else.
It's more fun than jogging, which leaves my fitness ambitions a little too open to public perceptions. It's also not known for its jaw-dropping intensity. My favourite things cross-country skiing are pretty subtle: like the whisper-quiet glissando of skis running down a freshly groomed track, the momentary daydreams of gliding on snow so fine that you'd swear it was cream cheese to put it romantically. Those kind of things.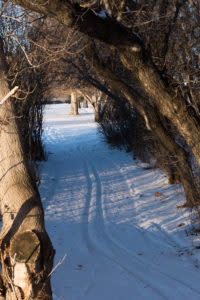 Wildwood ski trails
Fortunately for me, my first time skiing in Saskatoon was following a snowfall after a rather dry December. I found a couple of public golf courses had both skate and classic groomed trails, and randomly picked Wildwood Golf Course as my first stop.
Wildwood is one of several trails maintained by the Saskatoon Nordic Ski Club, who in addition to hosting events such as the Saskatoon Skate and Classic Loppet, offer a slew of programs including youth and adult ski lessons. They also have a handy list with trail updates, maps and details to get you started.
While the parking lot gave me the impression the trails would be busy, there was plenty of space to make for a pleasant jaunt without feeling rushed. Wildwood is a good choice if you're looking to get your skiing legs back, or if you have an hour or so to spare and need some fresh air and exercise. Beginners will appreciate the gentle grades as there are few spots where you're likely to fly off track or tumble into a water hazard. 
Holiday Park ski trails
My second stop was at Holiday Park, another trail maintained by the Saskatoon Nordic Ski Club. By the time I got there, the sun was beginning to set and there were few other people to run into. I enjoyed my time here quite a bit. There were enough trails and off-shoots to feel like I had some choice in the length and direction I was headed. I could almost have used a headlamp by the time I finished.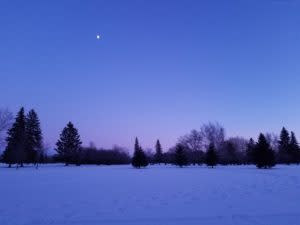 I've skied extensively at Duck Mountain Provincial Park (about four hours away) but I had never considered it might be an activity I would enjoy closer to home. With the door open now, I'm looking forward to checking out the forested, more 'topographically challenging' Eb's Trails near Duck Lake, about an hour north of Saskatoon.
There's no better way to get fresh air and exercise in winter without breaking the bank. If you haven't gone cross-country skiing in Saskatoon yet, try it out and find the trails that are right for you.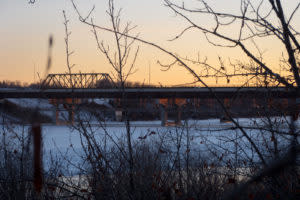 For more information on trails in Saskatoon check out the Saskatoon Nordic Ski Club website! 
Looking for more rental options? Check out the plethora of winter rental equipment options from our friends at Escape Sports!