The Saskatoon Inn and Conference Centre's Grand Opening was on Valentine's Day, 1982! Since that day, it has been creating fond memories for visitors and locals alike! The building boasts 257 guest rooms and meetings spaces suitable for groups ranging from 6-1200 people!  
Having been there many times in the past for conferences, Christine and I decided to do a little more exploring of the property! Every space we entered, we found new details we loved!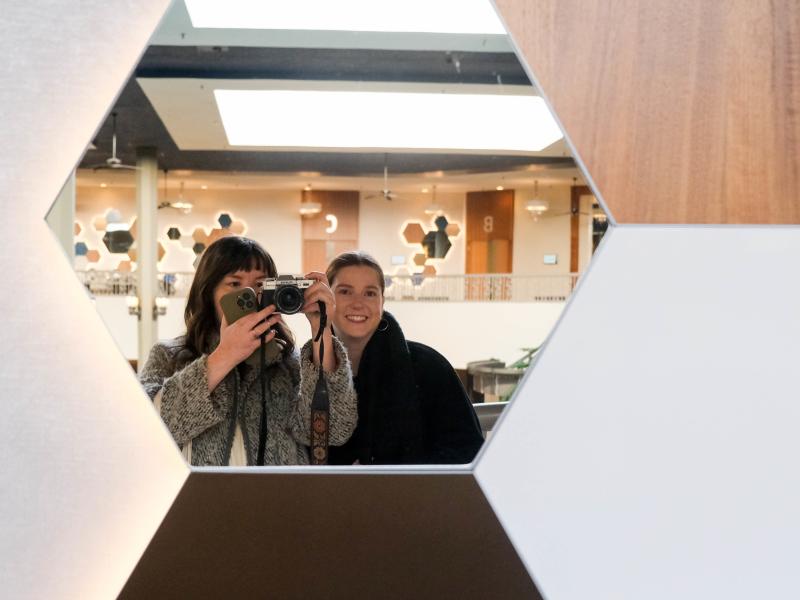 Photo credit Darby Sutherland 
We knew we wanted to capture the pool area before we even arrived! I have always been amazed at all the happy plants that the team at the Saskatoon Inn have been taking care of! Swimming in this pool makes you feel like you are on a tropical vacation. One of our favourite details around the pool is the horse heads on the banisters!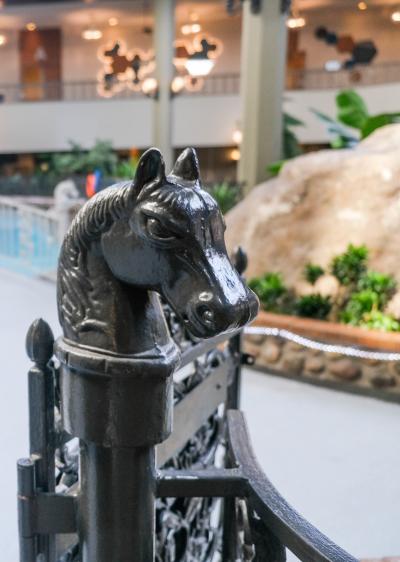 Photo credit Darby Sutherland 
Next we checked out one of the spacious guest rooms. We loved how the hallway to the rooms is a balcony that overlooks the pool area! Perfect for scoping out the optimal time to take a swim in the heated pool. I am a LOVER of all things green so this living area in the hotel room really made me smile. I made Christine take a photo of me on this couch for my Instagram because my dress matched so well.
Photo credit Darby Sutherland 
Did you know that The Saskatoon Inn and Conference Centre has a little cluster of smaller meeting spaces called York Street!? We were obsessed with this Vegas-style area! Each meeting room has a shop front exterior and a fun name!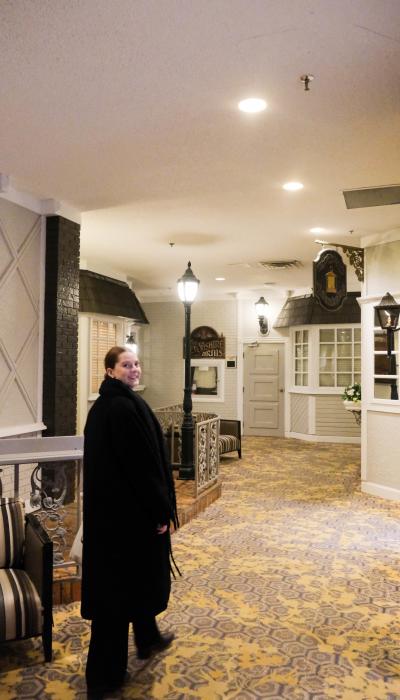 Photo credit Darby Sutherland 
We got to check out one of the meeting rooms before the group came and we loved the space. I cannot explain to you how many photos I took of the retro light fixtures. Saskatoon Inn, if you ever decide to remodel, you know where to find me!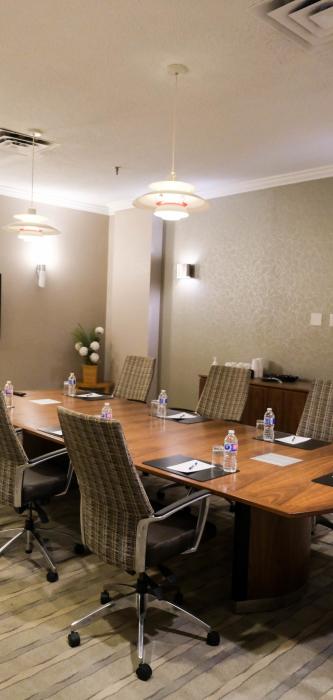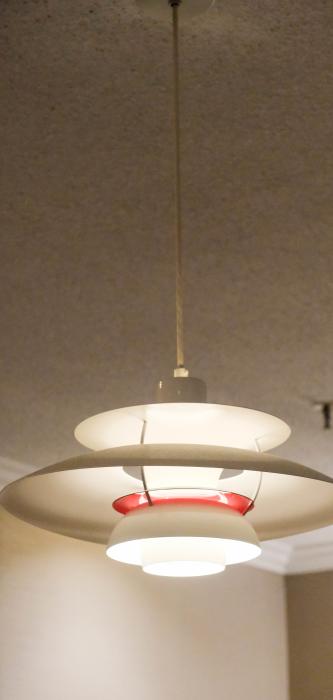 Photo credit Darby Sutherland 
One hidden gem about the Saskatoon Inn I think everyone should know about is their cake selection! The photo below was taken of their lunch buffet. But let me tell you, I attended a lunch meeting at the Saskatoon Inn not too long ago and this cake selection was available in that meeting! If you're planning a lunch meeting, and love cake, we have found the place for you!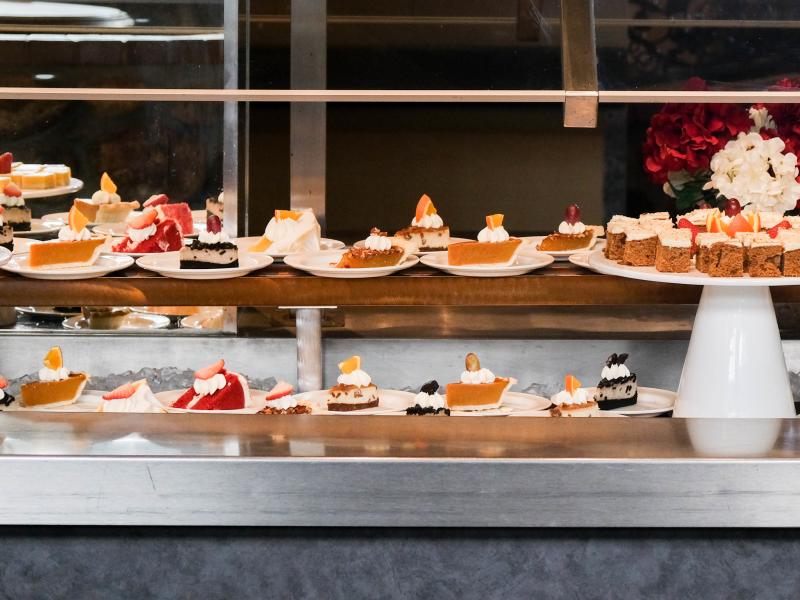 Photo credit Darby Sutherland 
Our last but definitely not least stop at the Saskatoon Inn and Conference Centre was trying the brunch at the Garden Café. We cannot say that this is a hidden gem because every Sunday the Garden Café welcomes between 200-300 guests for their iconic Sunday Brunch! With that many fans, we had to try it! Christine got something savory and I got something sweet, and we were not disappointed!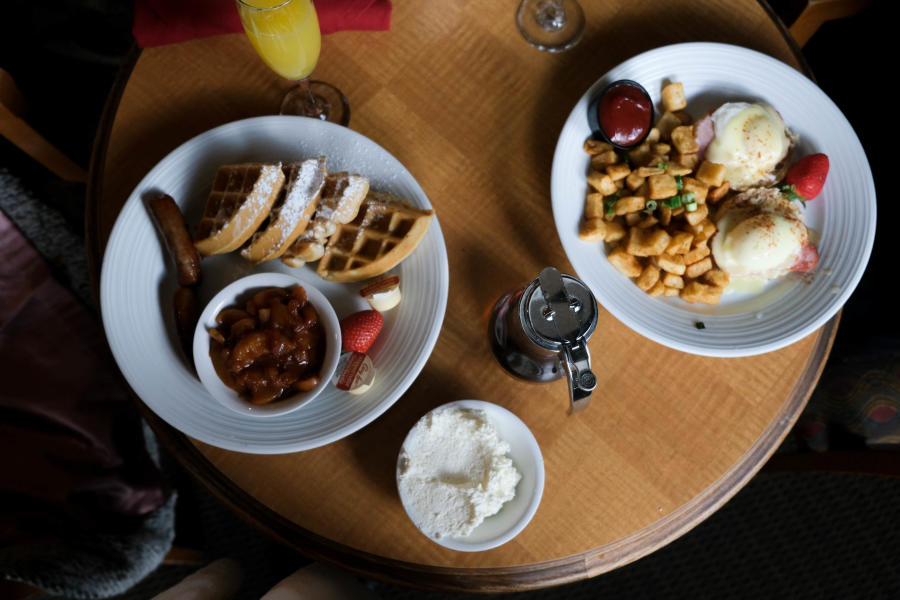 Photo credit Darby Sutherland 
I hope you enjoyed exploring The Saskatoon Inn and Conference Centre with me! If I missed one of your favourite hidden gems I would love to know about it! Message Discover Saskatoon on Instagram and let me know!