How do we make the most of Mondays when we have been conditioned to lament the loss of a weekend rather than celebrate the onset of a brand new week full of exciting twists and turns? I am consciously waking up every day saying "Thank you", especially on Mondays. The monotony of back-to-back zoom meetings that don't give way to standing up and taking a breath let alone eating lunch are wearing on us all. We all have a choice. This week, I chose to change my environment, pack my bags and head to the Hilton Garden Inn for a couple of nights.
The Workspaces by Hilton package offers everyone functioning in this monotony the opportunity to work from a hotel room for a full day without an overnight, but you know me and my loose-footedness. The full impact of the experience can only be felt with at least one night in the hotel. 
I feel like I flew into the hotel on fumes – racing to get to my 3 pm meeting. My room was so refreshing to walk into. Bright, natural light streaming through the windows and bright clean colours invited me to stay awhile. I was giddy exploring both the living room and the bedroom, eyeing up the jacuzzi in the bedroom and hoping there would be a moment where I could slip away from the world later in the day.

 
Every Captain Needs a Crew
As a leader, I know being prepared is key. I need to always have my eyes out on the horizon as the captain of this ship so preparedness of myself and my officers is critical for our missions to be accomplished. Sitting down at my desk, it became glaringly obvious that the Hilton's team wanted to supercharge my productivity and become an extension of my success. A desktop supply organizer filled to the brim with pens, a notebook, clips, sticky notes, a stapler, and scissors was accompanied by the first of many notes I received. "Refresh. Your mind, delate all your problems, undo all your mistakes & save the happy moments." That simple note elicited a deep breath and a moment of pause and I settled into my chair for the remainder of my Monday meetings.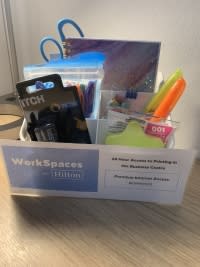 The Three Ring Circus
As I wrapped my meetings and kicked back in my chair, which by the way is the most comfortable office chair I have ever sat in, there was a knock at my door. I could hear the giggles through the doorway and the door was hardly open before my three children burst through the door. "Holyyyyyyy, look at this space, mom!" They had all arrived for a swim and thankfully, our hotels in Saskatoon are doing an incredible job of scheduling time for families to be in their pools, safely.

 
Integral Surface Protection Program
Quick disclaimer about continued safety. There has never been a more safe and secure time to travel within the public health orders in your jurisdiction. If you live in Saskatchewan today, you are safe to leave your home and enter a hotel to stay for a night or more. There is obvious evidence of cleanliness and additional protocols everywhere you travel in the hotel. Hand sanitizers are available in abundance and masks are mandatory in accordance with public health orders. Restaurant tables have three meters between them, and the service staff are taking incredible care as they do their work. The Hilton Garden Inn have implemented an Integral Surface Protection Plan to enhance their safety protocols even further! This technology is the world's most widely used antimicrobial surface coating that provides residual surface protection against the growth of bacteria, viruses, fungus, and mold that can degrade high touch surfaces. This product has been applied throughout the hotel in washrooms, elevators, common areas, furniture and upholstery, the fitness centre and even on carpets and textiles. This is next level clean, friends. It has never been safer to stay in a hotel.
 
Don't Miss the Show
The intensity of working in one of the hardest hit industries during the age of COVID has brought incredible appreciation for moments that slow me down. As the kids and Derek departed my room for the pool, our little Shae glanced back; "You comin' mom?" My reply was unconscious; "I'll try, my girl. Mom's got a few things I still need to wrap up today." The door closed. These precious moments will never return and none of us have any clue when it all might end. Not to be dramatic, but I just lost a close friend this week at the age of 38. She was alive one moment, gone the next. The choice is on us; go to the pool and be a part of their memories or not. I closed my computer and went. It was so peaceful watching them float around on their own or wrestle together as a threesome. Our children are undoubtably extremely impacted by life with COVID. Any opportunity we can give them to feel freedom and experience play must be taken.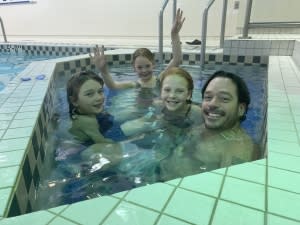 Drink Like a Legend
On my way down to the pool, I passed by STEPS Lounge where a sign for a Bourbon Tasting experience caught my attention. Knowing nothing about bourbon, I popped my head in and was greeted by the most welcoming face of Ash, the restaurant manager. He was emphatic that Derek and I should come back down for a tasting from their selection of over 20 types of bourbon. Who could pass that up!? We learned to smell with our mouths open to experience the multitude of aromatics, to sip, swirl and savour. Ash's time spent with us was refreshing, I miss connecting with strangers so much and for people working in hospitality, their need for connection is just as deep. The Hilton has consistent offerings of Bourbon tasting experiences, keep your eyes peeled because they sell out fast!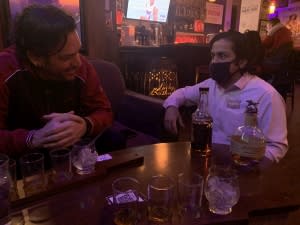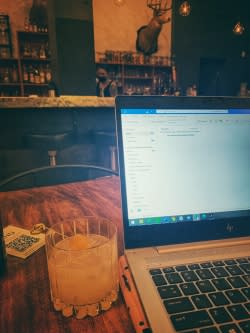 Everyone Needs a Quick Clean
The next morning began early with a delivery of fresh fruit, yogurt and granola, and banana bread to my door. I settled into my workspace well-fed, completely hydrated and ready for the day of work but also, an experience that I have never had in my life. Across the street from the Hilton Garden Inn, in the underground parking lot of Midtown Mall is a company called YXE Quick Clean. They are a full-service car detailing company that is transforming vehicles from utter disasters (mine) to like brand new in a mere matter of hours! Having children inevitably means that everywhere they go, there will be stickiness, mud, fingerprints, explosions, and ink. I was a little embarrassed driving my car into the parkade knowing what they would uncover but I was quickly reassured that no one brings them a clean car. I was met with warmth by Max and his team who would be tackling my vehicle which included removing garbage, vacuuming, and steaming the carpets, floor mats and seats, washing all of the surfaces, dealing with the mound of hay in the rear seats and detailing the exterior as well. My car has never experienced such radiance. Ever. You need to do this for yourself and your vehicle as soon as possible and couple it with a day of work at the Hilton. It was incredible to close my computer, walk across the street and get into an entirely different feeling vehicle.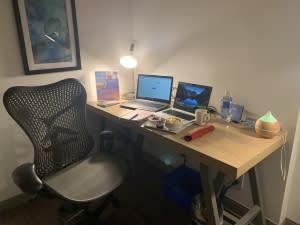 No Place Like Home
My second night in the hotel was bliss, soft music playing as I tackled board reports, performance evaluations and letters to elected officials. All of it was possible thanks to the comfort and clarity of this new space. When we can't go far to experience the revival that comes with travel, our own backyard is full of people and places that are waiting to revitalize our spirits and remind us of how fortunate we are to live here. Travel will return one day and when it does, it is my hope that you will have made time to acquaint yourself with our city and its experiences so you truly know, there is no place like home.