There is a saying  around this time of year that goes "Eat Drink, and Be Merry".  In keeping with holiday tradition, and expectation, Tourism Saskatoon dispatched two holiday elves to do just that. Their assignment – scope out hotel lounges, drink and spread holiday cheer. Then report back on their findings.
Stovin's (Delta Bessborough)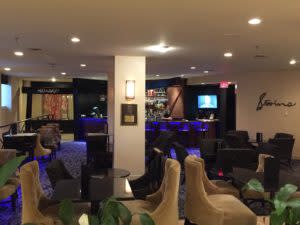 First Impressions: Can't go wrong with the Bess! The décor is funky and the lighting is dim, but not too dark. Open to the lobby, it grants you exposure to the full charm of this historic locale.
Size: Medium Small – Capacity is about 50 people.
Drink: Local brewed draught beer from Prairie Sun Brewery including the exclusive "Smoke on the River" which is exclusive to the Bess. + Dill Pickle Caesar with Lucky Bastard Dill Pickle Vodka.
Food: Full food menu (Plus bowls of munchies to snack on for FREE!)
Why go here? To experience the class and refinement of one of Saskatoon's most famous landmarks from the inside! A good spot to converge before a night on the town and a good place to mix and mingle.
6Twelve (The Sheraton Cavelier)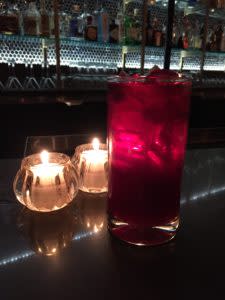 First Impressions: Dark and moody! Atmosphere is very swanky with a cool hipster vibe. It was recently renovated and has a nice mix of tables and more casual seating.
Size: large – space for about 100 people
Food: Full food menu with snack on snack on snacks when you first sit down!
Drink: Haskap Gin Fizz (featuring haskap gin from Blackfox Distillery – a nice balance of sweet and tart!)
Why Go Here: Amazing place for an intimate get together with friends or a significant other. It's dim lighting definitely lends a cozy vibe. It was especially nice, as the weather cools to find a spot that serves as both a restaurant and a place to stick around for a creative cocktail or two.
Aroma Resto Bar (The Radisson)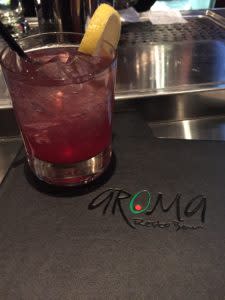 First Impressions: Lively! A hot spot for sure. Lots of TVs and the vibe was very much like a neighbourhood pub.
Size: Large – ample seating and connected to the main restaurant.
Drink: Saskatoon Berry Lemonade which featured Saskatoon Berry Liqueur and house made citrus vodka.
Food: Full menu including a pizza special every Monday and Wednesday which includes $8 pizza and $5 pints. Each week the chef creates a unique pizza creation!
Why Go Here: The food! The pizza was so good and the atmosphere was not intimidating. The staff and service was incredible. Highly recommended as a spot to meet a group of friends and the atmosphere was lively and bustling, so a solo traveller wouldn't feel conspicuous sitting on their own.
Steps (The Hilton Garden Inn)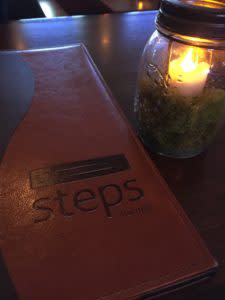 First Impressions: Comfortable and fun! Their newly renovated authentic design made this bar feel like a neighbourhood pub. A nice selection of seating arrangements and TVs, and funky décor make sure you always have something to look at.
Size: Large – ample seating at bar, booths, or banquettes.
Drink: The Kentucky Mule – with Jim Beam bourbon – packs a nice punch!
Food: Full menu with sizable sharables – a tasty large platter of your favorite apps.
Why go here: Atmosphere! The place has abundant charm and an ample menu making it a great stop. Its central downtown location makes it perfect for a cocktail before or after TCU Place events.
The Hub (Holiday Inn)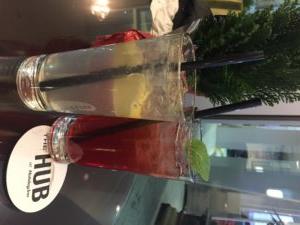 First Impressions: The Hub is a bright, energetic and fun space. It extends an invitation to sit, enjoy yourself, and take in the vibrant downtown core. Tons of windows provide ample people watching opportunities.
Size: Large – tons of comfortable seating.
Drink: "Jeff's Saskatoon Berry Mojito" an off menu favorite that's tart, sweet, and refreshing.
Food: Snacks to nibble on.
Why go here? For the bright and refreshing atmosphere and to feel immersed in city life. Literally a hub of activity in the heart of downtown!
Mulligan's Sport Pub (The Ramada)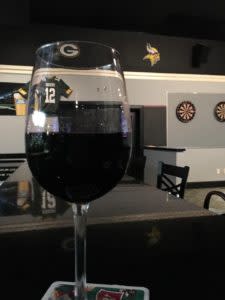 First Impressions: Mulligans is the perfect spot to sit at the bar, engage with the staff, and live out your Cheers fantasies. It's the type of place you imagine where everyone knows your name. The u-shaped bar is wide and the staff is lively and entertaining.
Size: Large – tons of space either at the very inviting bar or booths or bar tables.
Drink: Sliced Apple Pie Cocktail with vanilla vodka, spiced rum, apple juice and cinnamon – dessert in a glass!
Food: Extensive bar snacks menu as well as full restaurant menu.
Why go here? The U-shaped bar is inviting and it's the perfect relaxing spot to unwind.
Riverside Lounge (Park Town Hotel)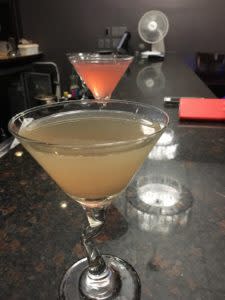 First Impressions: Tucked off the main floor of the Park Town hotel – the Riverside Lounge is a bright, beautiful space. Modern décor gives this watering hole a glamorous feel, but with its friendly staff and delicious cocktails, everyone feels at home.
Size: Medium – a nice blend of casual, comfortable seating.
Drink: Martinis – specifically the Sinclair – a citrus martini with vodka, lime, tonic and cranberry juice. As well as the Lychee rose with pink moscato, vodka, and lychee juice.
Food: Tapas menu – with some delicious snacks.
Why go here?  Definitely the spot for a nightcap – it's luxe, inviting and tucked away in one of their cozy seating areas you so can feel relaxed and at ease. It's the type of place to cozy in and enjoy yourself.