Need some new ideas for either date night or a night out with friends? Look no further than Shakespeare on the Saskatchewan.  Each year, Shakespeare on the Saskatchewan offers various adaptions of William Shakespeare's most iconic plays in addition to ones that are influenced by his life and writings.   
This summer a few girlfriends and I were looking for something new to do together so we grabbed tickets to the iconic tragic love story, Romeo and Juliet.  It was such an amazing experience, and I can't wait to share it with you! 
The Venue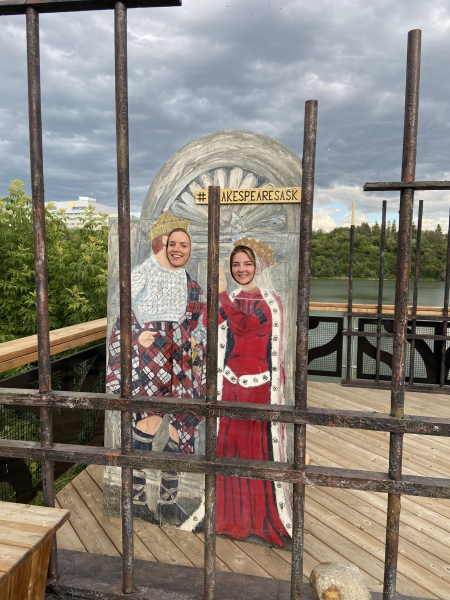 Shakespeare on the Saskatchewan is conveniently located along the picturesque South Saskatchewan River near the University Bridge.  All plays are performed outside within a tent that provides significant shelter; each tent has stable walls and roof so no need to worry about being left unprotected from the unpredictable Saskatchewan weather.  Due to the tent being outside and despite the coverage, dressing for the weather is important so be sure to bring a light sweater for evening performances.   
When we got to the venue, we easily found parking in the lot located beside the Nutiren Wonderhub.  Parking space in that lot may be limited so make sure you arrive early! We arrived approximately one hour prior to show time.  For more information on parking check out their website.   
I would recommend arriving early to the venue, not only for parking but also so you are able to enjoy a drink and snack while overlooking the beautiful river; you may even see the Prairie Lily float by! The courtyard offers Sir Toby's Tavern to grab a drink (alcoholic or not) or snack, a small gift shop, and fun Shakespearean themed photo cut out boards which we obviously took advantage of (I can't be the only one who finds these boards hilarious!).  There was also lots of seating available throughout the courtyard which was perfect for catching up with the girls prior to show time.  
There are two tents available for performances but for Romeo and Juliet, we were in the large Amphitheatre.  On our way into the Amphitheatre, we were greeted by volunteers and staff who assisted us with finding our seats and ensured we were ready to enjoy the show.   
The Play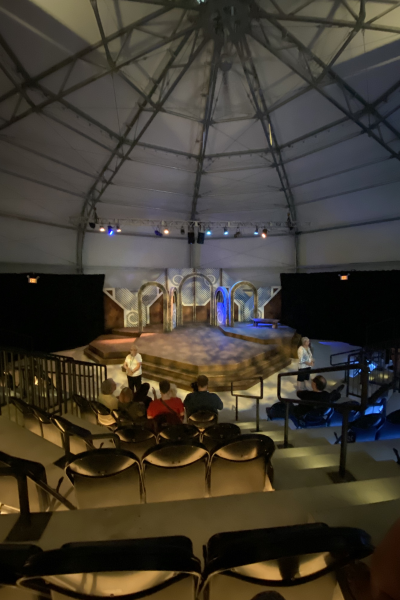 Most of us know the story of Romeo and Juliet through high school English class or from the film rendition with Leonardo DiCaprio, but seeing it live and up close was an experience like no other.  If you are anything like me, I strongly disliked studying Shakespearean plays in high school, to me, they never made any sense!  However, Shakespeare on the Saskatchewan helped me develop a new appreciation for the story and the influence Shakespeare has had on the arts.  The play was performed in a way that was easy to follow by including some modern language, and incorporating components of music and dance! In addition to the play itself, each actor and actress performed wonderfully with so much passion and drive to ensure the show was an incredible experience for the entire audience.   
The Experience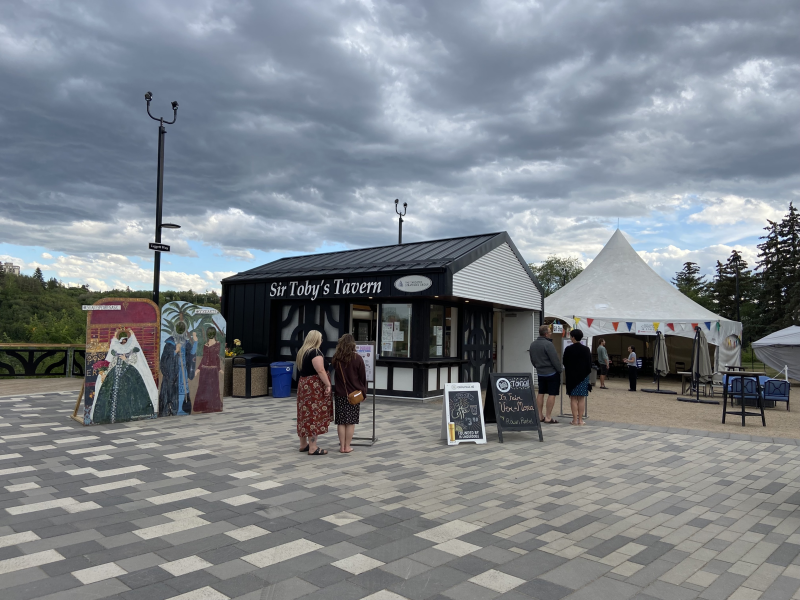 Overall, me and the girls loved our night at Shakespeare on the Saskatchewan and we can't wait to make it an annual girl's night activity! 
Haven't been yet? You still have time! Romeo and Juliet will be playing until August 20th and As You Like It will run until August 19th.  Check out the Shakespeare on the Saskatchewan website to book your tickets before they sell out, you won't regret it!