As I continue to seek new places to work and new opportunities to experience my own backyard, I set out early one morning to experience Whitecap Dakota First Nation's new Dakota Dunes Resort. Situated just 20 minutes south of Saskatoon on traditional Dakota Unceded Territory, the resort invites travellers to a modern destination, offering deep and genuine hospitality with an authentic Indigenous experience.
Land Acknowledgement
Wherever you hail from, you'll feel the specialness of this land. Saskatoon is built on Treaty 6 Territory and The Homeland of the Métis. A traditional meeting ground, gathering place and travelling route, this land is sacred. I acknowledge all the many First Nations, Métis, and Inuit whose footsteps have marked these lands for centuries in the past and the imprints we'll make together going forward. We pay our respects for this stolen land of incredible beauty. As we reaffirm our relationship with one another and commit to building strong, lasting partnerships, we are so grateful for the sacrifices made by the Indigenous community. We give thanks for our opportunity to thrive on these traditional lands.
The Long and Winding Road
There is nothing like watching a prairie sunrise as the vast landscape and rolling hills gently awaken beneath the sun beams' embrace. The drive to Whitecap is awe-inspiring at this time of day. The road winds and meanders along a landscape that holds so much history for many who live here. Beneath the surface of this land and beyond the sage brush, is dense, sandy earth – remnants of an ice age that left these so-called flat prairies covered in miles of thick, receding ice. As these glaciers and ice fields retreated, they carved out the Canadian Rocky Mountains and left rich, fertile land in their wake for the Indigenous people of this traditional territory to thrive on for over 6,000 years ago. It baffles me that our prairie landscapes have lacked such attention and reverence from travellers worldwide and dare I say, our own residents!? It is about time that we start sharing these stories and singing the praises of the transformative experiences that happen right here, right now.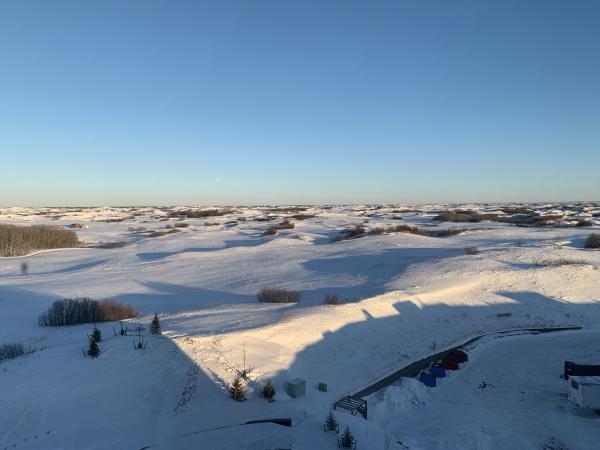 Strong Roots, Strong Communities
Arriving into the community of Whitecap, it is clear that this is a progressive First Nation with a proud culture and a strong sense of community. Did you know that Whitecap has the "coolest Elders" in Canada!? It is true! Once community members reach a certain age, Chief Darcy Bear has committed to installing air conditioning in their homes – Saskatchewan summers are hot but Whitecap elders, they're cool. I had a chance to connect while out at The Resort with Aly Bear, a local community member now practicing law in Saskatoon. What an incredible example of strength and resilience Aly is as upholds her culture and takes action for Indigenous rights in Canada. I am very grateful for the few Dakota words that Aly taught me that you will see reflected throughout my story. I want to express my deepest level of respect, wawohoda, to the community members of Whitecap for welcoming me to their traditional lands.
Talk About Making a Great First Impression
The Dakota Dunes Resort is architecturally spectacular, the windows framed by tipi-like angles, the lobby home to two circular burning fires. Everything is intentional and reflective of this incredible Indigenous experience. The welcome from the front desk was warm and inviting with obvious safety and security protocols in place. I learned that only one family unit can be in their rooftop pool at a time which meant that I would have the entire pool to myself, when I could get there.
While this brand-new property reflects such a modern feeling, there are elements of culture at every turn. From the board rooms being named after "Wild Horses" to the art in the halls, the hotel itself is worthy of full exploration and immersion for every traveller. Walking into my room, I gasped at the floor-to-ceiling windows and the décor showcasing Chief Whitecap's ceremonial headdress. I couldn't help it, but I hopped right into my bed, opened my laptop and my day began.


If you need a getaway for just a day, a room with a desk can be yours, checking in at 7:00 am and out at 6:00 pm.  The rooftop pool is accessible during this time if you need a break and some wellness in your day, but take my word for it, you are going to want to stay at least one night with how inviting the bed is! And I must mention the Moose Woods Home Fire Grill is serving up some incredible culinary delights. I was so excited to be spending the night with my partner Derek, both of us wrapping our workdays in our room with great anticipation of what awaited us in the restaurant.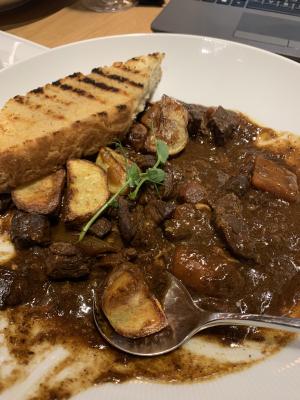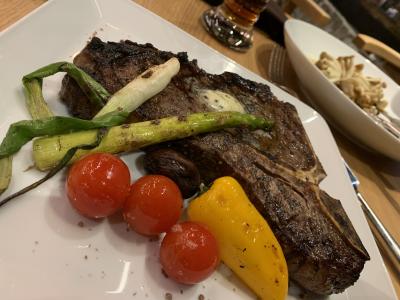 The menu at Moose Woods is a fine mixture of Saskatchewan flavours with Indigenous flare. Derek and I were greeted by the warmest woman named Opal who spoke so highly of her position at the newly opened resort. I have felt warmth like hers before and if we were able to right now, I probably would have hugged her on our way out that night. We feasted, to say the very least, on a mountain of mushrooms, venison stew and a remarkable bison steak. This is what being nourished in the prairies looks and feels like. I happened to have a call that evening with partners from across Japan, China and South Korea and I couldn't help but showcase the culinary excellence that I was experiencing. Too often we don't realize what we have in our own backyards until we see someone from a far-off place experience it for themselves with awe, wonder and delight. When those borders open again, Saskatchewan and Dakota Dunes Resort will surely be at the top of many travel bucket lists after seeing my experience that night.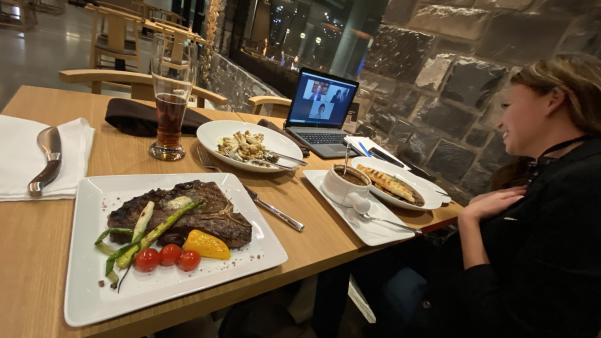 Take Note of this Special Event
Coming up on March 19th & 20th, The Resort has created an experience called "A Taste of Moose Woods – Couples Edition". This package includes a king room and a 4-course dinner for two! For $200 per couple, you will be treated to some of the best items on the menu like Elk Meatballs, Tatanka Ribs and Saskatoon Berries Tartlet. Local flavours, traditional lands, what more could you ask for as an opportunity to escape for a night, fill your belly, spend much-needed time with your loved one and get a good night's rest?
 
Renewal Awaits…on the Roof!
Hahanna Wašte! (Good Morning) The next morning began with a visit to the rooftop pool, another breathtaking experience as my arrival was timed perfectly with the sunrise. The pool deck is fully enclosed with floor-to-ceiling windows, giving way to an ocean of prairie landscape and undulating hills. My eyes quickly fixated on the early rising mule deer scrounging for vegetation beneath the blankets of snow. What a place to live, so full of life even in the thick of winter. My morning workout was followed by a dip in the pool and a long, deep breath-filled soak in the hot tub. I felt like I was seeing with new eyes and a totally rejuvenated mind.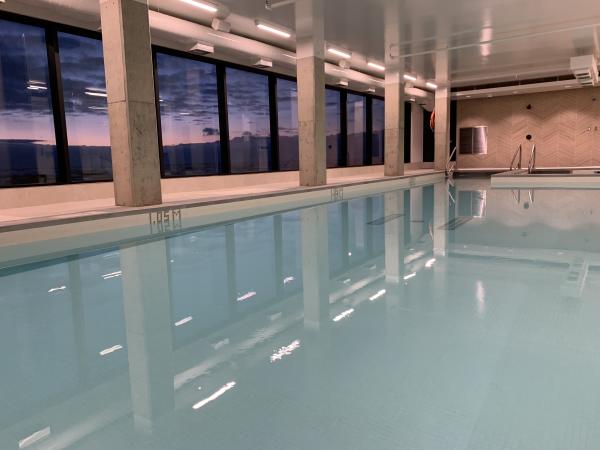 Let's Get Down to Business
Despite the restraints that COVID has placed on our hospitality sector, hotels continue to safely host meetings and I wanted to experience one of these new meeting rooms for myself. Firstly, what is better when in days' worth of meeting than to be in natural light? The floor-to-ceiling windows continue into the meeting spaces where I was greeted by a full table to myself. I found myself longing for the days of group gatherings and face-to-face meetings. I attended most of my meetings in the Wild Horse room, so fitting for a horse lover like me but, I just couldn't get that pool off my mind.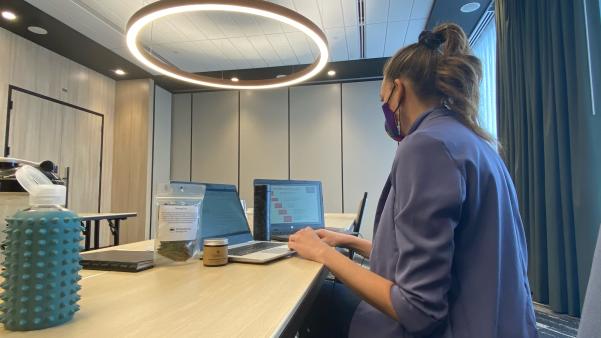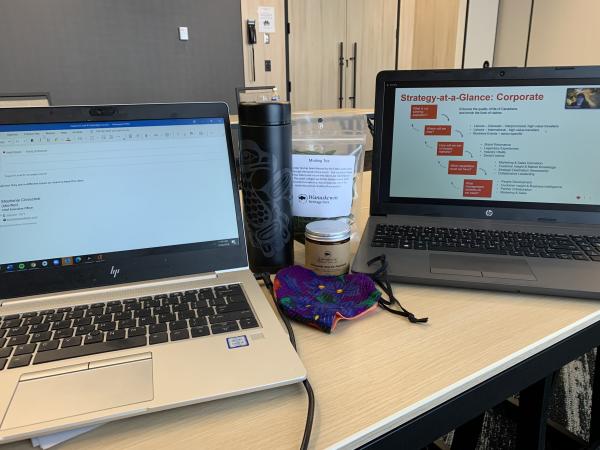 I have never imagined taking a virtual meeting while sitting in a hot tub but really, anything is possible these days, right? I concluded my day soaking up the warmth and radiance of the pool deck space, quickly becoming the envy of everyone on the zoom call. "Steph, are you really in a hot tub!?" Of course I am, living up every decadent second of my time at The Resort.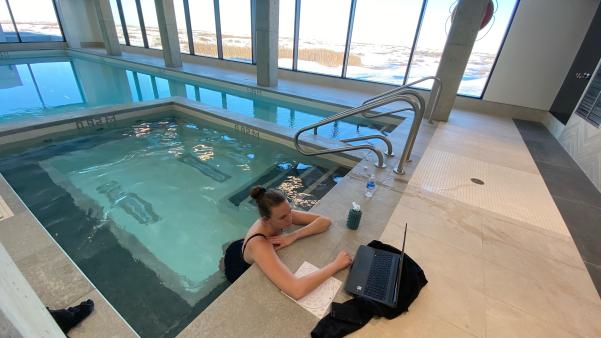 New Sun, New Day
Leaving the hotel that evening, I walked through the sun-bathed hallway towards the lobby and stopped for a moment to put my face in the sun. I was once told a story that The Navajo teach their children that every morning when the sun comes up, it's a brand-new sun. It's born each morning, it lives for the duration of one day, and in the evening it passes on, never to return again. As soon as the children are old enough to understand, the adults take them out at dawn and they say; "The sun has only one day. You must live this day in a good way, so that the sun won't have wasted precious time." Acknowledging the preciousness of each day is a good way to live, a good way to reconnect with our basic joy and appreciation for each and every day we have.

Phidamaya (thank you), Whitecap Dakota First Nation for the incredible experience and such a pointed reminder to live each day in a good way.