"It should take us about an hour and it's mostly flat, paved trails." Those were the words I'd end up wishing to retract. If I were a politician, my defense would be that I merely "misspoke."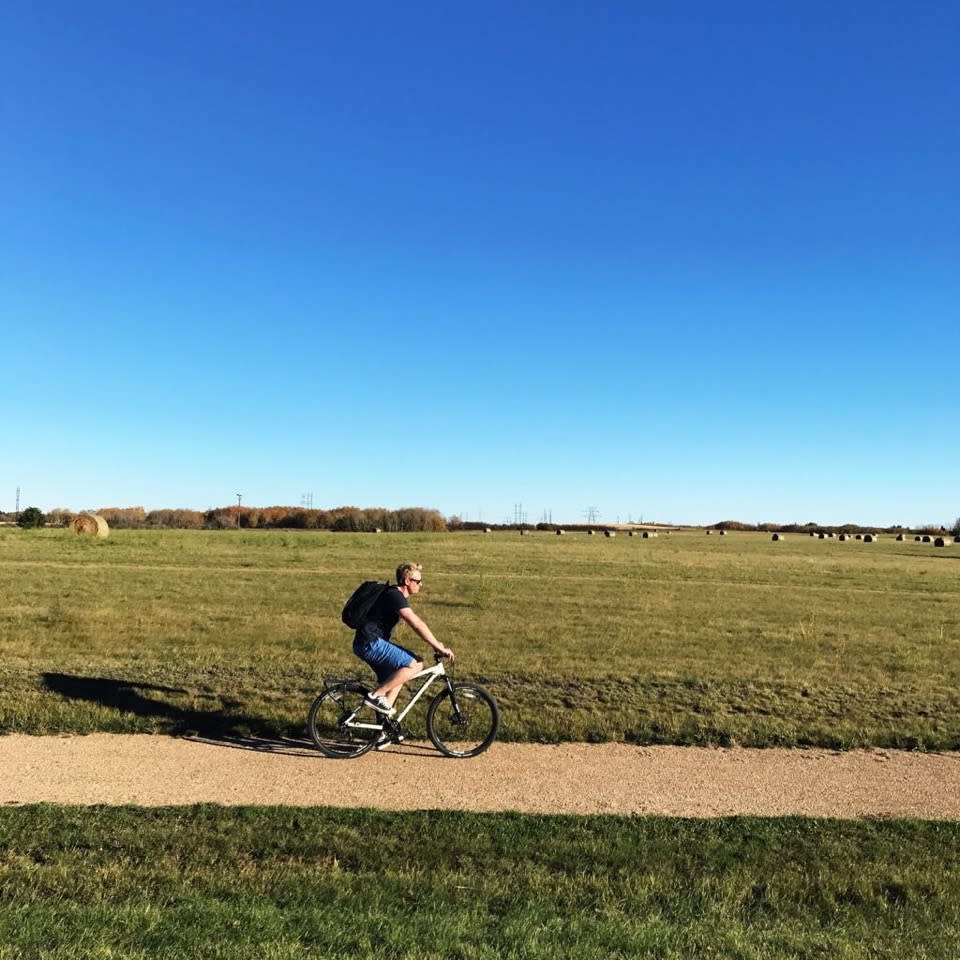 My cousin Kate and her partner Jonny were the recipients of these blatant lies misspoken lines. She's a Vancouverite, he's a Londoner, and they were visiting my husband Josh and me in Saskatoon for five days during their cross-country road trip. They had packed up their life in Vancouver and were Brooklyn-brownstone bound with all their belongings. But before they began Brooklyning, I wanted to give them a taste of Saskatooning.
Here are four of their top highlights…
PLAY
Cycling for Cider: Meewasin Trail & The Glen at Crossmount
Those aforementioned egregious falsehoods turned out to be well worth it, and led to one of Kate and Jonny's favourite activities in our Prairie city: a bike ride along the Meewasin Trail capped off with a cider tasting at The Glen at Crossmount.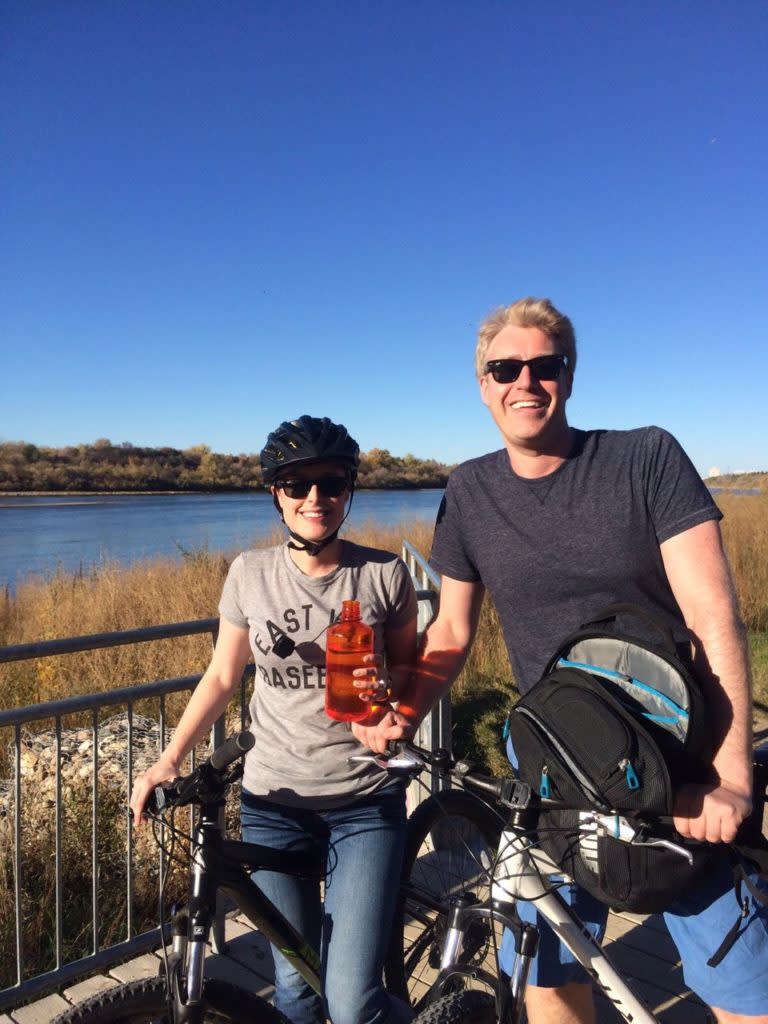 We kicked off our mini Tour-de-Saskatoon on Saskatchewan Crescent West, where we pedaled beneath the brilliant yellow tree canopy. The fall colours made for a gorgeous tunnel-like effect as we glided towards the entrance to the river trails at Gabriel Dumont Park. It wasn't long before I realized "paved" and "flat" were the wrong adjectives to describe this trail. Despite our burning quads, my compatriots remained good natured and diplomatically refrained from shouting any form of "are we there yet?" Instead, they admired the sweeping river vistas and bucolic landscapes studded with hay bales.
We followed the river trails, detoured through Furdale, and eventually reached the northern edge of the Riverside Country Club, where we turned onto Grasswood Road, took a right on Chief Whitecap Trail and arrived for our cider tasting about 2.5 hours after setting off. In hindsight, and a second look at Google maps, it turns out that it would have been an hour-long trip had we cycled along the roads the whole way, instead of our river trail detour—but where's the fun in that?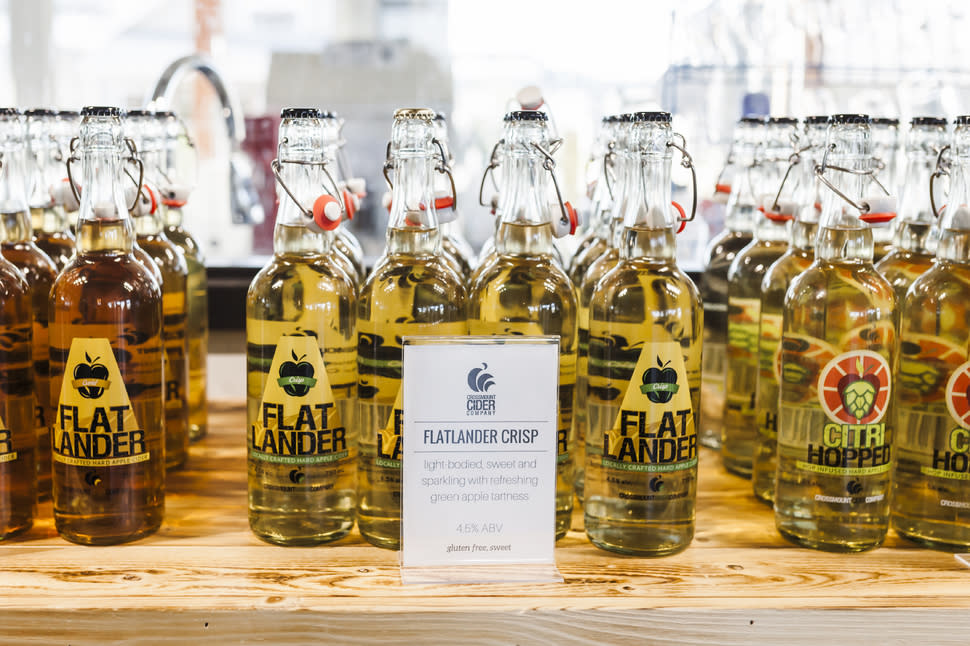 We were elated to rest our weary legs while the bartender at The Glen at Crossmount's Cidery explained the four cider varieties we'd be tasting. From crisp and dry to sweet and sparkling, each delicious variety made the arduous journey well worth it. We were also in a celebratory mood because Josh soon joined us for a tasting, and he had travelled there with his truck. We raised a glass and toasted to not having to travel home via pedal power.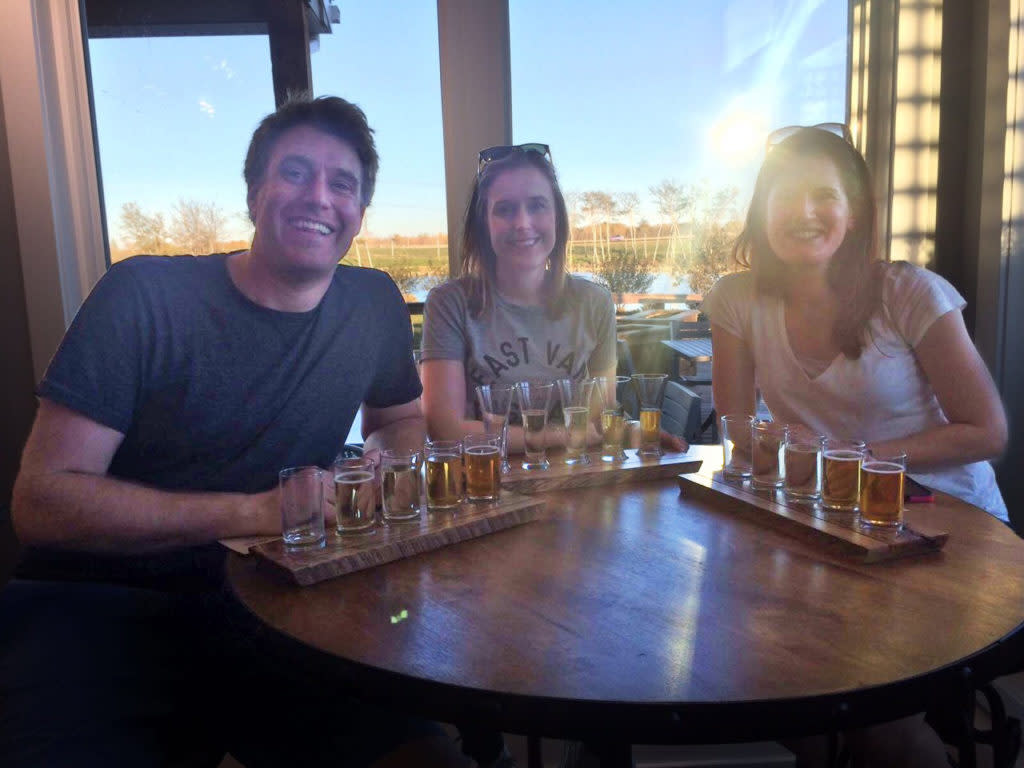 EAT
Fish tacos at Picaro
What better way to refuel the tank than with fish tacos from Picaro?
West Coasters tend to be wary of ordering seafood so far from the sea, but these succulent tacos were brimming with cornmeal fried northern pike, straight from Saskatchewan's own freshwater lakes. We also indulged in their chicarrón starter—fried chicken skins with caper lime mayo. It was the very definition of a guilty pleasure. We capped off the meal with sugar dusted churros dunked in dulce de leche for dessert.
Our cheerful server turned out to be a big proponent of her adopted city. Hailing from Mexico, she said she "fell in love with the prairies—the land of the living skies."
SHOP
Broadway Avenue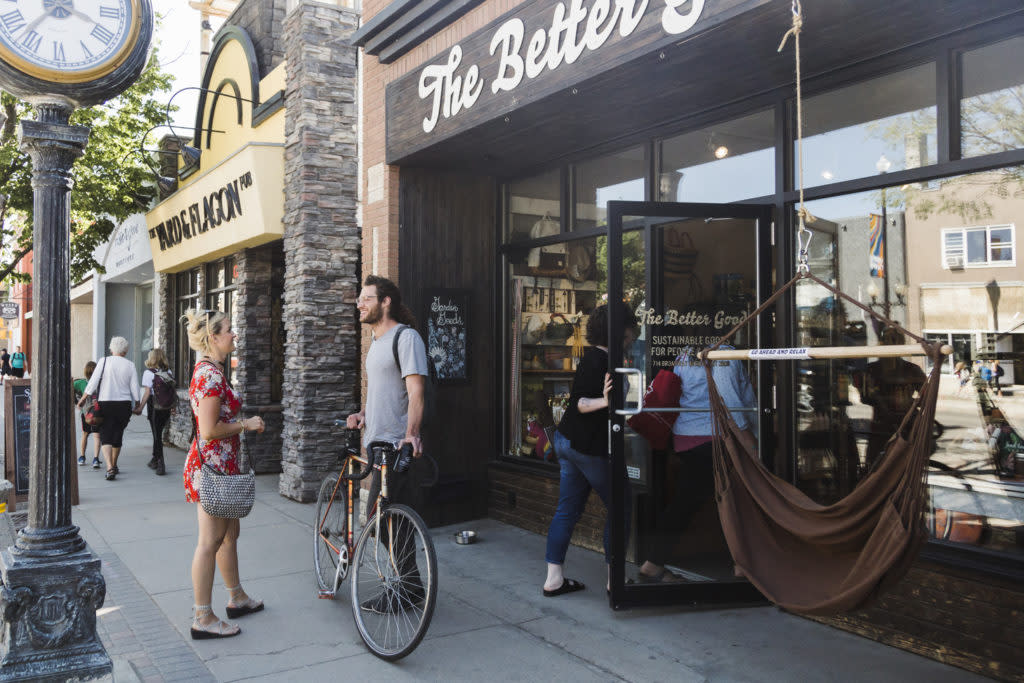 They might be headed to a city with a more renowned Broadway, but I was eager to show Kate and Jonny around Saskatoon's version of it, which happens to be my own neck of the woods. We stocked up on cheese at the Bulk Cheese Warehouse, bread and chocolate chip cookies at Il Secundo, coffee at Venn and Museo, picked up a fresh bouquet from Bill's House of Flowers, and Jonny replenished his rooibos tea supply for the road at McQuarries. They both loved how Broadway offered a shop for every essential in one condensed area. That's the same reason my husband and I chose to live there, but their observation gave me a renewed sense of appreciation for our eclectic neighbourhood.
EXPLORE
Riversdale and River Landing
We took advantage of a sunny fall day to explore Riversdale, starting with a stroll down 20th Street. Along our walk, we checked out the colourful new mural at 20th and Avenue D, and then popped into Anthology for a quick perusal and its neighbour, Little Bird Patisserie, to stock up on their incredible macarons.
Kate needed a gift for a friend, so we stopped at Garden Architecture and Design and happily wandered through their beautiful open-air offerings. It's almost impossible to leave without "one for you, one for me," multiple purchases—Kate left with a perfect gift, and a stylish planter for their new home. She and Jonny were impressed with the store, noting that there was nothing like it in Vancouver. This echoed my mother's comments when I took her to Garden Architecture on her first trip to Saskatoon. Visiting from Ottawa, she said our capital city had nothing comparable.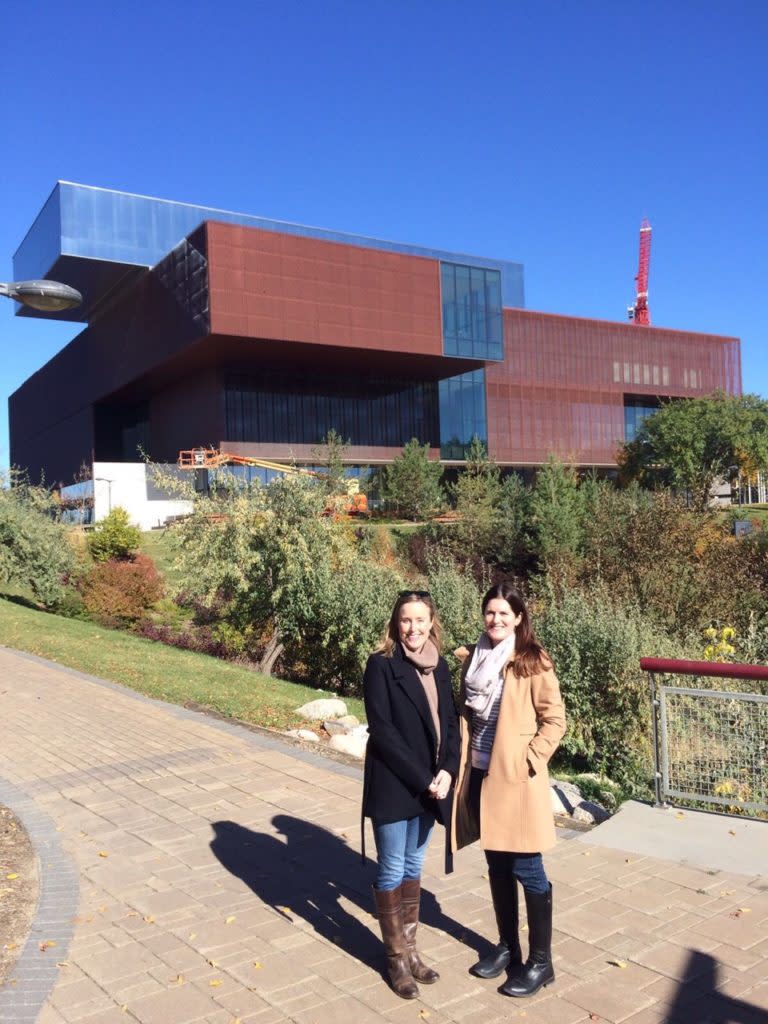 Finally, we strolled along River Landing and walked around the perimeter of the Remai Modern to admire the modernist structure. Kate and Jonny are big art lovers, but unfortunately the art museum's grand opening was still a week away. All those unseen Picasso linocuts are just a definitive reason they'll have to leave their Brooklyn borough and return for another visit soon.