The crisp autumn air of 1979 swirls around two love-struck teenagers. Small town prairie girl meets big city Calgary boy in Saskatchewan's 'City of Bridges'. The graceful arches of concrete bridges, conjure up a European setting, in the agricultural heartland of Canada. Hand in hand, with golden leaves crunching underfoot on Saskatoon's Meewasin trail, the calm waters of the South Saskatchewan River quietly chaperone the two love birds.
It would be Saskatoon, aptly nicknamed 'Paris of the Prairies', where our life together would begin. In these past four decades, Saskatoon has often been a quick stop, on a longer journey, with children and now grandchildren.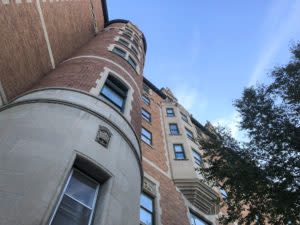 Returning to our meeting place today, we smile at how much remains the same in Saskatoon from our teenage, starry-eyed days. The sun twinkling on the wide expanse of water at the bend of the river. The city gazing at itself from each side of the waterway, through whispering prairie grasses and tree-lined banks. The Bessborough Hotel, or 'castle' as we referred to it as teenagers, stoically standing as the iconic landmark of the city. Sweet as the Saskatoon berries native to the area, for which the city is named, the friendly people and relaxed pace remain as we knew it in our youth.
Now, forty years since our teenage beginnings, we celebrate a life together coming back to explore Saskatoon.  For hours we wander the Meewasin trails, recalling it was on these paths where our hopeful dreams were shared.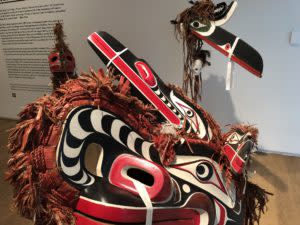 So much of the city is familiar and yet so much has changed. Today Saskatoon's bustling city centre and revitalized Riversdale district, have taken on a face we barely recognize. Where the new award winning art museum, Remai Modern, looks over the South Saskatchewan, forty years ago we were warned by concerned relatives never to venture.
In a renewal of epic proportions, the downtown river front area is now brimming on this weekend morning with all age groups. From outdoor playgrounds, curving concrete pedestrian and cycling paths to art installations, the area appears to have had a magical transformation. Families and couples gaze out at the stand up paddleboard races in progress on the river. The water appears to shimmer its approval of so many enjoying the heart of the city. If not for the river and the bridges, we would not recognize what has become a welcoming community hub of culture and activity.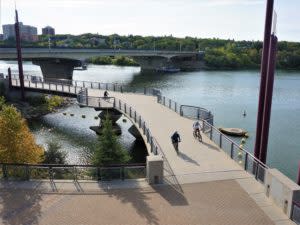 Nearby, the Saskatoon Farmer's Market bustles with shoppers in search of fresh farm produce and works of local artisans. Our favourite from the aisles you ask? Cranberry sea salt, organic chocolate from 'Those Girls at the Market'. A long way from brand name chocolate bars at the gas station from our early days.
Perhaps the most surprising and scrumptious change is the development of Saskatoon as a culinary centre of excellence. Far removed from our feasts of fast food under the glow of yellow arches, or on a very special occasion an evening in a dark-walled restaurant, where night vision glasses might be required to see the giant steak hanging over one's plate, eating out in the city has a whole new taste.
Today the local food and craft drink scene is becoming world renowned. Arriving home to Alberta from our weekend in Saskatoon, I open our provincial automotive magazine to read that Saskatoon has been named one of the best places in Western Canada to visit. No small wonder I think having just devoured our days in Saskatoon.
For thirty years, in the now vibrant Broadway district, Calories has been ahead of today's trend of farm to table. It doesn't get much more local than bees producing honey on the rooftop. At Ayden Kitchen and Bar, Dale McKay, Canada's original top chef winner creates comfort food in a way your Grandma never dreamed. In the historic Riversdale Golden Dragon building, chefs from The Hollows restaurant take home made food to a new level. The easy way is not their way, as they forage, brine and cure a mouth-watering menu.
There is a noticeable cool vibe in the air today in Saskatoon and it is not the autumn chill. The city has grown from its prairie roots into a diverse urban centre overflowing with art and culture, festivals and culinary wonders.
You were special to us from the beginning Saskatoon. What a wonder you have grown up to be.