It's officially January.  I am cold, and I am recovering from the chaos that is December.  In January, I like to take some "self-care" time to reflect on the past year and set some goals for my future. I find one of the best places to do this is a nice hot bath, or even better, a hot tub.   So, in the spirit of self-care, I took time to try out some of Saskatoon's best hotel hot tubs!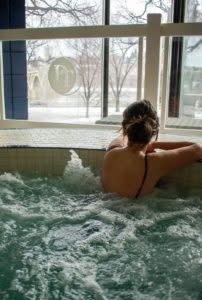 My first stop was The Parktown Hotel overlooking the South Saskatchewan River in beautiful downtown Saskatoon.  The Parktown houses one of my favourite bars, Finns (there's free popcorn, guys! Free popcorn!), and is within walking distance of all my favourite places. The pool area of the Parktown is bright with natural light from its large windows. Colourful kites hang from the ceiling, giving it a super fun and relaxed vibe! The hot tub is nice and deep, and the jets are perfect for relaxing those tight back muscles. My favourite thing about the hot tub at The Parktown was soaking and gazing out the windows at our beautiful Meewasin river valley.
Two other hotels I stopped by were the Best Western in Blairmore, and the Holiday Inn Express. Both were undergoing renovations in the last weeks of 2018 to provide an updated experience! I am excited to go back and check out their new facilities soon!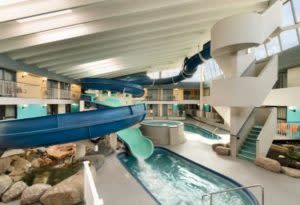 Photo Credit: Travelodge Hotel Saskatoon
If it's a family-friendly experience you seek, look no further than the Travelodge. The Travelodge has two hot tubs! One of the hot tubs is located in the pool area where you'll also find a waterslide and splash park. From there you can keep an eye on your children and get your soak on. There is also a separate quieter pool area that features a hot tub, where you can lie low If you feel like a little alone time.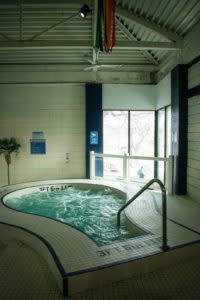 Finding a hot tub in which to relax this winter is as easy as choosing one from this list of Saskatoon's best hotels with Hot tubs
Hilton Garden Inn Saskatoon Downtown
Holiday Inn Express Hotel & Suites
Holiday Inn Saskatoon Downtown
Saskatoon Inn & Conference Center