It's officially January. I am cold, and I am recovering from the chaos that is December. In January, I like to take some "self-care" time to reflect on the past year and set some goals for my future. I find one of the best places to do this is a nice hot bath, or even better, a hot tub. So, in the spirit of self-care, I took time to try out some of Saskatoon's best hotel hot tubs!
 
Park Town Hotel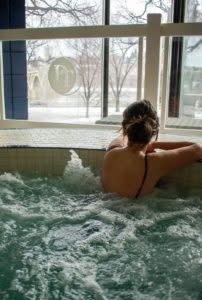 My first stop was the Park Town Hotel overlooking the South Saskatchewan River in beautiful downtown Saskatoon.  The Park Town houses one of my favourite bars, Finn's (there's free popcorn, guys! Free popcorn!), and is within walking distance of all my favourite places. The pool area of the Park Town is bright with natural light from its large windows. Colourful kites hang from the ceiling, giving it a super fun and relaxed vibe! The hot tub is nice and deep, and the jets are perfect for relaxing those tight back muscles. My favourite thing about the hot tub at The Park Town was soaking and gazing out the windows at our beautiful Meewasin river valley.
 
Safety Top of Mind and In Plain Sight
Quick word about safety. Some might be questioning a visit to a hotel in the midst of this pandemic. I am here to tell you that there has never been a more safe and secure time to visit with the assurance of cleanliness and process implemented by our sophisticated hoteliers and sectoral partners. There is obvious evidence of cleanliness and additional protocols everywhere you go in Saskatoon's hotels. Hand sanitizer is available in abundance and masks are mandatory in accordance with public health orders. If you don't have a mask, they will be made available to you. Pools require a check in and departure time to ensure appropriate distancing and gathering sizes are adhered to. Restaurant tables have three meters between them and the service staff take incredible care as they do their work. Many of our partner hotels are a part of the Saskatoon CommUNITY Commitment, which is a destination-wide safety and security pledge that supports businesses with the development or confirmation of internal controls that mitigate the risk of COVID-19 transmission. I have never felt more safe to be in a hotel, a restaurant, a retail store, or attraction in my life. Visit tourismsaskatoon.com/unity for more information. 
 
Travelodge Saskatoon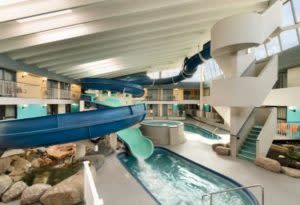 Photo Credit: Travelodge Hotel Saskatoon
If it's a family-friendly experience you seek, look no further than the Travelodge Saskatoon. The Travelodge has two hot tubs! One of the hot tubs is located in the pool area where you'll also find a waterslide and splash park. From there you can keep an eye on your children and get your soak on. There is also a separate quieter pool area that features a hot tub, where you can lie low If you feel like a little alone time.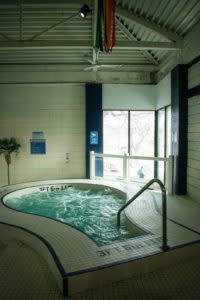 Finding a hot tub in which to relax this winter is as easy as choosing one from this list of Saskatoon's best hotels with hot tubs!
Delta Hotels by Marriott Bessborough
Best Western Plus Airport Inn and Suites
Hilton Garden Inn Saskatoon Downtown
Holiday Inn Express Hotel & Suites
Holiday Inn Saskatoon Downtown
Delta Hotels by Marriott Saskatoon Downtown
Saskatoon Inn & Conference Center