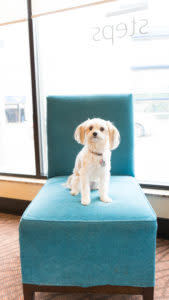 Asia hanging in the bright lobby of the Hilton Garden Inn, where there is a Starbucks.
This is Asia, an adorable two year old maltese-yorkie cross (aka morkie). She wanted to know what Saskatoon hotels would treat her like the princess that she is. So she recently went on a fact-finding mission, in the hopes of helping other visitors who travel with their furry companions, to know where they should rest their weary heads (and paws).
The first stop was Country Inn and Suites by Radisson in the north end of Saskatoon, conveniently close to the airport. They were super friendly when Asia arrived. They told us that pets can stay on the first floor and only pay $25/stay. Asia approved of the room and especially liked that there was a door directly to outside for her to 'do her business' privately.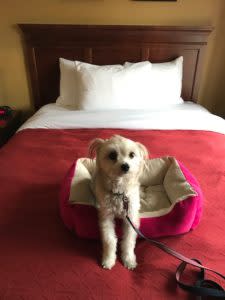 Asia claiming her spot on the bed.
The next stop was The Hilton Garden Inn right downtown. Asia was greeted by friendly guests and staff when she arrived, and seemed to strut more confidently than usual with all the attention. We were pleased to know that there are no fees for pets to stay at The Hilton Garden Inn. Pets can stay with their humans on the third floor of this hotel.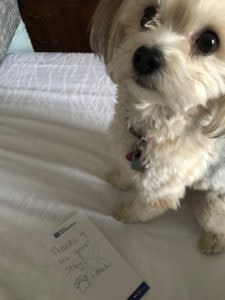 Leaving a thank you note for the hardworking hotel staff.
The last hotel Asia checked out before needing a cat...er, dog nap, was TownePlace Suites by Marriott in Stonebridge. This newer hotel was super bright and clean, and also so welcoming upon Asia's arrival. We got to hear all about the front desk staff's pets and swap cute dog stories before we were shown to our room. They charge $25/night (up to $100) for pets, who can stay on their first and second floors.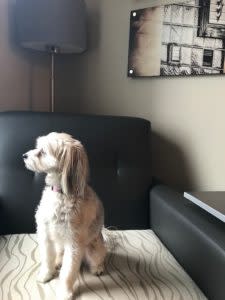 Daydreaming about all the fun Asia is going to have exploring Saskatoon.
Saskatoon has a multitude of other super pet-friendly hotels to consider when travelling without your sidekick just won't do. Others to check out include:
Alt Hotel ($30/stay)
Best Western Blairmore ($20/night, up to $100)
Best Western Plus Airport Inn & Suites ($25/night)
Best Western Plus East Side ($20/night, up to $100)
Comfort Suites ($25/night, up to $100, receive a doggie bag with treats, waste bags and local dog park guide)
Delta Bessborough Hotel ($35 for every 5 nights)
Delta Hotels by Marriott Downtown (no additional fees)
Heritage Inn Hotel and Convention Centre ($10/night, up to $100)
Holiday Inn Express & Suites Saskatoon Centre ($10/night)
Holiday Inn Downtown ($20/night)
Park Town Hotel ($25/night)
Quality Inn and Suites ($15/night, up to $100)
Ramada Saskatoon ($25/stay)
Sandman Hotel ($10/pet/night)
Saskatoon Comfort Inn ($20/night)
Saskatoon Inn & Conference Centre ($30/stay)
Sheraton Cavalier (no additional fee)
Super 8 East ($20/night)
Travelodge by Wyndham ($15/night)