Winterlude 44 has reached Saskatoon and it's barging into town in a big way – with the National Ice Carving Championships! VOTE HERE
For those unfamiliar with the frosty festivities, the Carving Championships is a long-standing competition where carving masters from each of Canada's 10 provinces go head-to-head to create the nation's greatest ice sculpture. This year, teams of two carvers are challenged to create their masterpieces with an Olympic and Paralympic theme – in just 20 hours.
The best part? You're the judge!
That's right, this year Canadians from coast to coast will vote on their top 3 favourite sculptures to determine who is champion!
It's clear as ice – the heat is on for our master carvers! Lucky for us, Saskatchewan's Winterlude 44 Ice Carver knows a thing or two about braving the elements.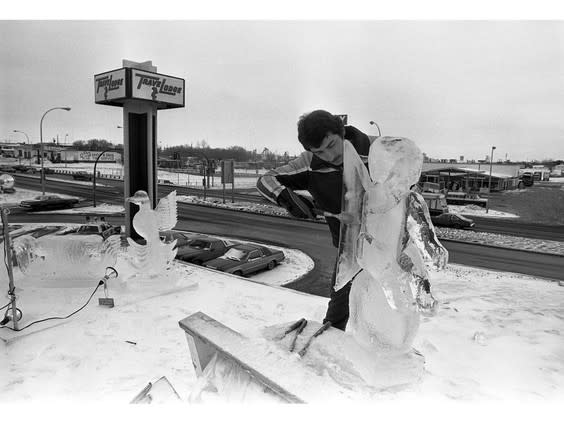 Peter Fogarty: A Story of Ice and Fire
Calling Peter Fogarty a master of ice is just the tip of the iceberg. In fact, ice wasn't even the first element that he mastered – that was the fire. 
Fogarty began his career in the late 1970s as a self-taught cook, working one of his earliest jobs at Regina's Sheraton Centre Hotel.
It was at that hotel that Fogarty was introduced to the art of ice carving, through the carvings of a fellow cook. After trying his own had at the craft, Fogarty was fast to fall in love with an ice carving.
For nearly thirty years Fogarty worked as a chef by day and an ice carver by night. That was until 2007 when he decided to retire from the restaurant industry to pursue his ice carving dreams.
Today, Peter Fogarty is regarded as Saskatchewan's premier ice carver. The owner and head carver at Fire & Ice Creations, Fogarty's sculptures have been commissioned for weddings, galas, awards shows, and competitions across the country.
For the 2022 Ice Carving Championships, Fogarty is joined by his apprentice and colleague Jeffrey Books in representing Saskatchewan.
Tourism Saskatoon wishes Fogarty and Books the best of luck!
Remember to check back here to learn how to vote from February 11-20th! VOTE NOW