When I was quite young, I asked my mom if I could change my first name to Ice Cream, since I thought being called Ice Cream Kohen was hilarious. I was a big fan of pretty much all flavours and types of ice cream, so to me this made perfect sense, and would put a smile on people's faces when they met me. When my mom realized I was serious, she definitely didn't smile.
Fast-forward more years than I care to admit, and I still love ice cream. In fact, I still love ice cream at one of my favourite childhood haunts, Homestead Ice Cream, which has been open since 1978, around the time I was considering a name change.
Not far off the main drag of the historic Broadway district, Homestead is popular among Saskatonians, but visitors may not be familiar with this locally-owned ice cream parlour that makes all its delicious flavours on-site, including everything from classics like tiger-tiger and cookie dough to unusual gourmet flavours like Guinness and avocado. There are always 40 different flavours of ice cream available, but they rotate through more than 300 different varieties. Homestead also makes other popular treats like custom-made cookie sandwiches and triple-dipped chocolate cheesecake on a stick.
You can probably imagine my kids' excitement - okay who am I kidding, mine too - when I told all three to each invite a friend to Homestead. We were going to attempt to devour their signature dish 'The Dog's Breakfast'.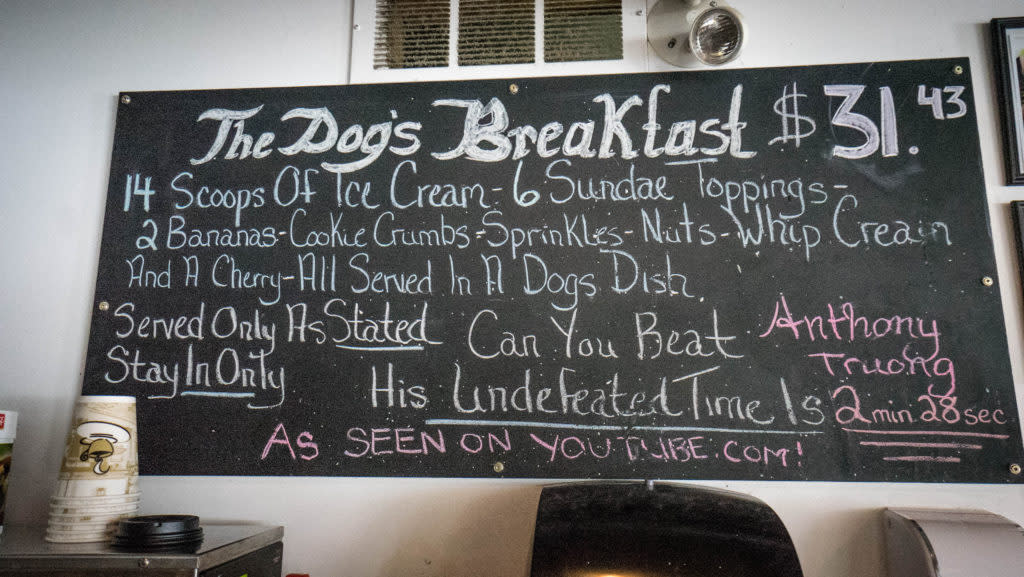 A dog's breakfast is defined by Merriam-Webster as a confused mess or mixture. At Homestead, the Dog's Breakfast consists of 14 scoops of ice cream, 6 sundae toppings, 2 bananas, cookie crumbs, sprinkles, nuts, whipped cream and a cherry, all served in a dog's dish...definitely a confused mess and mixture, albeit a tasty one.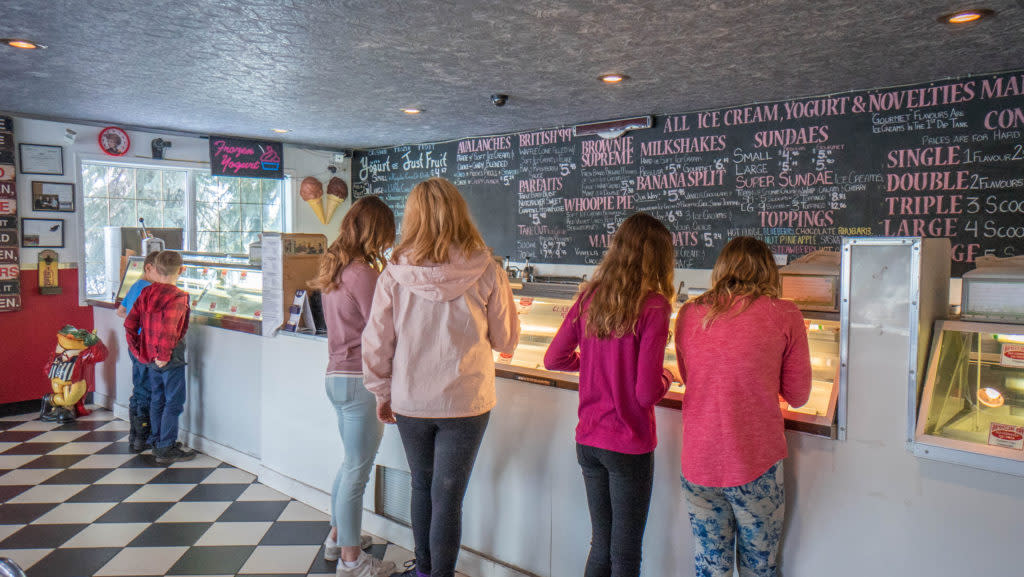 I let all six kids take turns picking flavours, not an easy feat with so many to choose amongst, and we all watched excitedly as they were piled up in our dog dish. After all the toppings were added, I no sooner put down the dish at one of their 1950s malt shoppe style tables, than it was gone. I managed to snap a few photos, but by the time I stashed my camera, not one bite was left for Ice Cream Kohen.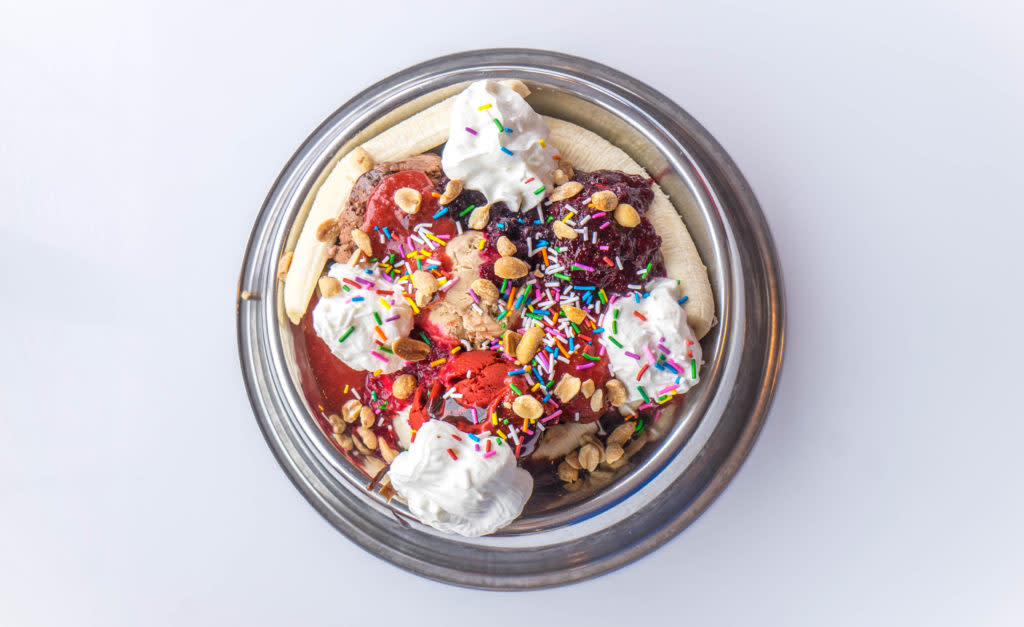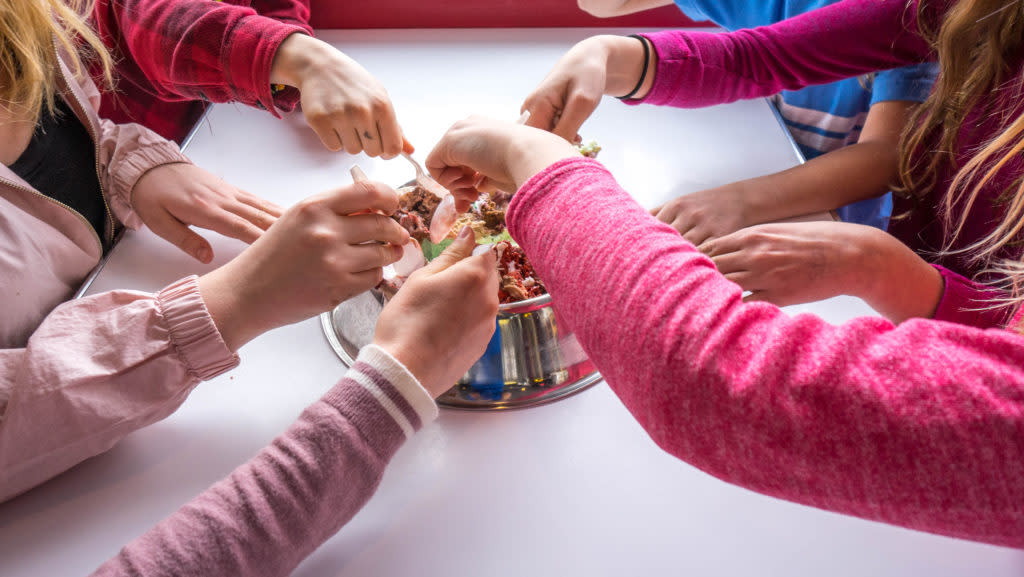 On a board adjacent to the front counter at Homestead, is the name Anthony Truong. His claim to fame is that he is the current record-holder of eating the Dog's Breakfast the fastest, clocking in at only 2 minutes 28 seconds. I think the kids may have beat him that day, but in fairness to Anthony, there were six of them.
No need to get brain freeze and rush through your Homestead treats, try some of their fabulous ice cream flavours yourself in one, two…or fourteen scoops, just two blocks off Broadway Avenue at 822 Victoria Avenue. You just might see me there, alone with my own bowl, since clearly my kids have figured out that it's just too good to share.