Whether it's a bucket list item to tick off, the chance to face a fear of heights or a short-term fix for adrenaline junkies, jumping out of a perfectly good airplane with Skydive Saskatoon is truly an experience. It's also the perfect opportunity to explore locally from a very different perspective.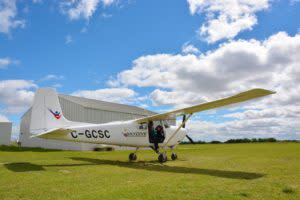 Photo Credit: Ashlyn George
Walking up to the hangar at the Richter Airfield near Martensville, I planned to do a skydive from 11,000 feet. Interestingly, it's often women who initiate a jump. It was true this morning as the three other jumpers were all female. The minimum jumping age is 18 but the "sky's the limit" otherwise. My instructor, Ken Adamson, has even taken his 82-year-old mom up.
I was quickly suited up into a harness that would be clipped by four points to my instructor's harness before we exited the plane.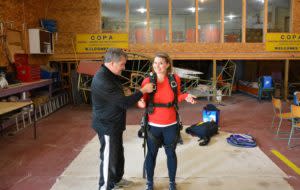 Photo credit: Skydive Saskatoon
Climbing inside the single-engine Cessna, we tucked into the back of the airplane. Taking off on the grassy field, I was aware there would be no changing my mind.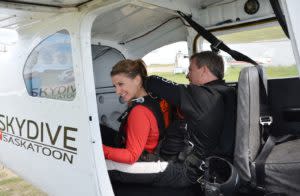 Photo credit: Skydive Saskatoon
Airborne, we circled the landing strip, gaining elevation until we reached our jumping height in only 17 minutes. An impressive view of Saskatoon, Martensville and Warman as well as the South Saskatchewan river helped ease my growing nerves.
At 11,000 feet, with a sudden gust of wind inside the cabin, my heart sped up and adrenaline spiked. I had been warned that when the plane door opened, reality would set in. There was no turning back –  just the option of rolling out the doorframe strapped to a stranger I had put all my trust in.
Adamson and I scooched to the doorframe and I pulled my feet out into the wind and onto the frame of the plane. He asked if I was ready and after a firm nod, we tumbled out in free fall up to 200 kilometres an hour back towards the earth.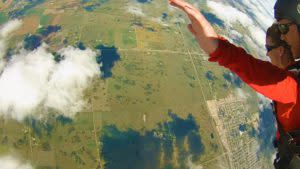 Photo credit: Skydive Saskatoon
There is little perspective when falling from such heights so the stomach-churning rolls felt on bungy jumps and amusement park rides don't compare. The rush of wind pushing at your body as you fall towards the ground for 35 seconds is unlike anything else I've experienced.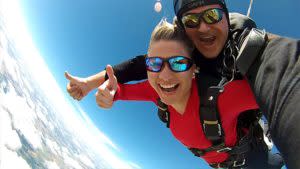 Photo credit: Skydive Saskatoon
At 5000 feet Adamson pulled the chute. We jerked upwards and our free fall speed dropped. By 4000 feet, the chute had fully deployed. Adamson let me grab the secondary handles and under his guidance, we pulled to the right and the parachute looped us around at a speed that dropped my stomach.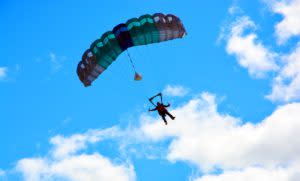 Photo credit: Skydive Saskatoon
A few loops later, we narrowed in to the dropzone. Pulling my legs into a horizontal position we smoothly landed in the grass as the chute dropped out of the air behind us. Only six minutes after jumping out of the plane, we were back on solid ground.
As for me - I couldn't stop grinning.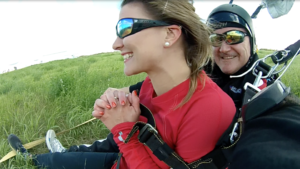 Photo credit: Skydive Saskatoon
Think you're up for the challenge? Sign-up here for a tandem jump. Or, if you're looking for an even bigger adventure, consider their Solo First Jump Course.