Saskatoon is home to over 100 parks, and one of our favourite activities as a family is to spend a day visiting them! So, pack a picnic, good running shoes, and your scooters or bikes and go park hopping along the Meewasin Trail at these five different parks:  
Kinsmen Park 
Saskatoon is home to the famous Nutrien Playland (also known as Kinsmen Park.) There is a playground beside the Playland that has a zipline, a MASSIVE slide and some climbing structures. There is also a spray pad to cool off. Further down the trail is a shaded playground with three smaller parks.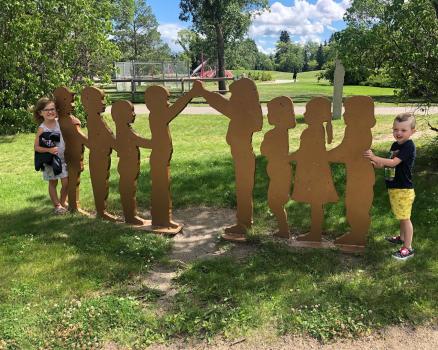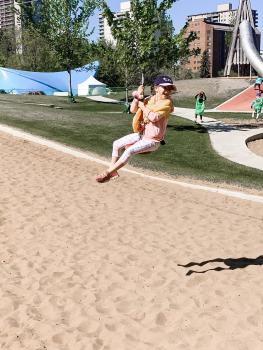 Isginer Park
​ This park is in the heart of the Riversdale area, beside Market Square. It has a ton of open space for children to run and play. There are two different structures within the park area. The first includes a slide, some spin structures, and benches for adults to sit and watch. The other design is an obstacle course that offers climbing and swinging (it is perfect for playing grounders!) There are lots of local restaurants and cafes to grab a coffee or treats from before the kids run and play!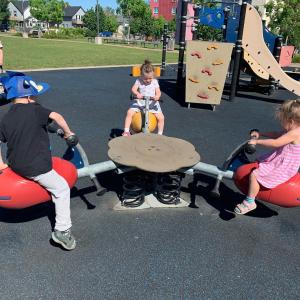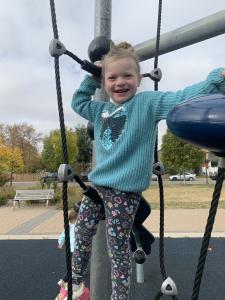 River Landing
​River Landing is a MUST to check out in the summer months. It offers a large spray park, and lots of green space to throw a ball or frisbee around and sitting area to take in the views of the river. The spray park showcases the Saskatchewan River Basin that spans over three Canadian provinces; it's a fun way to incorporate geography for the kids! River Landing is a great way to watch the Nutrien Fireworks Festival, take an adventure on the Punch Buggy Express (a 10-person bike for families), and remember to stop at The Snack Shack with various yummy treats and ice cream for those warm summer days!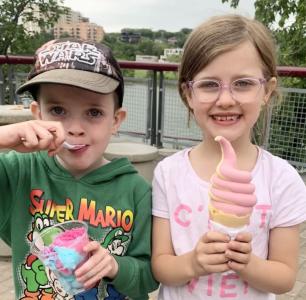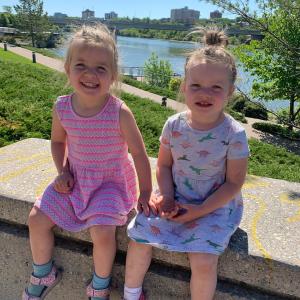 Victoria Park 
​Following the Meewasin trail, you will come up to Victoria Park (the new home to SaskTel Jazz Festival!) Along the path is an outdoor fitness park that my kids love! Victoria Park offers a LARGE green area (perfect for a Picnic) and a park that is great for all ages. Another great feature is the skateboard park, perfect for the adrenaline seeker in your family. Victoria Park is home to Riversdale Pool, Riverside Badminton & Tennis Club, and Saskatoon Rowing Club.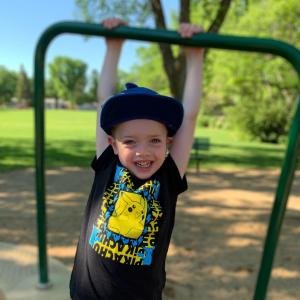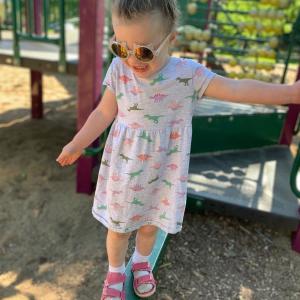 Gabriel Dumont Park 
If you have older kids who can handle longer walks or bike rides, Gabriel Dumont Park is across the river. You can take the south commuter bridge and go along the river. The park offers swings, a slide, and bison statues that the kids like to climb on. It also has many paths to walk along the river. In the summer, if you are there at the right time, you will see The Prairie Lily on the river.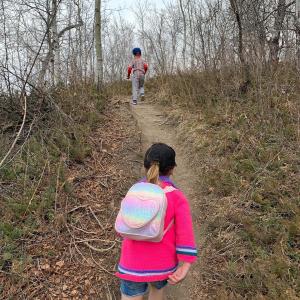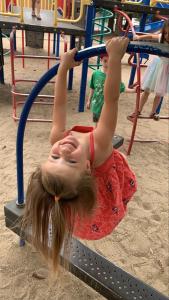 Here are a few more parks that are fun to visit outside of the downtown core:
Brighton Core Park- This play area is massive!! It offers three different parks (wheelchair accessible), walking trails and a GIANT slide on the hill. There is a spray park open in the summer months as well. The Brighton area is home to The Stoked Centre, an entertainment centre for all ages!  
President Murray Park, aka "Spiderman Park"- this park has a large climbing apparatus that makes every kid feel like Spiderman. Situated in the residential area of Variesty View with large trees, you feel like you are in the forest! There is lots of shade and benches for picnics. This park is only a 5-minute walk to the University of Saskatchewan, where you can spend a whole afternoon exploring! 
Forestry Farm- Checking out the Forestry Farm is always fun, but if you are looking for a playground, the Forestry Farm Park is wonderful! There is much to do within the park, such as a wheelchair-accessible playground, green BBQ areas, baseball diamonds and a fish pond! 
W.W. Ashley Park- Also known as the "Purple Park," is in the Haultin neighborhood. This park is wheelchair accessible, with a spray park & Lathey Pool beside it, and a skateboard park.
Morris T. Cherneskey- Located in the Blairmore area, this park is wheelchair accessible and has baseball diamonds and a skateboard park. It is also located beside the Shaw Centre, which has a great family-friendly pool. 
There are our Top 10 favourite parks in YXE. Be sure to get out and enjoy our city's beautiful parks!