I was wandering around social media in early January, as every millennial is prone to do, and I happened upon a post from Aroma restaurant in the Delta Hotels by Marriott Saskatoon Downtown (formerly known as the Radisson). The announcement was about a partnership with Saskatoon Co-op Wine Spirits Beer on a dinner series called "Vinum Vitae"(Latin for wine is life). Starting January 15 and occurring on the third Friday of every month, chefs at Aroma are partnering with the sommeliers of Saskatoon Co-op Wine Spirits Beer to showcase cuisines and wine from around the world.
My mum is one of my favourite people to travel with. We both enjoy getting to know a new destination through food and drink. It was our mutual love of food and wine had me immediately calling her and purchasing tickets for the two of us. We haven't yet had the experience of a five-course pre-set menu with wine pairings and were both very excited for a lovely evening out in Saskatoon.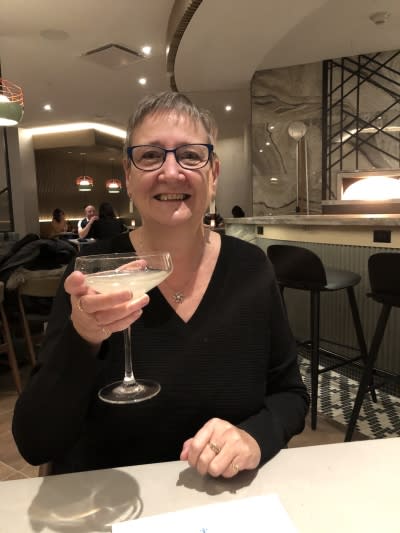 This is my mum Laurie. Hi mum!
 
The Venue
We had every confidence in the health and safety protocols put in place by the hotel and the restaurant and we were not disappointed. There was never a moment where I felt nervous about potential exposure to COVID-19. All the staff at the hotel and restaurant were wearing masks during service and we were told they were working with a smaller staff to help minimize risk.
When we arrived, we waited in a small, physically distanced line to be seated at our table. There's just something about saying "my name is on the list" at a restaurant that makes you feel extra fancy. We were shown to our table of two which was ready for us with the menu and a placeholder with our name on it (a lovely, personalized touch). The tables at Aroma were spread out and there were no more than four to a table. There was no mingling between tables and the other patrons were very good about following health protocols and having their masks on whenever they need to get up from their table and use the restroom.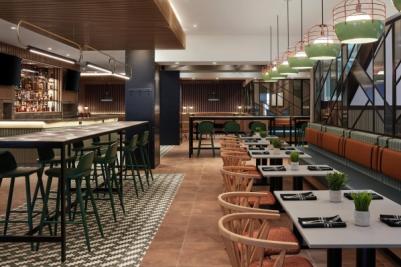 Photo credit: Delta Hotels by Marriott Saskatoon Downtown

The renovations at Aroma are STUNNING. I have always been a fan of Aroma and their delicious wood-fired pizza, so I was excited to check out the new décor. The only part of old Aroma that remains is the pizza oven (yay!). The space has been completely transformed. It's bright and welcoming, encouraging you to sit with a friend or colleague and relax.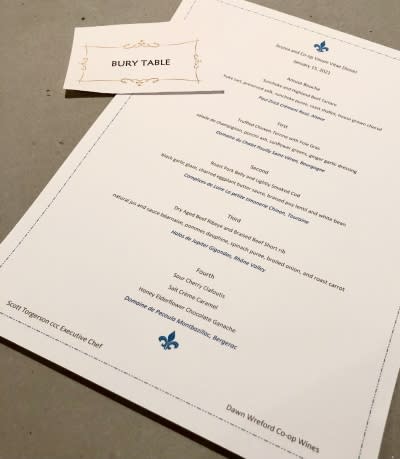 The Menu
My mum and I have been blessed with the opportunity to try many different cuisines in our travels, but we haven't experienced really good French cuisine. Award-winning Executive Chef Scott Torgerson put together a truly decadent five-course dinner that we're still thinking about.
Before we started on our courses, Chef Scott briefly touched on why he chose French cuisine for the first Vinum Vitae dinner. As a chef, French cooking techniques are a critical part of your skill set. Chef Scott wanted to highlight these techniques as French cuisine, which differs from region to region. All the food was locally sourced where possible (cod is hard to come by in Saskatchewan), as he wants to ensure that he's supporting local food producers. We really enjoyed hearing from Chef Scott and you can tell he's incredibly passionate about what he does. After hearing him explain the menu, we were ready to get eating!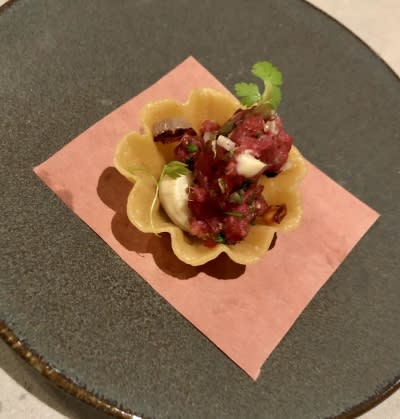 Amuse Bouche

We started our five-course meal with an amuse bouche, which is a single, bite-sized hors d'oeuvre. They differ from appetizers in that they are traditionally not ordered from a menu but are served free and according to the chef's selection alone. They're served to prepare guests for the meal and to provide a glimpse into the chef's cooking style. Chef Scott chose a sunchoke and highland beef tartare and I could have easily eaten thirty of them. They. Were. Delicious.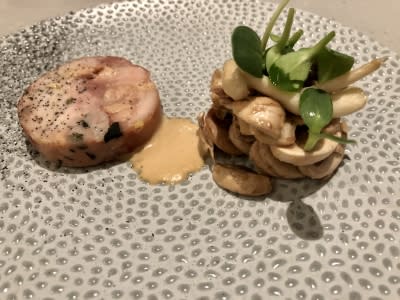 First Course

Our first course was a truffled chicken terrine with foie gras. The mushroom salad and ginger garlic dressing that accompanied this dish was outstanding. I wasn't sure what a terrine is but at its core, it's pretty much meatloaf. Terrine is a dish of ground meat seasoned and packed into a loaf-shaped mold, cooked in a water bath and then cooled and served. It's a traditional French dish and although it may not sound the most appetizing, Chef Scott did a great job on the dish and my mum and I really enjoyed it.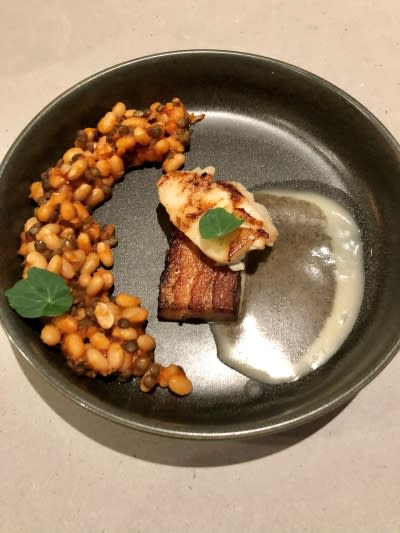 Second Course

The second course featured roast pork belly and lightly smoked cod. My mum was over the moon about the pork belly and it was perfectly seasoned. Fish isn't something that is featured much in our daily diets, so we were pleasantly surprised to see cod on the menu. Fish is an important part of French cuisine and the cod paired with the lentils was a delicious treat.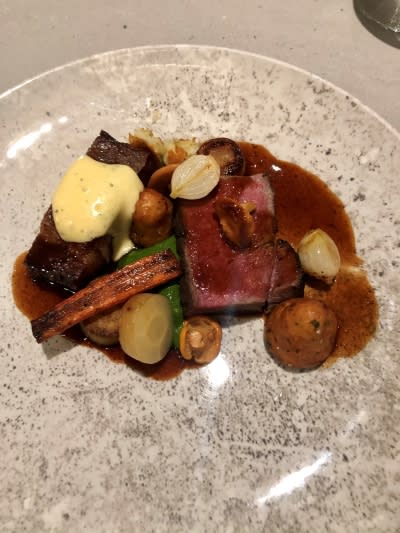 Third Course

The third course was our favourite and featured a dry aged beef ribeye and braised beef sort rib. I was the most excited to see that this dish came with pommes dauphine, which is a classic French preparation of potatoes. They're little mouthfuls of mashed potato, lightened with choux pastry, then deep-fried. My mouth is watering just thinking about them. The short rib featured a bearnaise sauce, which is like a hollandaise sauce but features egg yolks, white wine vinegar and tarragon. To me, this dish perfectly highlighted the joys of French cuisine.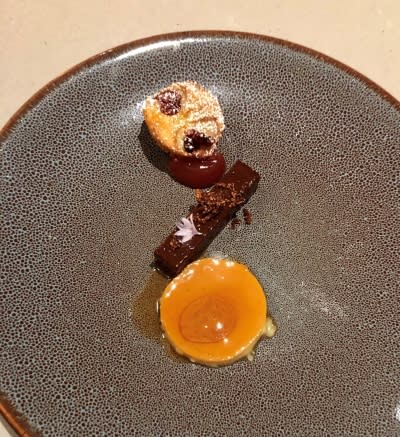 Dessert

By the time dessert was served, I didn't think I would be able to eat another bite. However, I somehow always find room for a little sugar. There were three little desserts on our plate; a sour cherry clafoutis, salt crème caramel and a honey elderflower chocolate ganache. The clafoutis, which is a traditional French dessert featuring fruit, typically cherries, and a sweetened batter, was my favourite until I tried the ganache. Chocolate is one of my weaknesses and this elderflower ganache was so deliciously decadent. 
 
The Wine
My mum and I tend to gravitate towards Italian wines and those from the Okanagan Valley, so we were excited to have Dawn Wreford, Liquor Division and Procurement Manager with Saskatoon Co-op Wine Spirits Beer introduce us to the world of French wine. We are novices when it comes to pairing wine with food, other than the good ol' adage that white wine goes with light meat and red wine goes with dark meat. All the wines that Dawn introduced us to cost between $30 - $40 and can be purchased at your local Saskatoon Co-op Wine Spirits Beer.
Dawn took us on a trip throughout France through her wine pairings - Alsace in the northeast, Touraine in the west, Gigondas in the south and Burgundy and Bergerac in the middle. For every new wine we were introduced to, Dawn had a story about the region and the vineyards the wine was produced in. We found it particularly interesting to learn about the notion of terroir (sense of place) that is very important in French wines. It links the style of wine to the locations where the grapes are grown, and the wine is produced. The Appellation d'Origin Protegee system was also interesting to learn about. Appellation rules closely define which grape varieties and winemaking practices are approved for classification in France's defined appellations which can cover regions, villages, or vineyards. It's the reason why it is illegal to label any sparkling wine as champagne unless it comes from the Champagne wine region.
Fun Fact - France produces between seven and eight billion bottles of wine ANNUALLY.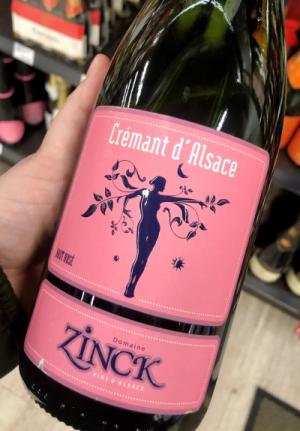 Wine - First Course
We started with a rose from Alsace (Paul Zinck Cremant Rose)with the amuse bouche course. My mum and I usually think that rose is a touch too sweet, but Dawn's selection was made exclusively with pinot noir grapes. It was pink and bubbly with notes of strawberry, raspberry, tangerine, and rhubarb. I can honestly say it was the best rose I've ever had and I'm looking forward to heading to the store to grab a bottle!
Our first course featured a white wine from Burgundy (Domaine du Chalet Pouilly Saint-Veran)made from Chardonnay grapes. The wine itself was good but when paired with the food? We told Dawn that this is the first time we've had a wine that has enhanced the flavour of the food. The terrine and foie gras were good but all the flavours were enhanced when paired with the wine.
The second course included a Cabernet Franc from the Chinon region of France (Complices de Loire la petite timonerie Chinon). While it wasn't our favourite wine, it paired very well with the pork belly and cod dish. It's a very earthy wine featuring red fruits and spicy notes of white pepper.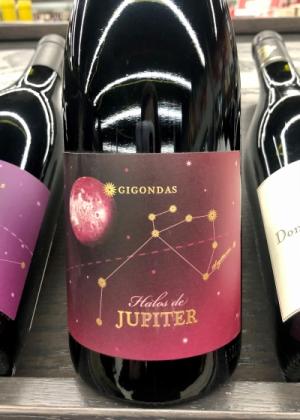 Wine - Third Course
I'm obsessed with the Halos de Jupiter wine labels. They're so pretty!
The third wine of the night was our favourite. Our first red wine of the night comes from the Rhone Valley in France (Halos de Jupiter Gigondas). In the northern Rhone region, Syrah is the king of the reds but in the South, the Grenache grape takes top spot. Dawn explained that this wine was aged in oak barrels for one year and was neither fined nor filtered before bottling to preserve its personality and intensity. My mum and I quite liked how it complemented the beef course and it was quite lovely to drink.
Lastly, we had a dessert wine (Domaine de Pecoula Montbazillac). From the Bergerac region of France, this area is known for its sweet white wine. We expected it to be very sweet and on its own it definitely was but with Chef Scott's delicious desserts, it was perfect.
 
The Experience
Would we go again? Heck yes!! The whole experience lasted about three hours and was an incredible night of food, wine, and conversation. I learned so much from both Chef Scott and Dawn about pairing food and wine. My mum and I would taste the wine first, then have some food followed by another sip of wine. We wanted to taste the wines on their own and then see how their flavours changed with the food. We were a little worried at the beginning, as the portions were smaller than we're used to but between five courses and five different wine pairings, we left Aroma and were ready to crawl into bed. I honestly couldn't have had another bite and I'm someone with a fairly large appetite.
Aroma and Saskatoon Co-op Wine Spirits Beer have two more Vinum Vitae dinners planned, with food and wine from Spain featured on February 19 and Italy on March 19. Tickets can be purchased by heading to the event calendar on the Saskatoon Co-op Wine Spirits Beer website. 
For those who want to take the event to the next level, the Delta Hotels by Marriott Saskatoon Downtown is featuring a special rate of $119 per night (plus taxes) with the purchase of a Vinum Vitae ticket and features a queen river view room, complimentary underground parking, and a welcome amenity from Chef Scott! My mum and I both regretted not taking advantage of this. It would have been so nice to just take the elevator up to a room and relax with a movie instead of venturing out in the cold and driving home.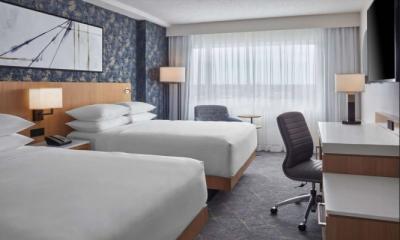 Photo credit: Delta Hotels by Marriott Saskatoon Downtown

Now if you'll excuse me, I'm off to buy tickets to the Italian Vinum Vitae dinner!