Shauna Foster and Rob Suski have been together at Rawlco Radio for so long that they can finish one another's sentences. A great skill when you are on-air hosts and bantering is a big part of your job.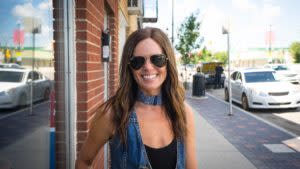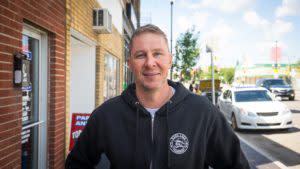 After 17 years co-hosting the morning show at C95, we asked the well-known media duo some of their favourite things to see, do and eat in Saskatoon when not at the radio station.
But first, we asked them not to finish one another's sentences.
Favourite breakfast spot in Saskatoon?
One thing Rob and Shauna agreed on was where to eat. Both picked Riversdale's popular diner Park Café. Shauna's go-to favourite breakfast is the Traditional Breakfast. Rob is a meat-lover, so the Bacon Lover's Breakfast filled with three types of bacon, has captured his heart (and possibly arteries).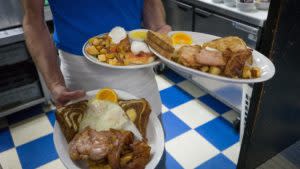 Favourite place to take your family in Saskatoon?
Shauna spends time with her toddler visiting many local hot spots. Some of their family's favourites are River Landing and the nearby Saskatoon Farmers' Market, the revitalized PotashCorp Playland at Kinsmen Park, and the Saskatoon Forestry Farm Park & Zoo. They spend so much time at the Forestry Farm – often weekly – that they bought an annual pass to the park. Rob's family's favourite pick is heading down Valley Road to The Berry Barn for a tasty Sunday brunch.
(Tip: The grizzly bears Mistaya and Koda may be hibernating for the winter, but the Forestry Farm is still open year-round.)
https://www.instagram.com/p/BR1f_2ujZGT/?hl=en&tagged=saskatoonforestryfarm
Favourite date night in Saskatoon?
When Shauna and Rob get a rare night off to go out with their significant others without kids, they have a few favourite spots. Shauna's top pick is to go for dinner with Jeff at one of the many great local restaurants, then off to LB Distillery for a free tour and tasting to try some locally made liqueurs and spirits. Rob enjoys a night out downtown with his wife Cindy, being entertained at the Scotiabank Theatre's VIP theatre in downtown Saskatoon, which happens to be one of the nicest VIP theatres in the country.
(Tip: Get to the show early to watch former Saskatonian Tanner Zipchen, the national Cineplex Pre-Show host, interview your favourite celebs and listen for his references to our hometown.)
Favourite thing about Saskatoon?
When asked about their favourite thing about Saskatoon, Shauna quickly replied the welcoming people and sense of community. Rob's picks are the outdoor concerts (Sasktel Saskatchewan Jazz Fest that takes place June/July each summer is one of his favourites). He also loves the beautiful river valley that runs through our city, which he proudly says he has gotten to admire from his studio window each morning at C95 alongside Shauna, for the past 17 years.
[embed]https://www.instagram.com/p/8bPlGoR4RE/?hl=en&taken-by=rob_suski[/embed]