The interviewers became the interviewees when I sat down with the Global TV Morning Show duo of Jackie Wilson and Fiona Odlum for lunch recently at Thien Vietnam Restaurant. It's Fiona's favourite Saskatoon lunch spot because it's "fast, healthy and cheap". After our delicious lunch and only a $22 bill for three people, I was a convert. Luckily for me, it recently moved only a block and a half from our downtown office to a new larger location on 3rd Avenue North.
I asked Jackie where her top local spot to eat is. She got animated when she told me that brunch is her absolute favourite activity. Her trifecta of top brunch spots (in no particular order) are: The Hollows, Poached and Hometown Diner.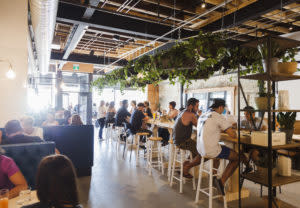 Hometown Diner in Riversdale
Jackie and Fiona's alarms go off around 4am on weekdays so that they can bring us our daily morning news fix. I wanted to know what they do when not in studio, and more importantly, how they work off their Thien's and all that brunching. Jackie is part of the Saskatoon Canoe Club, a boat sharing cooperative. For an annual fee of only $55 you can borrow a canoe or kayak to row your way up and down the South Saskatchewan River. Jackie says exploring the city from the vantage point of the water is amazing. She also enjoys golfing at the Holiday Park Golf Course, especially on Mondays when the green fees are half off. Jackie actually won a provincial golf championship when living in Alberta, which makes a novice like me a bit leery to hit the greens with a champ.
[caption id="attachment_2646" align="alignnone" ]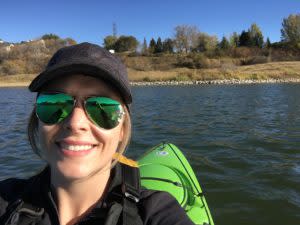 Jackie kayaking on the river[/caption]
Fiona used to play field hockey for the University of Manitoba and because she was such a gladiator, had to have her face rebuilt…twice. Nowadays, Fiona spends her time exploring The Beaver Creek Conservation Centre and feeding the chickadees, which reminds her of the days when she used to be an interpreter at a nature centre in Winnipeg. According to her co-host Jackie, Fiona is amazing with a glue gun. She also is a whiz with knitting needles, placing some of her scarf creations around Saskatoon on sculptures, which can be taken and used by those in need. Fiona is also a huge (one might say rabid) dog lover, often roaming the local dog parks with her adorable adoptive dogs Yoshi and Boston.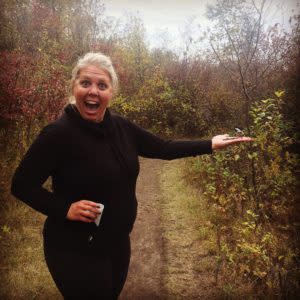 Fiona feeding chickadees at Beaver Creek
I asked Jackie and Fiona to tell me some things about them that their viewers might be surprised to know about them. Jackie is taking her spin certification and will be soon teaching and sweating at Mawson Health & Fitness. I laughed when she also animatedly told me that she kills it doing one of the latest dance crazes The Floss. I on the other hand also kill that move, but in a bad way (it's harder than it looks!).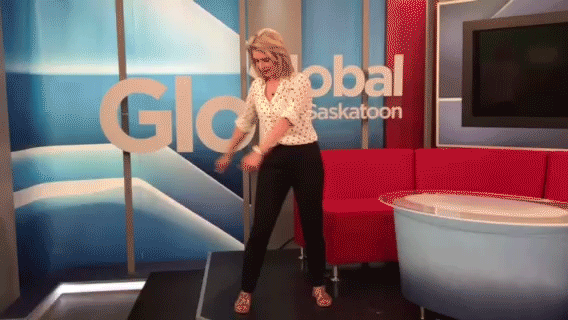 Jackie showing off The Floss
Fiona had a lot of fun facts about herself that she was all too eager to share. She "loves recycling hard" and she makes trips to Sarcan on the regular. She enjoys "lifting heavy things and then putting them back down" for fun. She also occasionally moonlights as a French tutor. She also wanted locals to know, that while she is from Winnipeg, she is a huge Saskatchewan Roughriders fan. She most definitely bleeds green.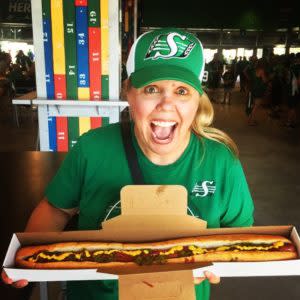 Fiona's Rider Pride