While many locals and even some visitors have become familiar with Mayor Charlie Clark during his ten years as a City Councillor, and his more recent role as Mayor of the City of Saskatoon, most don't know as much about his life in his other very important role: as dad to Simon (12), Benjamin (9) and Rachel (7).
We asked Mayor Clark to give us a sneak peek into some of his favourite Saskatoon places to spend time with his wife Sarah, and their three kids when not #mayoring.
Favourite family outings in winter?
When the snow starts to fly, Mayor Clark's family enjoys spending time splashing at one of the four indoor city pools. Their family also enjoys exploring our prairie history at the Western Development Museum or burning off energy at Apex Trampoline Park. They can sometimes be found outdoors donning their skates at the Clarence Downey Speed Skating Oval or at the Cameco Meewasin Skating Rink, which attracts a multicultural mix of people that Mayor Clark enjoys connecting/skating with.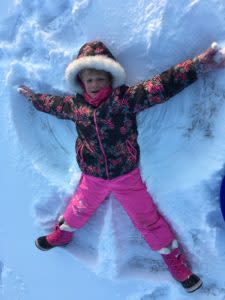 Favourite family outings in summer?
During the warmer months, Mayor Clark and his family enjoy many activities within walking (or biking) distance of their Nutana hood. A popular stop is Kinsmen Park, at their beautifully revamped rides at Playland, and the adjacent Play Village where they can zip line, spin and slide for free with kids of all ages.
Their family can sometimes be seen on weekends at the Saskatoon Farmer's Market. One way that they enjoy our river valley is packing a picnic (with ingredients from the market) and spending time at Gabriel Dumont Park with its hidden playground, a perfect peaceful way to be in midst of nature in the heart of the city.
Another popular spot for their family is the Broadway "beach" watching the paddlers go by. Sometimes Mayor Clark and his boys even get a chance to get out on the South Saskatchewan River. Once they went on an adventure, camping and canoeing into the city all they way from Cranberry Flats.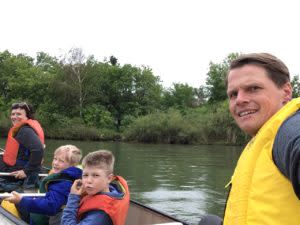 What do you like about living in the Broadway District?
Having been a City Councillor for the popular historic area, as well as living in the neighbourhood for years, their family has a love for Broadway. The fact that it is near the river valley and downtown, with big trees, a diverse mix of people, and a funky commercial district where you can chat with owners in their shops and neighbours on the street, are all reasons why their family enjoy being in the neighbourhood.
And if they are hungry and want a night off cooking, their family's most frequented restaurant Amigo's Cantina, is just a short walk away from their home. Mayor Clark has a special affinity for Amigo's, as it's long been a place where our community comes together. It's also where he celebrated alongside a packed room full of excited locals when he was voted in as the city's new Mayor in the fall of 2016.
 What do you do on a rare day off?
Just like a typical husband/dad, on his days off, Mayor Clark enjoys reading the newspaper, going for a run along the scenic Meewasin Valley trails, doing minor (often unglamorous) house repairs, getting outside to enjoy our prairie skies, and spending as much time as he can with Sarah, Simon, Benjamin and Rachel.