"I hear the train a-comin', it's rolling round the bend"…. we know Mr. Cash is familiar with trains, but did you know you could hop aboard a local locomotive for an experience you'll never forget?! Let me tell you all about my Sunday on the Wheatland Express Excursion Train!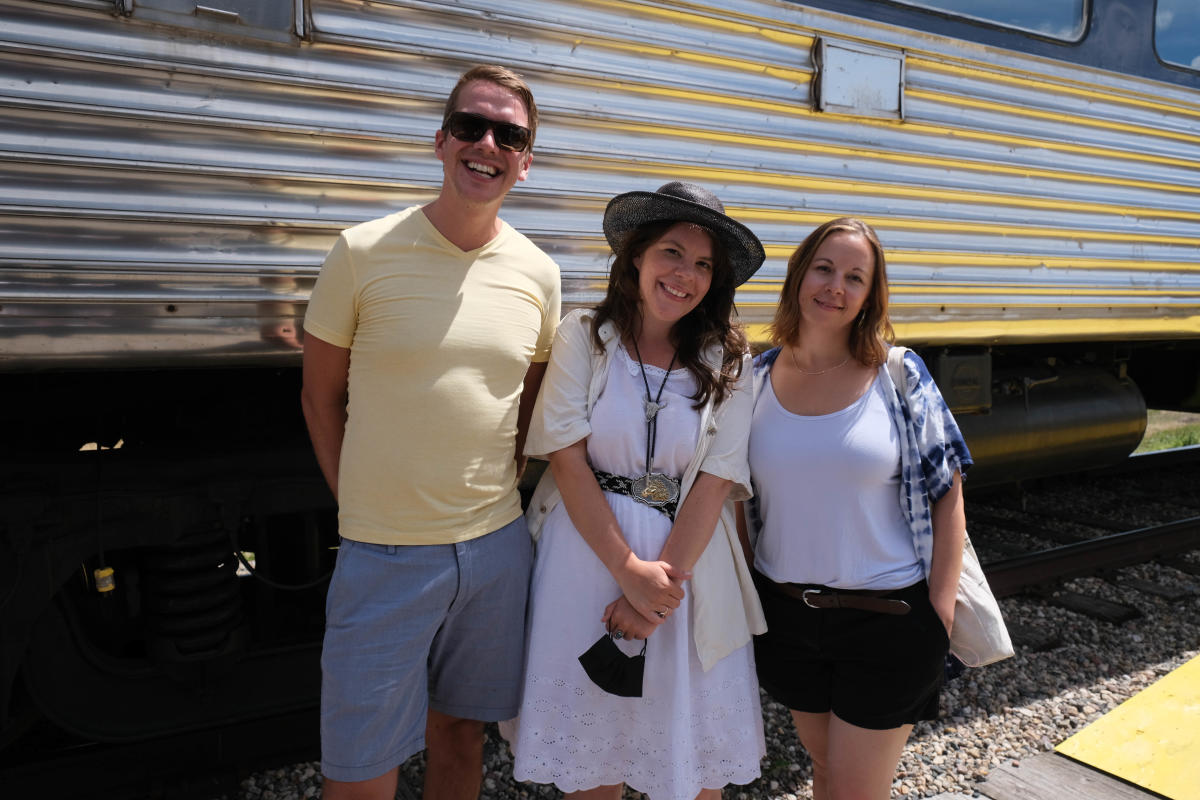 Jeff, Darby, and Whitney getting ready for a train ride
The Wheatland Express has been offering rail rides since 2018 and operates between the rural communities of Wakaw and Cudworth, Saskatchewan. My lovely co-workers picked me up, and we carpooled our way from Saskatoon to Wakaw (just over an hour Northeast of Saskatoon). We had pre-purchased our tickets for the Great Prairie Train Heist Excursion online and are so glad we did, as the date sold out quickly! When purchasing online, you have the option to request seats together as well as food and beverages, which were handy, since we toured the prairie sights over lunchtime. 
Upon arrival, expect a warm welcome from the crew, your very own ticket, a "local" newspaper, and the opportunity to snap a few pics with the caboose or hop on a wagon ride with Tommy and Jerry. The train itself can hold up to 300 guests (without restrictions) and can be booked for private events! How awesome would your birthday bash be on a train?!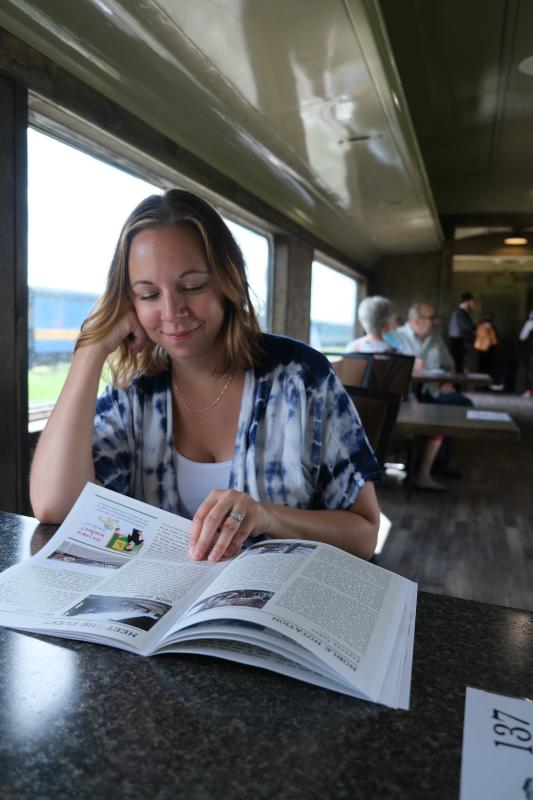 Whitney reading the "local newspaper" - Photo by Darby Sutherland
All aboard! (cliché I know, but I had to use it at least once!) The conductor showed us to our reserved table, we ordered a glass of rose to toast the day, and we were off! Did I mention we booked the train heist excursion? This meant we were entertained along the way by actors portraying roles of western times setting us up for a "heist" to end the trip. We met the good doctor, the mayor, the sheriff, and even a fortune-teller who read our palms (spoiler: Darby has a bright future 😉). All monies "robbed" at the end of the trip are donated to local charities. This theme is just one of many that the Wheatland Express offers. Be sure to check their website out regularly as they add new and exciting events like the Family Summer Express Excursion.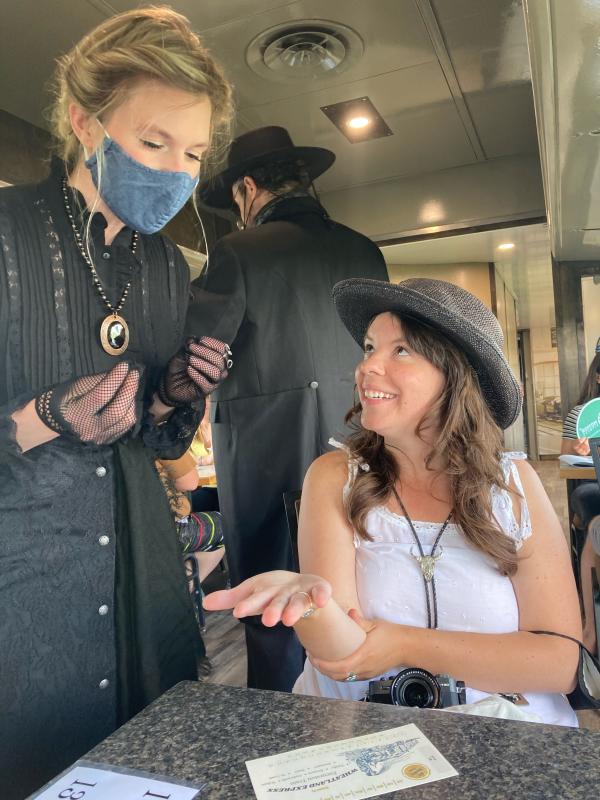 Darby getting her palm read - Photo by Whitney Stobee

But of course, there cannot be fields without food, right?! We had pre-ordered lunch, and it was delicious. Chef de Partie collaborates with amazing Saskatchewan farmers, growers, makers, and bakers to offer riders some of the best local delights around. If cold beer or fancy cocktails toots your horn, they have also partnered with 9 Mile Legacy Brewing and LB Distillers to create a robust drink menu for those on board. While enjoying our lunch spread and Blade City beer, we were also entertained by live music and could wander the other rail cars, which included a gift shop!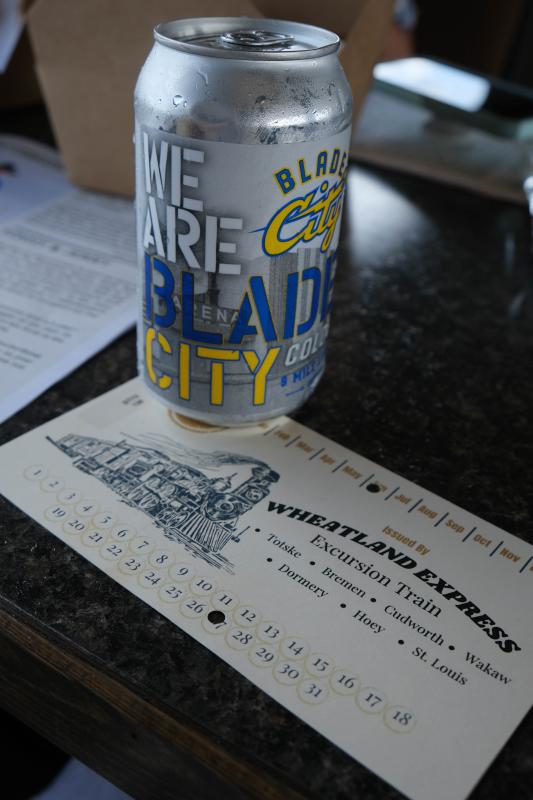 9 Mile Blades City Beer and the Wheatland Express ticket! - Photo by Darby Sutherland
The Wheatland Express has big plans to create an atmosphere like no other in Wakaw. Seeing the infrastructure being built to create a place for people to explore before and after their train experience has us very excited. Imagine strolling down an old western street lined with fun buildings! The gang will also be adding extra animation around Halloween and Christmas. (sounds magical!) We are so proud to offer this experience to visitors and look forward to stamping our tickets for future departures.