If you're from Saskatoon, then you're no stranger to winter. In fact, you might actually love it! After all, there is so much fun to be had. Now even if you're not a winter person, we've created a Winter in Saskatoon bucket list that's sure to have something of interest for everyone!
How many of these activities have you done already? 
1. Skating at the Cameco Meewasin Skating Rink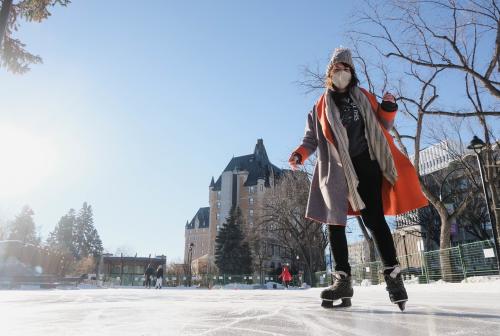 Is there a more iconic Bridge City winter activity than skating on the Cameco Meewasin Skating Rink? We can't think of any. You will find this skating rink along the river valley and beside the historic Delta Bessborough. Put on your favourite winter outfit and grab that skating selfie! 
This year, our friends at Meewasin host their (19+) Sip & Skate series on select Saturdays (Jan. 29, Feb. 12, and Feb. 26). On top of skating with a small group, each person signed up for the Sip & Skate is also given a s'mores box from the Praire Grazer and a hot beverage, with a little liquid courage from our friends at LB Distillery.
2. Tubing at Optimist Hill 
If skating is too calm for you, then you might be looking for an adrenaline rush. Then we recommend that you go tubing at Optimist Hill!!  This Saskatoon classic is open Wednesday to Sunday and supplies the tubes for you. Sounds like the perfect winter activity to me! 
3. Cross Country Ski at Wanuskewin!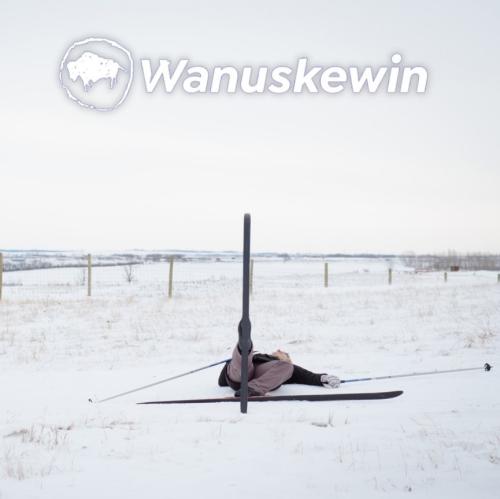 Now, if you're looking for one of the newest winter experiences here in Saskatoon then we have you covered. As of 2022, Wanuskewin has 3 kilometres of cross country ski trail available to guests - no experience necessary, just bring your own skis! If that wasn't enough, they also have snowshoes and kicksleds for rent! Learn more at their site.
4. Winter City Snow Glow at The Shakespeare on the Saskatchewan Event Site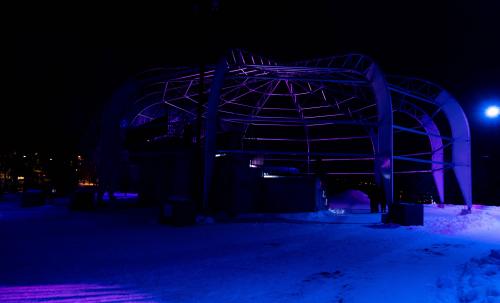 The Shakespeare on the Saskatchewan site is home to a light show that is sure to make you smile! The second edition of this fantastic light display runs from Tuesday to Sunday 6 am to sunrise and sunset to 11 pm. The display changes often so you can go back again and again. Click here to see the schedule. 
5. The Crossmount Experience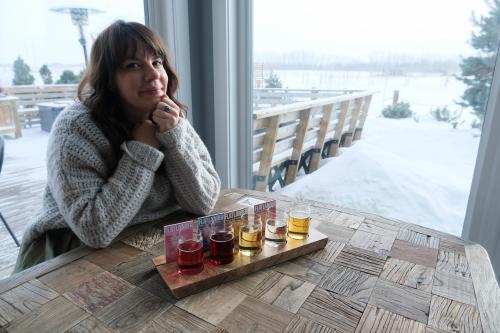 Crossmount Cider Company is the perfect winter date spot! Grab your special someone and take them skating on the gorgeous pond turned skating rink. They also have individualized "igloos" that you can rent out for you and up to 7 friends! After you are done skating grab a spot and enjoy a flight of cider.  
6. Feeding Chickadees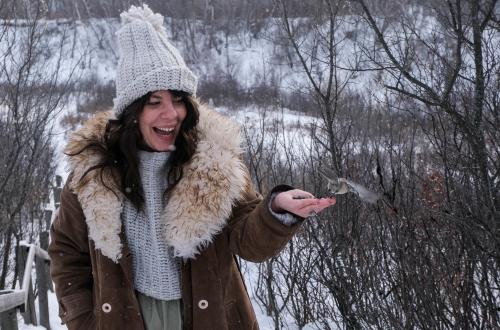 They always say the best things in life are free! So channel your inner Disney princess by feeding the chickadees at Beaver Creek. Meewasin supplies the birdseed by donation. 
7. Kicksled 
Maybe you're looking for something a little more extreme, and we have you covered! Rent a kicksled some Escape Sports and explore the Meewasin Trails! Kick sled rental costs start at $20 for the day and are so much fun! 
8. Shelter Brewing Company's Outdoor Patio 
Sit outside and enjoy a warm beverage on Shelter Brewing Company heated patio! The best part? You get $2 off every pint when you book their winter patio! Find out more here.
9. Staycation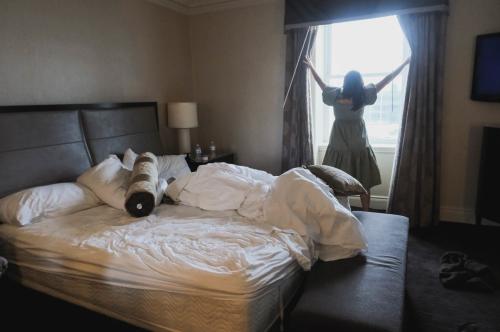 The photo was taken at the Delta Bess
A southern getaway, not an option this year? Get a change of scenery with a staycation! Many of Saskatoon's hotels are offering fun staycation packages. Sit back and relax, let them do the planning. You can check out the staycation package here. 
10. Support local 
If your winter plans mostly include hibernating, no judgment (literally at all) from us! Make the most of staying cozy inside your home by ordering in! Check out this blog for takeout and pick-up food and drink options available to you.