Urban Canvas Street Party -Mural Artists Showcase
Welcome to the Mural Artists Showcase of The Urban Canvas Street Party! Here, we proudly present an exceptional group of artists whose talents have transformed Saskatoon's cityscape into a breathtaking tapestry of urban artistry. Each artist has poured their heart and soul into their mural, infusing it with their unique perspective and creativity. You will find a captivating blend of styles, themes, and techniques that reflect the rich diversity of our local art scene. Explore their bios, marvel at their stunning murals, and join us in celebrating their contributions to our city. But that's not all—these extraordinary artworks are not just for viewing; they are also available for acquisition through our Live Silent Auction. Don't miss the opportunity to take home a piece of this urban masterpiece, with select murals on display at Midtown Mall, awaiting your bids and adorning the city until_____________. For auction terms and conditions, please click >Auction-Terms.
Now, let's dive into the world of our talented mural artists and their awe-inspiring creations:
Artist 1 : Jo Van Lambalgen
Mural 1: "Afterglow"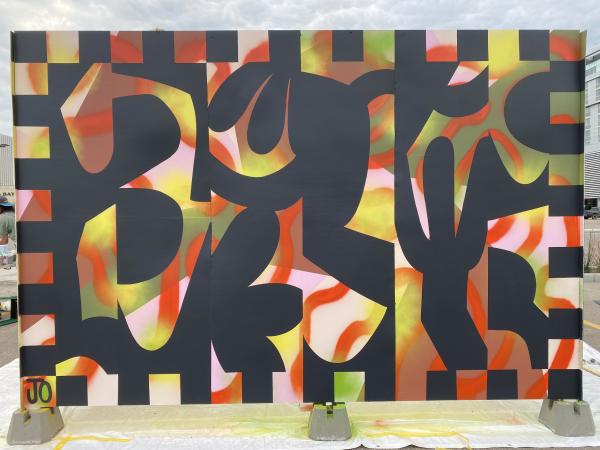 Bio: Jo Van Lambalgen is an interdisciplinary artist with a focus on large scale geometric and abstract murals and paintings. They love working with existing architecture to create interesting and dynamic murals. Jo is co-owner of Alt Haus (@althausyxe), a colourful home décor, furniture and lifestyle store located in the Broadway district, which they run with their partner Miranda Young. 
Link to Auction Page: https://www.instagram.com/althausyxe/
Min Bid : $300
____________________________________________________________________
Artist 2 : Dakota Ray Hebert 
Mural 2: "Hurry, Take A Picture, Or Else No One's Gonna Believe You" 
Tribal Affiliation: Dene of English River FN   Location: Saskatoon, originally from Meadow Lake    
Bio: Dakota Ray is an actor/comedian/writer/painter on the rise. She has recently found success in her venture as a Painter. Folks have become fans of her alien characters Monty & Mortimer, Bigfoot, and her atomic-art-meets-Morriseau Kitty-Kat clock. She regularly depicts her characters in situations and locations ranging from silly to sweet. Dakota just finished her first ever mural (this is that mural! You could own a piece of Dakota's artsy history!), and is now pursuing mural work in addition to her commissions. Dakota also does comedy (ALBUM:I'll Give You An Indian Act, Just For Laughs, Comedy Night with Rick Mercer), television (Shelved, Run the Burbs, Crazy Like a Lynx), and movies (Run Woman Run, In Her City). She has a skin baby (Frankie), two fur babies (Lieutenant Dan & Mr. Bean), countless plant babies, and the world's best/greatest/funniest sweetheart (Dylan). Follow this Dene busybody on Facebook and Insta; she's up to her beaded earrings in work that she loves to share.
Link to Auction Page: 
https://www.instagram.com/dakota_raymond/                                                https://www.facebook.com/dakota.hebert
Min Bid : $800  
____________________________________________________________________
Artist 3 : Stephanie Bellefleur
Mural 3: "Luna Moth" This piece is dedicated to the unseen realms, often times we give light and agency to creatures that enhance our world in the daytime. When we rest, when we dreams and when we forget that to which that is unseen we forget to give gratitude and thanks to species that take on the night shift work and soar with the moonlight. These pollinators offer more than biodiverse landscape of what roles we all encompass. They mirror an image of the unheard and unseen, not a butterfly... a moth a wonderful and beautiful moth. A spirit's purpose that is to give without attention or to be seen. The circles throughout the pieces are our guides, our ancestors; sentient beings both born and unborn reminding us of the pure joy and essence of life.I wanted to create parallels for those of us who may not have played with barbies, but also rode bicycles with the boys and had fun with the earth and all it's creatures. This piece is for those who may feel just a little different, my hopes are to provide a safe space and agency for your difference, with love. May you fly with the wings of a creature that fits the essence of your soul.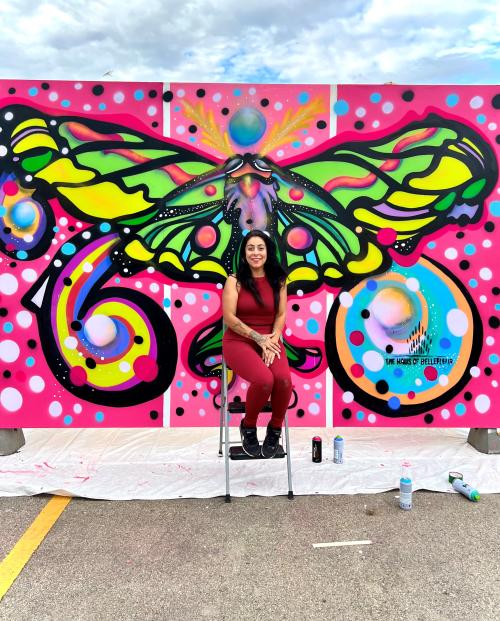 Bio: Stephanie's artistic practice incorporates bold colors with strong graphic lines. She believes that great attention is lent to capturing the organic process of one's life experiences turning them into healing manifestations. Stephanie's key mandate for The Haus of Bellefleur is to provide accessibility to her work through a conscious commitment of celebrating diversity through design and ongoing mentorship. Her work in public art and placemaking prioritizes equity and sustainability and provides capacity building components for both youth and community members at large. She combines her knowledge within fine art traditions, city building, civic-engagement, and street art culture. Stephanie has created a contemporary style that embodies both scale, elegance, and grit.  Stephanie's most relevant high impact public art projects include contributing to the landmark mural by International artist Phlegm at Yonge and St.Clair, the Sister Cities Exchange project alongside Chicago artist Justice Roe on the Roncesvalles Bridge and the Pan Am Path Project under the support of late Councillor Pam McConnell at Cherry and Lakeshore. Most recently, Stephanie worked on the Equilibrium Mural alongside International muralist Okuda San Miguel. Stephanie was both the production manager and assistant painter for this project. One of Stephanie's 2020 relevant works included her support on a project Titled "Achilepago" for Contemporary Artist Michael Lin at Toronto's Contemporary Museum of Art, MOCA. During the pandemic Stephanie has continued in her role as an arts mentor with project humanity supporting youth living in shelters. Stephanie has also spent 2021 focused on the development of public art in remote areas in the Southern parts of Saskatchewan completing three Large Scale Murals to which include, Town of Coronach, Assiniboia, Frontier and the Queens City of Regina since her return to her hometown in 2019. Stephanie's personal pledge to positively stanchion diversity, inclusion, and equity in order to create space for sustainability in the art sector is what led her to the field of choice. With that Stephanie was invited to paint in London, England with Global Street Art and completed an Artist Residency with Factory of Dreams in Madrid Spain by Okuda San Miguel and is currently preparing for a female mural project in Lisboa, Portugal with Yes You Can Spray 2024. Stephanie is humbled to serve the public in order to continue to progress in a spectrum of unity and color within the art sector.
Link to Auction Page: 
Min Bid : $5000
____________________________________________________________________
Artist 4 : Nikki Sirett
Mural 4: "Nikki's inspiration for this piece comes from watching the local hares - an animal she'd never seen before coming to Saskatchewan. When one runs past it is not always apparent if it is running towards something in joy, or away from something in fear. This piece is a celebration of their resilience, adaptability, and mystery."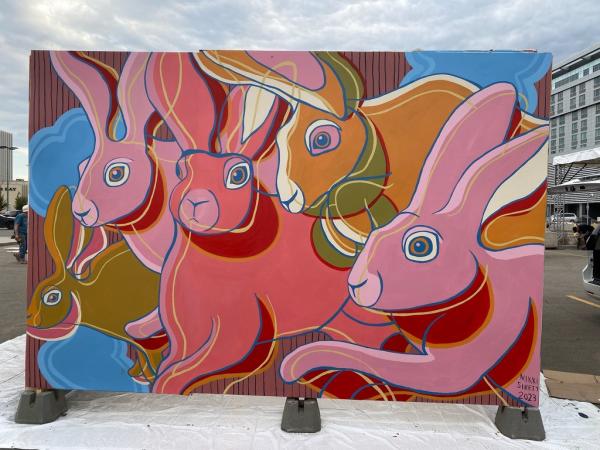 Bio: Nikki Sirett is a visual artist with a varied practice who has been living in Saskatoon for the past two years. Originally from Vancouver, she graduated with a BFA in Visual Arts from Emily Carr University of Art and Design in 2015. She works primarily in acrylic paint (often animal subjects), ink (highly-detailed abstract work), and chalk (she recently completed her 100 Days of Chalk project, funded by SK Arts) but will use any medium that makes sense for her ideas and is always experimenting. Since moving to Saskatoon her work has been featured in several group and solo shows including twice in Nuit Blanche YXE.
Link to Auction Page:
Min Bid : $1
____________________________________________________________________
Artist 5 : Carla Tyacke
Mural 5: This mural, "Saskatchewan" was inspired by outstanding prairies skies and the harvest landscape with the majestic bull moose standing proud.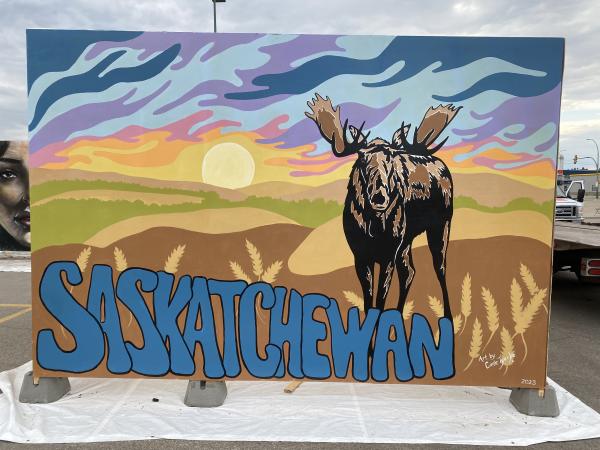 Bio: Carla Tyacke, a Melfort artist of 25 plus years who has a strong connection to rural Sask and along with a love of animals and nature.   This is reflected in her art in a variety of mediums. Recently she was commissioned to do a Poppy Mural on the Legion Hall and another for the Curling Club both in the city of Melfort.
Link to Auction Page:
https://www.artbycarlatyacke.ca/                                                
https://www.facebook.com/p/Art-by-Carla-Tyacke-100077517772187/ 
Min Bid : $250
____________________________________________________________________
Artist 6 : Wizwon
Mural 6: "Turquoise Earrings"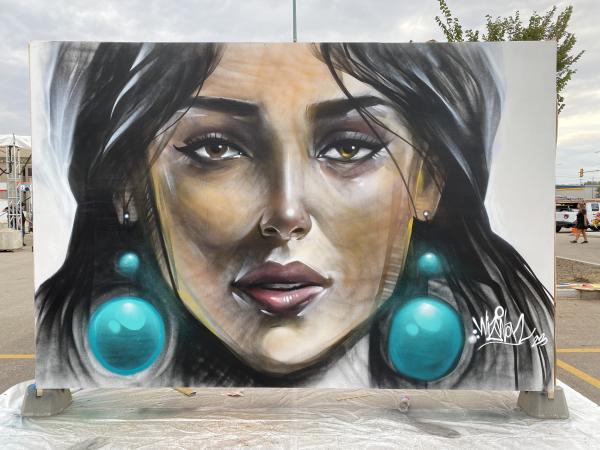 Bio:
Link to Auction Page: https://www.instagram.com/wizwon/
Min Bid : $1000
____________________________________________________________________________
Artist 7 Name : Josh Jacobson 
Mural 7: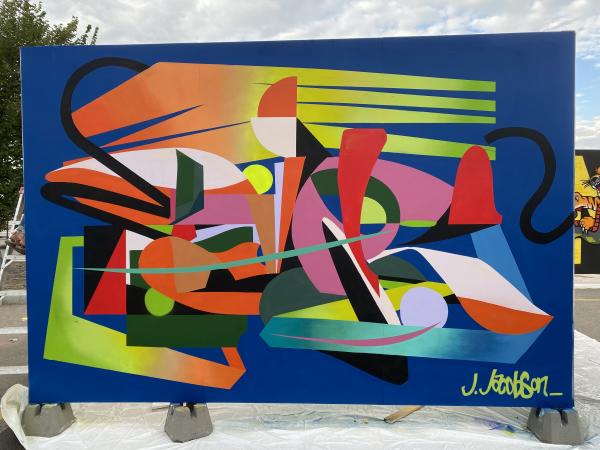 Bio:
Link to Auction Page: https://www.instagram.com/p/CRFvXZmHkf7/
Min Bid : 
____________________________________________________________________________
Artist 8 Name : Daniel Syrnick 
Mural 8: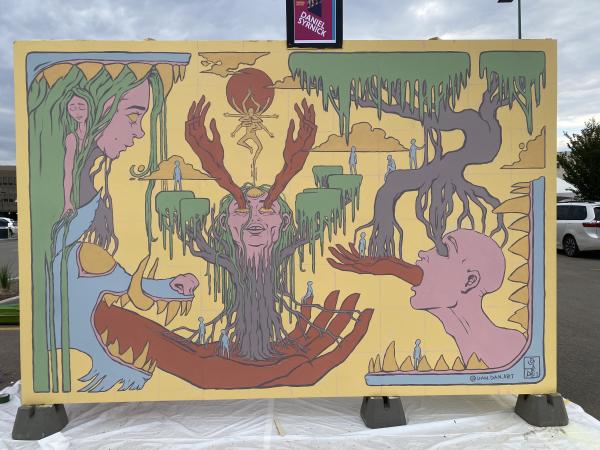 Bio:
Link to Auction Page: 
Min Bid :
____________________________________________________________________________
Artist 9 Name : Pinnaples for Prime Minister
Mural 9: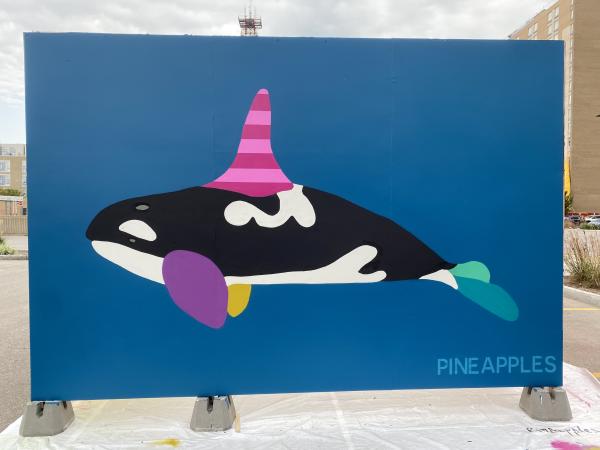 Bio: MR Pineapples is a Canadian artist in the heart of the prairies. His focus mainly resides within the realm of colour, light and manipulation of what you thought was true. Art makes the world a better place, it fills everything up as it should be. He's lived my whole life in Saskatoon, Its home. The art is made to free his mind and enjoyed to free his soul. He likes to think of how things are and then switch them. he really enjoy's the challenge of playing with different ideas and trying new ideas. Bright bold colours and watermelons, they're pleasant in every way! He has an excellent home studio where the art and small projects are made, lots of magic happens in there. Inspiration comes by his family, his son, daughter and wife. If he didn't have them he'd likely run out of ideas. he's extremely fond of being consciously morale. With that you get colour, exaggerated ideas and dreams that allow you to become a child again.
Link to Auction Page:
https://www.pineapplesforprimeminister.com/abouttheartist                       https://www.instagram.com/pineapplesforprimeminister/
Min Bid :
____________________________________________________________________________
Artist 10 Name : Kent Ness
Mural 10: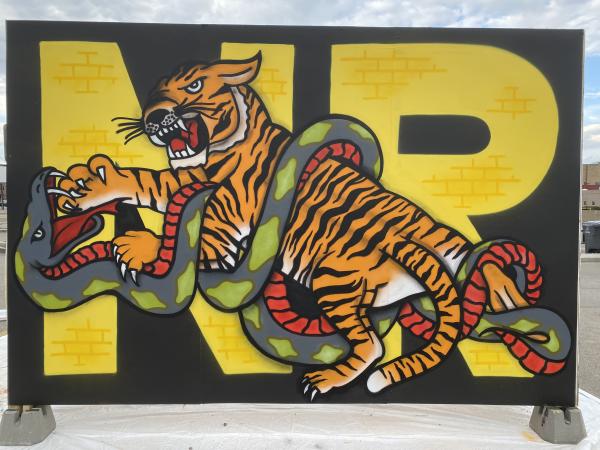 Bio:
Link to Auction Page: 
Min Bid :
____________________________________________________________________________
Feel free to explore their work, learn more about the artists, and participate in our Live Silent Auction to support these incredible talents. Thank you for being a part of The Urban Canvas Street Party, where art comes to life in our vibrant city.