One of my favourite things to do in the summer is to explore the area around Saskatoon. Hidden nature gems, popular attractions, and small town quaintness are just waiting to be discovered! I have my favourite spots to day trip to in Saskatchewan. The village of Borden, where my dad grew up, has an awesome museum that is close to my heart and, every Friday in the summer, is host to a community farmers' market.  Another favourite, Lac La Peche, has given me many fun-filled summer days of floating around, wakeboarding, and eating ice cream (plus there is an antique store on the way out there). And of course, spending the day just outside of Saskatoon at Meewasin's Cranberry flats; hiking, picnics, and beaching it.  Isn't that what summer is all about?
This year I decided to break away from my normal day trips and try some of the destinations recommended to me by my friends at Tourism Saskatoon.  These wonderful people  know what's happening in the Saskatoon region and I am happy to learn from them.  So, with one day to spare and a friend in tow, I set off on my Saskatchewan day trip adventure.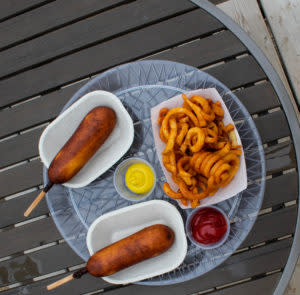 Saskatchewan is known for its one hundred thousand lakes, so it is fitting that our first stop was Manitou Lake. Manitou Lake is a rare Saskatchewan saltwater lake that is named after the spirit,  Manitou and is said to have healing properties.  It is home to Manitou Springs Resort and Mineral Spa,  a wonderful opportunity to enjoy a soak and let  your body  and spirit float free and absorb the healing properties of the water. Manitou Lake also boasts the legendary Danceland,  one of the last remaining horsehair dance floors in Saskatchewan and  home of the Manitou Boogaloo, which is a  very fun-filled day  of local musicians, sun, beach, and burgers.
Our trip was quick, as we were trying to fit in multiple day trip destinations into one day, so we had to choose our activities wisely. We went straight for Burger Buoy and got a couple of corn dogs and shared some curly fries. Once adequately satiated, we popped in for a too short dip at the spa and promised ourselves we'd return soon.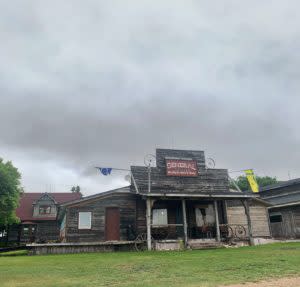 From there we drove to Champetre County, a vacation farm just east of Saskatoon. Champetre County offers visitors a taste of the western era and prairie hospitality. Stay over night in one of the original Eaton Homes, or just pop by to get lost in the corral maze. They are open from Thursday to Sunday throughout the summer
We were planning on just sneaking a peak, as I had only seen the cute Western town in photos, and we had many stops to get to.  But we were spotted. One of the boys yelled "paparazzi!" so we had to hop out and explain ourselves! We were treated to the most wonderful tour of the grounds and daydreamed aloud about how we could make use of the space in our own lives. The accommodations are comfortable and designed with a vintage/western feel (right up my alley). The animals were happily running around in the fresh green grass, and the maze looked so tough, we were worried we would never make it out.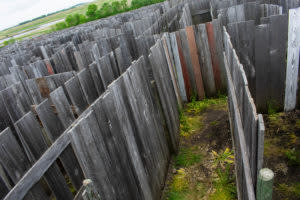 … But we did, and it was time to move on. This time to the town of Rosthern. Rosthern is home to the Station Arts Centre & Tea room, otherwise known as the perfect place to stop on a rainy weekend day. The Tea Room serves food made from scratch using local ingredients and is home to an art gallery and an amazing summer theatre.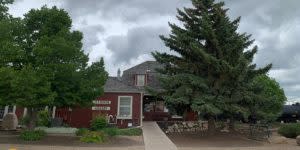 Last but not least, we stopped by Farm One Forty. This holistic farm, 30 minutes from Saskatoon's downtown, is home to cows, pigs, sheep, chickens, and bees. They are starting to offer farm tours once a month, and you'll get lunch! This is a wonderful chance to see some adorable animals and become better acquainted with where your food comes from.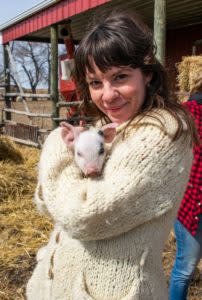 After seeing the lovely animals we drove back to Saskatoon for a delicious meal and to sleep in our own beds. I highly recommend day trips, for those living in Saskatoon, and for those visiting. There is so much to discover on the road less traveled.